Organic farm in Randall opens garden for customers to pick their own fresh produce
    Farming God's way. It is with those principles that Michael and Cora Dalquist of Randall planted their organic garden to make it available for people to purchase fresh organic vegetables and the experience of picking it themselves. They call it "Little Elk Organic You Pick It Garden."
    The way the garden is planted and managed through Christian principles is by first understanding that designed for the most productive ecosystems to include little or no soil disturbance, no destruction or incorporation of surface organic residues and large biodiversity of species. Some of the ways that growers can honor that is by not plowing the fields, use mulch covers to deter weeds from growing and by rotating the crops, Michael said.
    What inspired the idea to start a garden to sell vegetables was the need to find a supplemental income to their dairy farm. Since they are taking over the Little Elk Dairy Farm from Michael's parents, Dale and Kathy Dalquist, the majority of their income from the dairy is given to his parents as payment for the farm. With only 30 cows, it isn't enough to support two families, Michael said.
    "We figured we'd give this a try since Cora enjoys gardening and I do, too. We thought it would be a good fit here because when you go up and down the highway, you see produce stands, but you rarely ever see organic produce stands," he said.
    "We're already organic so it was something we could jump right into," he said.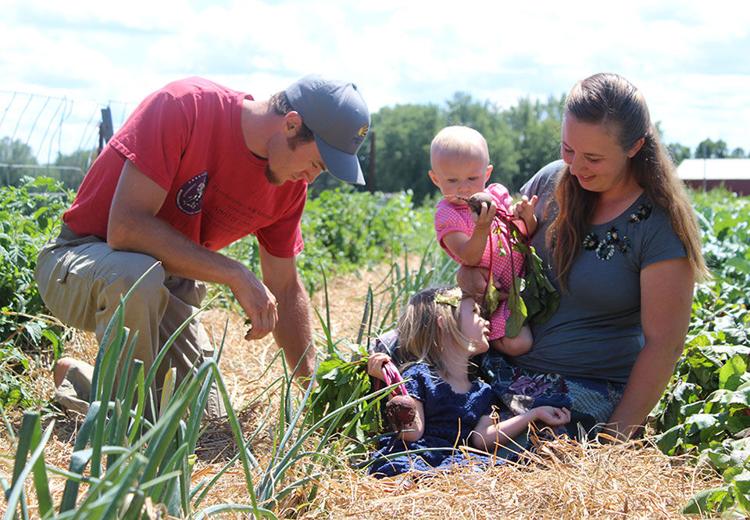 The Little Elk Organic You Pick Garden is located at 207 West Sixth Street in Randall on a corner lot about a block or so from Highway 10 (entrance on the north side, look for the large rock with "Parking" painted on it). It's open daily from 7 a.m. to 8 p.m.
    The Dalquists encourage people to visit their Facebook page "Little Elk Organic Farm
 to see what's ripe and ready for a pickin'. Although there are some bags and boxes available on site, visitors are encouraged to bring their own whenever possible.
    Nearly 40 different vegetables and other crops were planted, including tomatoes, cucumbers, carrots, peas, onions, broccoli, beans, lettuce, peas, squash, sweet corn and more.
    Since the first planting didn't take due to lack of moisture earlier in the year, the sweet corn, squash and pumpkins will be ready later than normal in the season.
    A variety of herbs, such as basil, chamomile, lemon balm, oregano, sage and more, were also planted.
    In addition, the Dalquists planted different types of flowers, including zinnias, burning love, borage, morning glories and more. Vases are available for customers to measure how many flowers to pick to make a large or a small bouquet.
    Since the garden is unmanned, customers are asked to enter into the shed for more information regarding prices, a suggestion and comment box and other garden notes, including a list of what items can be found in what row which are marked with painted rocks in the beginning of each row.
    A knife to cut cabbages off and a pair of scissors that can be used for snipping off herbs, carrot tops and more, are available inside the shed for visitors to use at their own risk.
    A scale to weigh the produce is also available. Customers are asked to place the produce payment along with a checkout slip that enables them to track what sells well inside the bolted money box, which is emptied daily.
    The Dalquists have installed a compost on the grounds where customers can discard any leaves, cut off tops and more.
    Since there is no well by the garden, Michael hauls water in a 5,000 gallon tank and water the garden through a drilled PVC-pipe system along the rows that he designed himself.
    As the garden is located relatively close to the farm, the Dalquists are able to keep an eye on it, despite the fact that it is unmanned.
    "We're just trusting that people will be good and honest. Besides, we have neighbors who are close by, so if something suspicious is going on, they would probably let us know," Michael said.
    Although it has taken them a long time to get everything planted, Cora said she doesn't mind the hard work.
    "It's my happy place. I like the peacefulness about it. It's a stress relief. I just love gardening," she said.
    Although she doesn't mind weeding one bit, she welcomes customers who want to weed some to go right ahead. Just throw the weeds either on top of the mulch or in the compost.