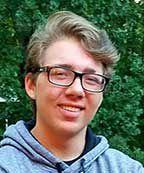 Little Falls Community High School has announced that Nic Strunk has been chosen as the Boy of the Month for April 2020. He is the son of Kent and Jammi Strunk.
In addition to finding much success in the classroom, Strunk participated in Flyer football, robotics, pep band and weightlifting during his time at LFCHS. Despite his busy schedule, his name was consistently listed on the honor roll.
"I have known Nic Strunk for four years. Nic started out high school as a student of mine in ninth grade general science. He was a student in my Robots I and Robots II last year, and finished his high school career as a student in college physics. Academically, Nic has been a solid student for me all these years. He has taken the tough classes, challenged himself and found much success in doing so," said Mike Huck, high school science teacher.
"As a senior, Nic joined Flyer Robotics, the school's first robotics competition team. This activity, along with football and wind symphony, again shows Nic's 'Let's give it a try' attitude," Huck said. "Nic's ability and his willingness to try things, make him the perfect recipient for 'Boy of the Month.' He is an example for all."
Lyn Gwost said, "As Nic's adviser, it has been a pleasure to watch him find his niche at LFCHS. He is a mature young man who cares deeply about Little Falls and the school system, and he also has a global perspective. One of my favorite memories of Nic truly shows his character. When this year's homecoming parade was canceled due to extreme cold, Nic organized a walk-through parade at the elementary schools in town for the football team to interact with the young Flyers. He certainly is a role model who young people look up to. Additionally, I watched him volunteer his time with an introduction to robotics program at Lincoln Elementary. As a person of high character, Nic's future will be filled with continued success."
Strunk volunteered at many and varied activities. He has given his time to the Polar Plunge, Boys and Girls Club, Relay for Life, the Fishing Museum, First Lutheran Church and US Bank. He prides himself on helping others.
Hobbies Strunk enjoys include spending time with friends and family, traveling, reading comics, watching movies and working.
Strunk will attend the University of Minnesota-Twin Cities as an economics major. He aspires to attend law school and one day become a patent lawyer.