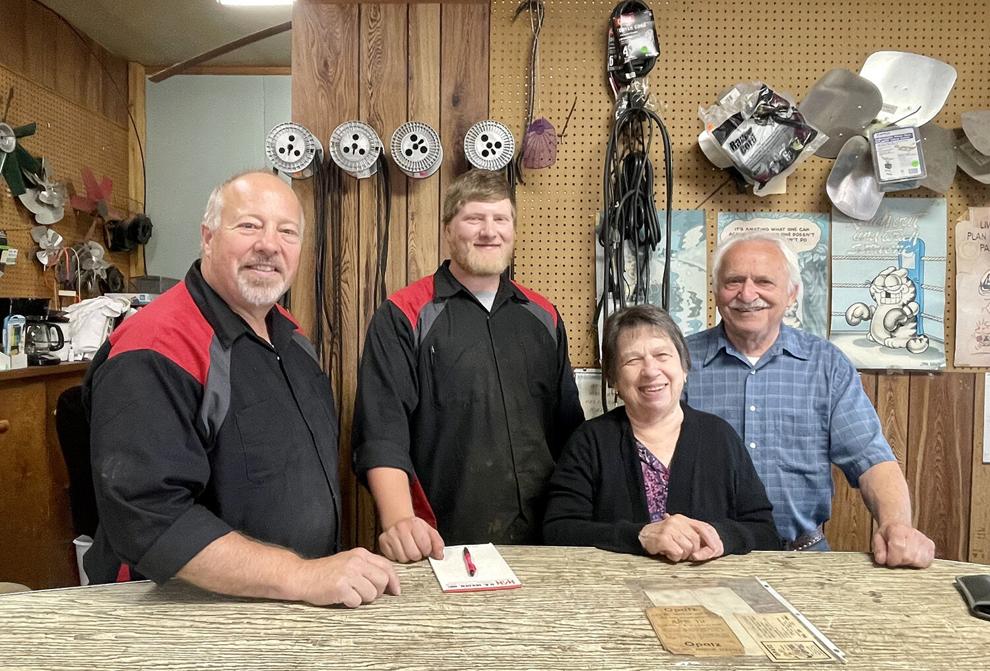 For many years, people from across Morrison County and other areas have brought their items to Opatz Electric Motor Services in Little Falls. When word spread that the owners, Don and Shirley Opatz, had retired from the business, many in the community assumed it was also the end of the business. It is not.
    Opatz Electric Motor Services was purchased by Steve Drager and his son, Tanner Drager, July 30. Steve said that over the years he had asked Don from time to time if he had any plans to retire and sell the business.
    Don said that what led to his decision to finally retire and sell the business was age. At 77, it was simply time, he said.
    "You can't move like you did before. We had a 100-horse come in here a year or two ago and it was at that time I realized that it was getting to be a little too heavy. It didn't used to be to work on something that big," he said.
    Another inspiring voice to retire was also that of his wife, Shirley, who would often ask him, "Don't you think it's time?" Don said.
    Although Steve and Tanner own the business together, Tanner will be the one who mainly runs day-to-day operations. For several months before the sale, Tanner, who has a long history of working on gas motors, shadowed Don at the business to learn more about the business and the services it offers. Having seen Tanner in action first-hand, Don said he is confident about the business's future.
    "I have learned so much from him," Tanner said.
    Don is also available, if needed, to help Tanner with anything. From time to time, he also stops by the shop, just to visit with him. It is something they both enjoy, they said.
    Tanner also has experience of working in the electrical industry for several years.
    Although the business will continue to offer the same services as before, the Dragers are able to help with any electrical, cooling or heating needs as Steve owns Drager Electric in Swanville. He also used to offer plumbing services, but has since let go of that license, he said.
    Being able to help customers with the services provided through Drager Electric is a blessing. Don has told him of many occasions customers have called to ask if the shop can repair a furnace.
    "Even though it is not a part of the motor shop, I am able to go out and do furnace and electrical calls," Steve said.
    One thing Steve and Tanner have changed when it comes to Opatz Electric Motor Services is how they handle billing. Rather than wait to mail statements to customers at the end of the month, they send them out right away.
    The history of Opatz Electric Motor Services began in 1950, when Don's father, Edward, started the business. Initially, the business were located in a building next to its current location that his father rented. When the building was demolished in 1957, Don said his father purchased the nearby building and moved the business into the location it still remains in today.
    It was from his father, he learned how to repair electrical motors and other things. Edward had served as an electrician in the United States Navy and repaired whatever was needed on the mission ship he was on, Don said.
    After World War II, he went to work for Griffith Electric before he opened his own business, Don said.
    Shortly after Don and Shirley married, they took over the business in 1973.
    Looking back, Steve recalls visiting Opatz Electric Motor Services many times as a boy with his grandpa and dad. That was also how he got to know Don.
    Since retiring, life has been quite different for both Don and Shirley. As he retired, so did she since she had managed the administrative side of the business until it was sold.
    "I have a lot of time to do things I didn't have time to do before," he said.
    It has also allowed them more time to complete different projects at home, such as clearing out things they don't need or want.
    "He sits down and has coffee at 10 o'clock with me almost every day and we have a nap in the afternoon. It's nice," she said.
    Since the business changed hands once more, many people have stopped by and expressed their joy that the business will remain. Not only because of how long Opatz Electric Motor Services has been a part of the Little Falls community, but also because it is the only place to bring their things for repair other than traveling to St. Cloud or Brainerd.