To get your front steps photo, fill out Lewellyn's form: here.
As the coronavirus pandemic began sweeping across the country and Americans increased social distancing activity by staying at home, photographer Kate Lewellyn joined a nationwide movement: The Front Steps Project.
The goal, according to project founders, is to highlight the faces of communities when they aren't seen in passing at grocery stores, coffee shops and other normally populated spaces.
The movement started with two Massachusetts photographers who were looking for a way to keep people connected while they were apart. In a matter of days the project spread state to state with photographers taking family photographs at a safe distance for no cost. Families wanting to pay for the photos were encouraged to donate to local organizations.
The Front Steps Project has reportedly raised over $1.25 million for local organizations and non-profits around the country.
"I have a few friends who have started documenting in their area. I wanted to get involved with supporting our family and friends to let everyone know we are all in this together. The Front Steps Project is a community-wide project that allows us to do just that," said Lewellyn.
After some old photography group members in Wisconsin shared their project photos with her, Leweylln said she was inspired to bring the Front Steps Project to central Minnesota.
Since she started, Lewellyn has captured the faces of 20 families mostly near the Little Falls area, she then posts the photos to her Facebook page and on community pages as well. Participating families receive full size digital images at no cost, she said.
"It's a way to show everyone we're in this together," said Lewellyn.
The full-time marketing coordinator went to school for photography and enjoys documenting life's special moments, a pandemic being no exception.
Once a family signs up through her online form, they set a time and Leweylln stops by, takes some photographs at a safe distance, wishes the family well, and is off. The entire interaction is usually less than five minutes, she said, but families really enjoy the sort of impromptu photoshoot, documenting their stay-at-home experience.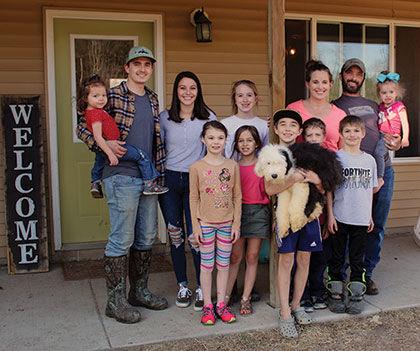 "I like the fact that this is kind of what you would expect to see if you were actually visiting the family—everyone coming out to the front steps to greet you," she said.
In the future, Lewellyn hopes to showcase the family portraits at a local gallery, showing how a community came together by staying at home. She also said she would be interested in collaborating with other photographers to expand the project's reach.
Anyone interested in having their photograph taken can fill out a form on Lewellyn's Facebook page or by finding the link on the Morrison County Record's Facebook page and website.