The gift of music. That is what Music Therapist Kari Peabody of Becker brings when she travels weekly to Little Falls and Pierz to provide music for hospice patients and other seniors.
    Normally she visits them face-to face, but since the pandemic began and precautions were taken to protect the most vulnerable, Peabody and the staff at CHI St. Gabriel's Hospice had to get creative.
    While it's not the same as face-to-face, Peabody sings songs and plays her guitar or keyboard outside windows and patio doors. That way, her clients can still see and interact with her. She believes that in a way it also makes the patients feel that they are cared about.
    Peabody believes that singing, playing and interacting with hospice patients through a window is better than doing it through virtual means, such as via Zoom.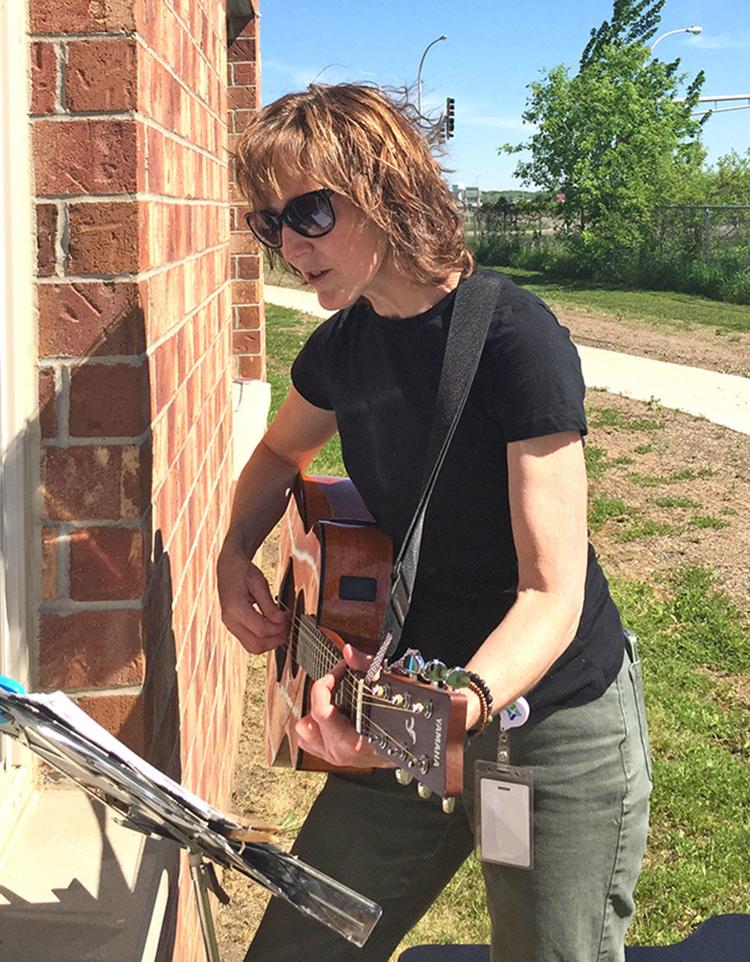 "I think that generation is not really used to the whole virtual thing, computers and may not have them. They are more used to in-person. I'm glad that the staff at CHI was able to work that out. It's a nice touch to be able to see them," she said.
    Since she is outside when she interacts with the patients, the weather has played an important role. So far, she has been fortunate that the weather has been nice on the days she has traveled to Little Falls.
    Who Peabody sees changes from week to week. It usually depends on who requests it, who may benefit from it and how they are doing. Although she is aware that the patients she sees are in the end stage of their life, it is nevertheless saddening whenever she receives the news one of them has died, Peabody said.
    "It's sad because you get to know all of them. When you take that job for hospice, you know they are not going to be around for a long time. You take each day and hope to give them as much happiness as you can when they're there. I enjoy all of them," she said.
    Peabody said it gives her great joy to bring happiness into people's lives. While some may tell her directly what style of music they like or even request a specific song, others may not always tell or may have a broad range of music genres they like.
    Peabody said that if she knows ahead of time what genre, artist or songs an individual likes, she'll search for the songs online and learn them. Other times she'll discover their likes during her visit and she'll learn the songs in time for her next visit to them.
    If the patient cannot tell her or there isn't any family members available for her to ask, Peabody said she usually looks at when the patient was born and what kind of music was popular around that time.
    Many times once she starts playing and singing, the patient is reminded of the song or another song by the same artist. It's also common for many patients to recall memories that are associated with specific songs.
    "I have heard a lot of stories and they're all wonderful stories. They have so much to share," she said.
     Peabody said she sees about six patients per time that she travels to Little Falls and sees them for 30 minutes each.
    In the past, she has also delivered the gift of music to patients and other seniors in Holdingford, Albany and Avon.
    Music has been a part of Peabody's life for as long as she can remember. Growing up south of Eau Claire, Wisc., she started playing the piano when she was 4 years old and picked up her guitar skills during her college years. When she was in middle school, she also played clarinet and saxophone.
    She graduated from the University of Wisconsin in Eau Claire, Wis. in 1986 with a bachelor's degree in music therapy. First, Peabody worked as an activities director at two long-term care facilities and a site coordinator for people with developmental disabilities.
    But once she became a mom, she no longer wanted to work full-time and as a result, started her own business, Music Within. Since then she has taught piano and in the last year, also included hospice in her more than 30-year career as a music therapist.
    When she isn't working, Peabody enjoys spending time with her husband, Mike, and their children, Matthew and Sarah, reading, hiking and gardening.