When Stephanie Dolney, owner of Mama Bear Apparel in Little Falls, started crafting at home a few years ago, she never anticipated it would turn into a business.
    "For me, crafting was a way to wind down after work," she said.
    Dolney works full-time as a registered nurse at CHI St. Gabriel's Hospital. But as friends and family members started asking her to make a variety of items, she decided to turn it into a business.
    At first, she ran Mama Bear Apparel online from the comfort of her home and mainly made vinyl work and tumblers. Then over the course of about six months, Bill Volbert, the owner of B & N Excellent Apparel in Little Falls, encouraged her to take over the business location after he retired his business.
    "He kept bugging me to do screen printing and embroidery, because the building was just sitting empty. All of his equipment was here, but nobody was using it," she said.
    She now leases the building and his equipment. Dolney said at first she was nervous when entering into the world of screen printing and embroidery, but it has gone better than she expected, she said.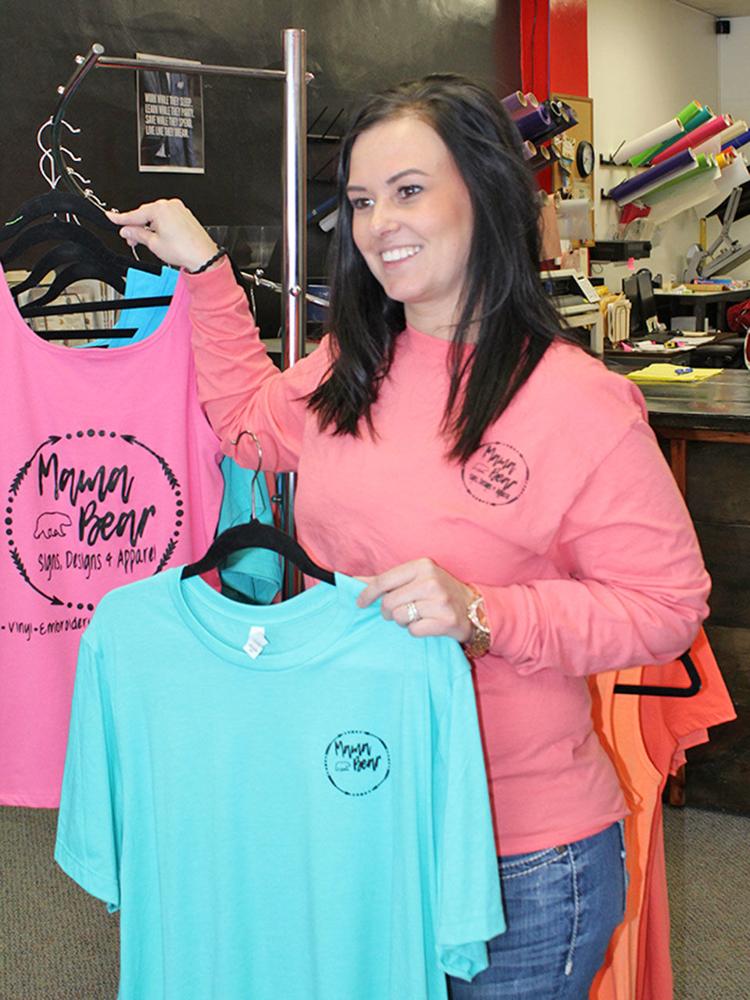 "He wanted us to continue to offer all of the same things that B & N used to offer what they no longer could provide the community," she said.
    Today, she offers a wide variety of items, such as T-shirts, sweatshirts, sweatpants, bags, tumblers, vinyl work and more.
    With the lease, Dolney also gained ownership of all of B & N Apparel's designs and is able to reproduce clothing designs that B & N may have made before they closed.
    In addition, Dolney offers customers a range of quality clothes from brandnames, such as Nike, to less expensive brands.
    "We have something for everyone," she said.
    Dolney said she really enjoys working with the customers and developing a product that they are happy with. Sometimes it is guess-work on her part.
    "They know what they want, but at the same time, they don't," she said.
    Dolney said when that happens, she usually listens to what the customer has in mind and creates three different designs the customer can choose from, even it means choosing something from each.
    But as fun and therapeutic as creating is, Dolney said owning a business doesn't come without its own set of challenges. Her biggest challenge is to juggle her time between working as a registered nurse and being a mom to her and her husband Zachary's 3-year-old twin sons, Peyton and Owen. Her friend, Kelcea Bue, also helps her out a few hours every week, she said.
    Because Dolney's work schedule changes from week to week, Mama Bear Apparel's open hours differ. The best way to get in touch with her is to call (320) 630-7896.
    Mama Bear Apparel is located at 24 Broadway East in Little Falls.