A month ago, Miracle Ear in Little Falls moved to its new location at 107 Sixth St. NE. Even though the company has served the Little Falls area for the last 10 years, it has never had its own location, said Mike Kuck, a hearing instrument specialist.
    At first, patients were seen at the Little Falls Senior Center and for the last few years, at Country Inn and Suites.
    "We wanted to better suit our patients by having our own l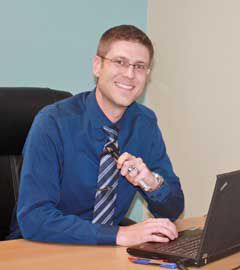 ocation. It helps the people in Little Falls that we now have an actual location versus going to a hotel or anything else. It allows us to serve the people appropriately," Kuck said.
    The brand "Miracle Ear" has been the resource for many people for more than 65 years. The company uses the highest developed technology to give its users a greater opportunity to be better connected to the world around them.
    "We have products that are designed to meet each individual's hearing loss needs," Kuck said.
    Miracle Ear specializes in hearing loss, hearing aids, custom fits, tinnitus and aftercare. Hearing tests and cleaning of hearing instruments are offered at no cost.
    Kuck has been with Miracle Ear for seven years. After learning more about the company and about the world of hearing instruments, he is now the district manager for all Miracle Ear locations in Central Minnesota.
    "I've always been intrigued by sound," he said.
    Miracle Ear in Little Falls is currently open once a week on Wednesdays, from 9 a.m. - 5 p.m., but is looking to expand its open hours in January 2018.
    For more information, call (218) 214-7384.