With three chefs, three courses and three mystery ingredients in each, only one could walk away with the title, "Master chef." That's what Minced, "The finer version of Chopped," was about, May 10, when three chefs competed against each other at Sprout in Little Falls. It was the second year the event was held.
    Each chef came with a different culinary background. This year's winner, Matéo Mackbee, with 13 years of experience, found his roots of the culinary art in primarily Creole and Cajun dishes — New Orleans style.
    "My grandfather, Renard Morril, was a chef on a ship from New Orleans to Africa. My summers were spent in New Orleans, watching him cook for us," he said
    Although Mackbee was passionate about food for as long as he can remember and showed an interest early on, he avoided pursuing a career in it.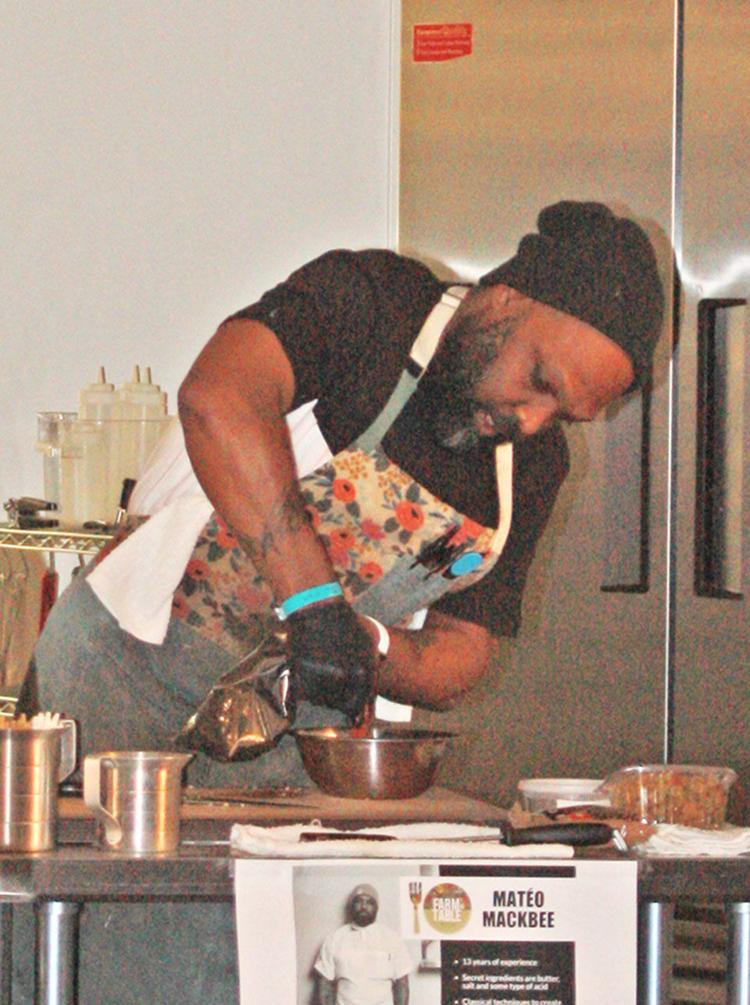 "Food is something I have always been passionate about. One of my earliest childhood memories is walking home from kindergarten. Normally kids watch cartoons, but I would watch 'Yan Can Cook' on PBS," he said. "The passion was there inside of me, but I ran away from it for a long time."
    But when he lost his job in IT in the stock market crash in 2008, Mackbee decided it was time for a change.
    "When I lost my job in the crash, I wanted to try to find something I could do that would make me feel whole inside. So I went into cooking and never looked back," he said.
    Mackbee said he enrolled in a culinary art school shortly after.
    Also competing in the final round was Jenna Brower Von Siebolds, who works as a chef at the "Prairie Bay Grill" in Baxter and with six years, she had the least amount of experience compared to the others.
    Although she didn't take home the master chef title, Brower Von Siebolds was awarded the "People's Choice Award."
    The other chef, Thomas Kavanaugh, represented the ProStart program at Pillager High School. Despite his solid efforts, he was eliminated after the second round.
    The secret ingredients the chefs had to work with were challenging. As the theme for the event was east African cuisine, the secret ingredients were obtained from Somali grocery stores in St. Cloud and did not disappoint.
    In the first round for the appetizer, the chefs had to figure out how to include yellow potatoes, golden raisins and Somali coffee spice mix.
    The secret ingredients for round two, the entrée, were goat meat, chick peas and pitted dates. When the judges shared their opinion of the chefs' creations, Minced's celebrity guest and judge, Kara Carlisle from the McKnight Foundation in Minneapolis, said she had eaten the goat meat despite being a vegetarian. After all, it looked so savory, she said.
    The final round not only brought the judges dessert, but also the secret ingredients of black tea, guava juice drink and bananas.
    While the chefs were given 30 minutes to complete the entrée, only 20 minutes were allowed for the appetizer and dessert rounds.
    Despite the risk of the ice cream not hardening enough, Brower Von Siebolds amazingly pulled it off. Mackbee, on the other hand, impressed the judges with a recipe of an Ethiopian pancake with bananas foster topping and a berry sauce.
    Although all of the chefs felt the pressure to finish each dish within the allotted time, Mackbee said he embraces competition.
    "I'm an athlete at heart. I played soccer and basketball. Competing has always been a big thing for me," he said.
    Mackbee said the biggest challenge for him was being unfamiliar with the kitchen and not knowing where different things were, along with running back and forth.
    Being named "Master Chef" was thrilling for Mackbee. But what made him even agree to compete was all Sprout stands for.
    "I love this organization and everything that is going on in here," he said.