Learning that she had been chosen as Employee of the Month for April by the Little Falls Area Chamber of Commerce came as surprise to Mary Bartlett, food service director at Little Falls Community Schools.
    Supt. Stephen Jones said Bartlett had earned the promotion to food service director after previous food director, Gail Johnson, retired.
    "Entering the position during a pandemic, Mary has been a dependable, dedicated and positive leader. The amount of food that feeds our students — in school or at home — is a testament to our Food Service Department's commitment to students families and Mary's leadership drives the desire to feed students wherever, whenever and however possible," he said.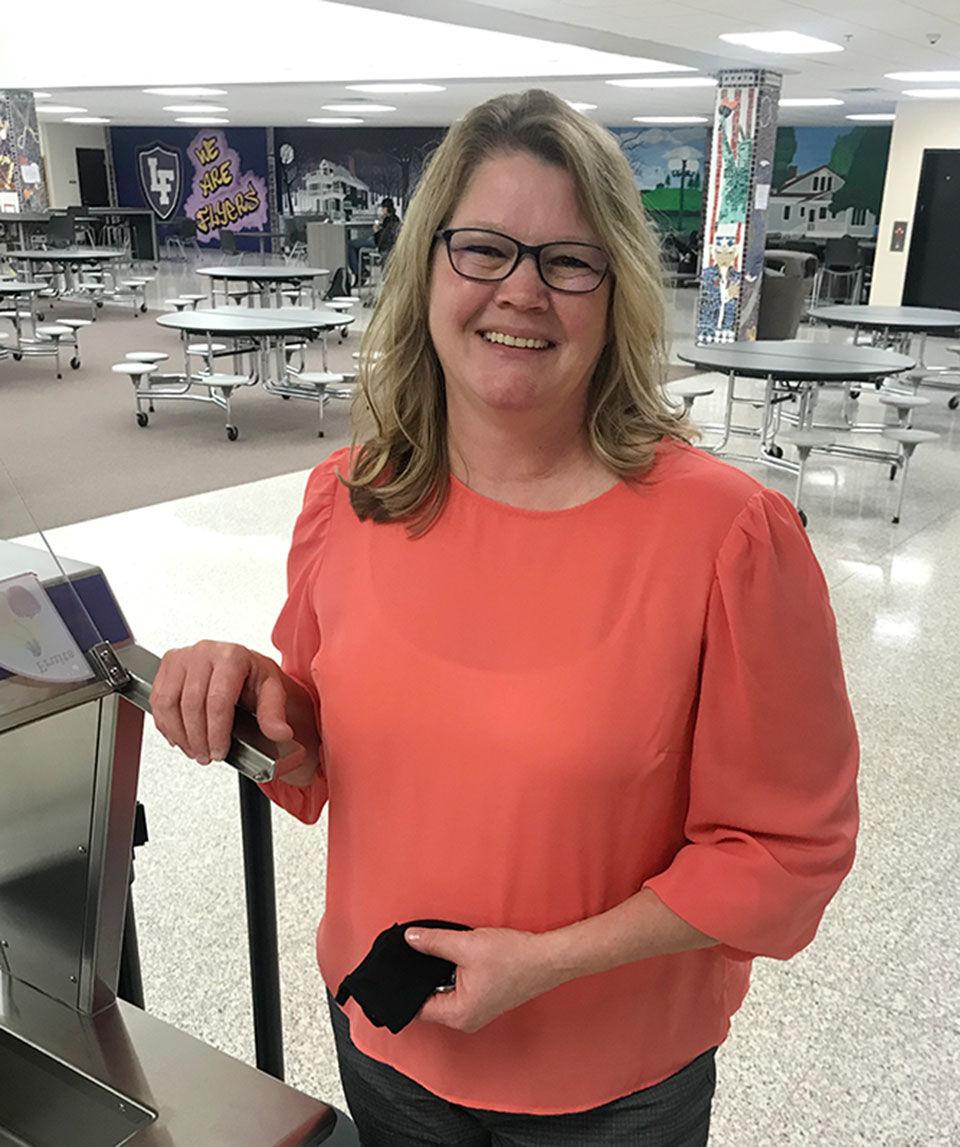 Although Bartlett started in her new position in July 2020, she started working as a kitchen assistant at the Little Falls Community High School 11 years ago. When she and her husband, Keith, moved from Rice to Little Falls in 2008, she wanted to return to the workforce part-time. Before she had been a stay-at-home mom. Once their children, Kaitlyn and Hannah, were attending school, she wanted a job that would allow her to be home when the girls came home from school and during summer break.
    Bartlett said one of the reasons she accepted the food service director position was that as the children are now 18 and 21, she doesn't need to be home to care for them. Although the pandemic has added extra challenges that no one could have foreseen, Bartlett said she has taken each in stride.
    "With the challenges, there has been a lot of blessings, too. It has been great to see the community and the school employees coming together to make sure the kids are fed," she said.     
    As many people within the school district also ended up helping in areas they normally wouldn't, it has given her an opportunity to get to know more people. It is something she has enjoyed tremendously.
    As a food service director, Bartlett oversees about 25 kitchen staff, which includes overseeing five different kitchens in the district.
    "Working for the district has been a blessing for me. I'm very fortunate to work with so many wonderful people. I'm very thankful for the amazing food service staff. They have all been very supportive, patient and kind with all of the transitioning this year," she said.
    Who nominated Bartlett for the Employee of the Month recognition asked to be anonymous, but spoke about her stepping into the food service director position last summer.
    "She was instrumental in getting out lunches to early childhood through grade 12 for the summer. Then started in the 2020-2021 school year under COVID-19 restrictions and changes, she adapted. Not only adapted, but goes above and beyond to get fresh, great tasting and appealing meals out to everyone in the Little Falls school district," the nomination said.
    At times, due to COVID-19 and contact tracing, several kitchen staff were absent. At one point, Bartlett said, two kitchens were down with the remaining picking up the food distribution for those schools.
    "With a shift in kitchen staff, she was down to three people at the high school and then illnesses started and there were only a few subs, but every day meals got served. When the superintendent announced on a Sunday that Lindbergh Elementary had to go to distance learning, Mary and the Lindbergh staff went to work on a Sunday to prepare 100-plus meals available for that Monday," said the nomination.
    Bartlett does her best to encourage others and to lead by example. She also likes making it fun and more enjoyable, no matter the task.
    "Mary is fun to work with and she makes you feel like you are an essential worker... I think Mary Bartlett should be the Employee of the Year, not just the month. Hope everyone appreciates and realizes the effort that she is putting in to let the kids enjoy some sort of normal these days," the nomination said.
    Bartlett said she was very touched by the kind words from the person who nominated her. They were read to her at the time she was notified by a Chamber representative of the recognition.
    "I feel honored," she said.
    Bartlett is also very thankful to the staff she works with. Their hard work and dedication has helped make it all possible, she said.
She is also grateful for the tremendous support she has received from her husband through the transition.
    When Bartlett isn't working, she enjoys spending time with her family, camping, vegetable gardening, weaving rugs and more.
    As Employee of the Month, Bartlett received gift certificates from Coborn's Marketplace, Fresh Hair Professionals, Heartland Tire, Papa Murphy's, Subway, Vacuum Cleaner Outlet and Service Center and West Side Liquor.