When Keith P. Manbeck of Little Falls travels in the area, he cannot help but remember days gone by. Born 100 years ago in 1920 to Preston and Marie "Nettie" Manbeck, he grew up west of Little Falls, near the old country school house not far from the junction of Highway 27 and County Road 214.
    He was one of four siblings — his sister, Dorothy, and brothers, Maurice, Duane and Deane.
    Like many other families at that time, they farmed. The cows were milked by hand, the fields were plowed with horses and a lot of the food was homegrown.
    "It was all done by hand. We never had any milking machines," he said.
    How children were raised was also different. Looking through old photographs, there is one of him about 4 years old. It was taken shortly after the new barn had been built while he was standing on the scaffold.
    While his mom was a housewife and cared for the home, Manbeck said his dad was a mail carrier for the United States Postal Service for 50 years.
    "There's a photo of him hanging in the post office," he said.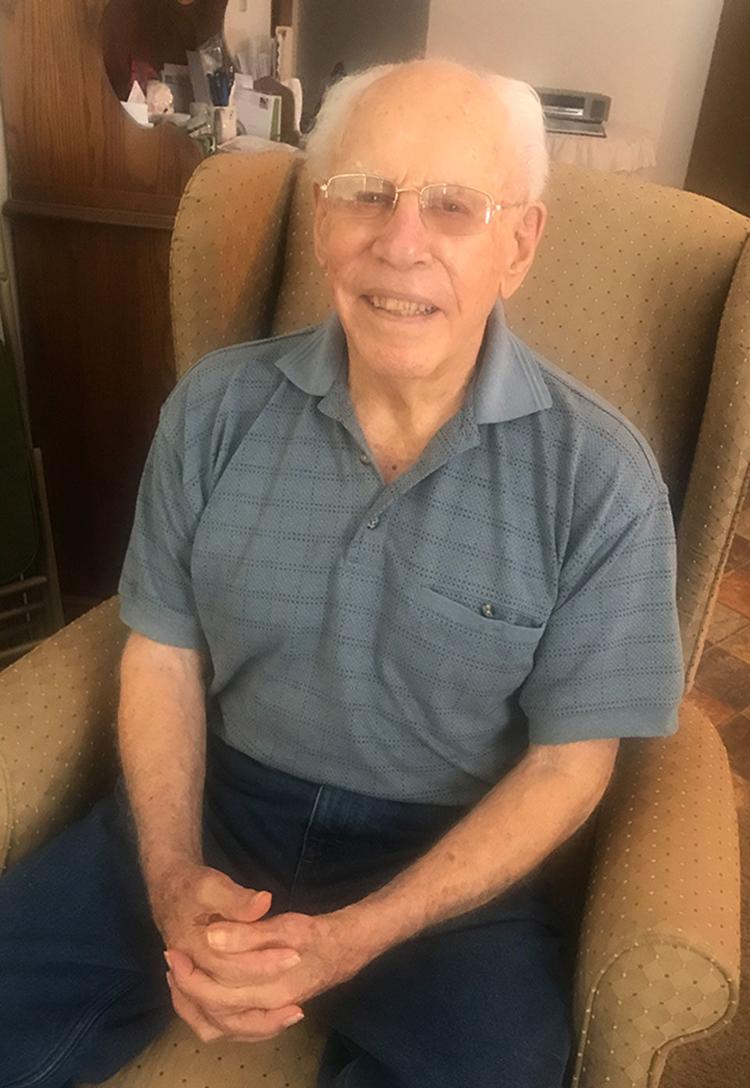 Manbeck recalls attending country school nearby the farm. He estimates it was built in the late 1800s, and once upon a time his dad was a student there, as well. He later attended high school in Little Falls.
    In 1942, Manbeck was drafted into the United States Army. Maurice and Duane served, as well, and at one point, all three brothers served at the same time.
    "Mom wrote us all the time," he said.
    Manbeck said he still has the letters his mom wrote him about 75 years ago.
    "Imagine sending letters to all your children all the time, while still taking care of the home and your husband," said his wife, Betsy Tepley-Manbeck.
    Manbeck served as a bugler and reached the rank of Private First Class during his service years 1942-1945 in the 95th Infantry Division. In 1944, he was sent overseas to France and Germany during World War II and helped capture the town of Metz in France, he said.
    Manbeck said he was assigned to the bugler position after they learned he had played in a band. As a bugler, Army life was fairly easy, was usually stationed at headquarters and worked directly with the commander, he said.
    When Manbeck returned to Little Falls in 1945, he worked various jobs, including a lot of carpentry. In his later years, he took that skill and helped build homes for Habitat of Humanity of Morrison County. He has helped build the majority of Habitat for Humanity homes in the county, he said. He also traveled to Mississippi and rebuilt churches that had burned and also built homes in Canada.
    Shortly after his dad retired from being a mail carrier, Manbeck took the position a few years later.         Although about 35 years have passed since he retired in 1985, Manbeck still remembers his route. It was about 100 miles long, which stretched over areas, such as Pierz, Freedhem, from the Mississippi River to north of Camp Ripley and to south of Bowlus. Later, he also started carrying mail to Camp Ripley for the Post Office.
    About 30 years ago, Manbeck met Betsy during a square dancing event. Both were in need of dance partners and it didn't take long before the two became very good friends. Dance united them.
    Over time, the friendship grew into more. Manbeck was 98 when he and Betsy married. When asked why he had never married earlier in life, he said he had just never found the right one.
    Manbeck lived for the majority of his life on the farm. First in his parents' farm house for the first 50 years and then built a brick home nearby. But after living in the brick home for about 49 years, he sold the farm. It was time to move on and move into town, he said.
    Today, he and Betsy live in Little Falls and enjoy their life together. To celebrate Manbeck's 100th birthday, the public is welcome to his party for some coffee and cake, Saturday, Feb. 15, from 1 p.m. to 3 p.m. at First United Church, at 1000 First St. SE, Little Falls.
    Instead of giving birthday cards, those who know him are asked to write down a memory they have of him.
    Manbeck will turn 100, Feb. 13. Born on Friday the 13th, he said he never really thought about turning 100 one day.
    "I guess you just get older," he said.