Wanting to make a difference in their community and unaware of each other's plans, Rich Teske and Don Bujalski of Pierz began making face shields.
    Bujalski, a retired Pierz firefighter and owner of Don's Custom Laser, said he made a prototype of a face shield and showed it to Pierz Police Chief Eric Hanneken.
    "I asked him to come over and take a look to see if that was something that would work," he said.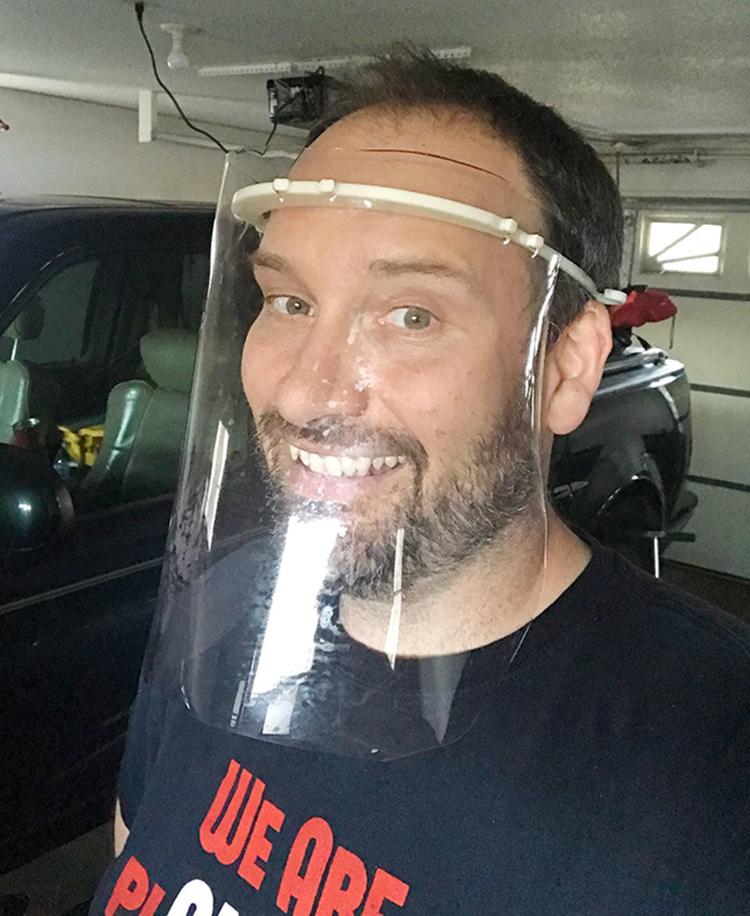 The only thing missing was the head part the shield is attached to. Hanneken informed him about what Teske was up to.
    The idea to make face shields for local heroes came to Teske, who teaches 3D print design at Pierz Healy High School, after he realized how involved the 3D printing community is in making personal protective equipment. High School Principal Karrie Boser had also asked him if he thought the school would be able to make the head part.
    Although the school has a couple of smaller 3D printers, Teske said this kind of project required an industrialized 3D printer, which Sourcewell provided. The printer is currently located in Teske's garage, something he is very grateful for as it means he doesn't have to run back and forth to the school.
    While it takes Bujalski's laser machine about seven minutes to make two face shields, it takes the 3D printer about 15 hours to print a stack of 10 head parts. Teske sets a timer on his cellphone to ensure that he doesn't forget about it.
    Besides the thrill about being able to give back to the community this way, Teske said he really enjoys that it truly shows students how 3D printing fits into a real life situation.
    "Now it's at the forefront of it and they're being donated locally," he said.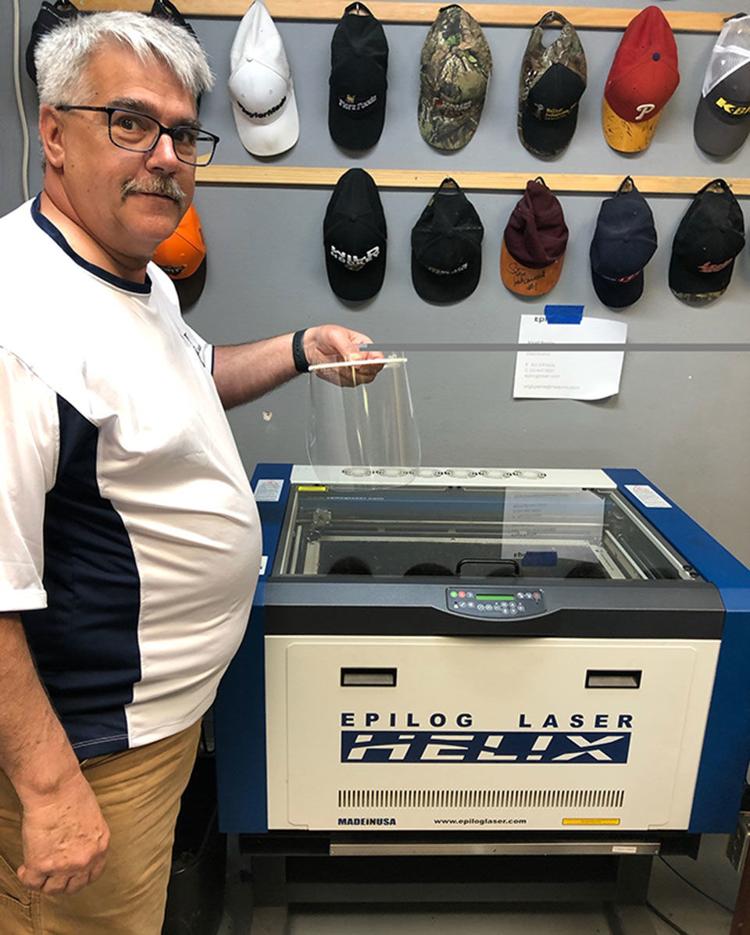 When Minnesota Gov. Tim Walz closed non-essential businesses and organizations due to COVID-19, Bujalski said his business was one of those that had to close. Normally he laser a variety of materials and products, such as tumblers, glass, wood and more for different occasions, such as anniversaries, birthdays, weddings and more.
    Since he wasn't able to work on his regular products during the closure, Bujalski welcomed the opportunity to make face shields as it also gave him something to do.
    At this time, Teske and Bujalski have made about 300 face shields. Hanneken distributed the first 150 shields to Pierz first responders, firefighters, law enforcement and others in need of personal protective equipment. Bujalski anticipates the next batch of 150 will be assembled at his business within a few weeks and distributed.
    Hanneken said he is very happy about the endeavor Teske and Bujalski took on and for emergency workers and health care professionals to have access to the face shields.
    "The equipment is extremely important to all healthcare professionals, fire and law enforcement agencies. I have spent many hours attempting to locate this equipment and it was impossible to find because of demand," he said.
    Since Monday, Bujalski has been able to operate his business at a capacity of 25% as per Walz' order. However, he stands ready for the call for the next batch of face shields to be made.