Growing up in Long Prairie, it was her mother, Lillian Fehrman, who steered her onto taking piano lessons, said Kathy Pederson, piano teacher at St. Francis Music Center in Little Falls.
    She was about 5 or 6 years old when she first started to learn how to play the piano. Playing the piano came naturally to her. She doesn't recall that she ever struggled too much with it.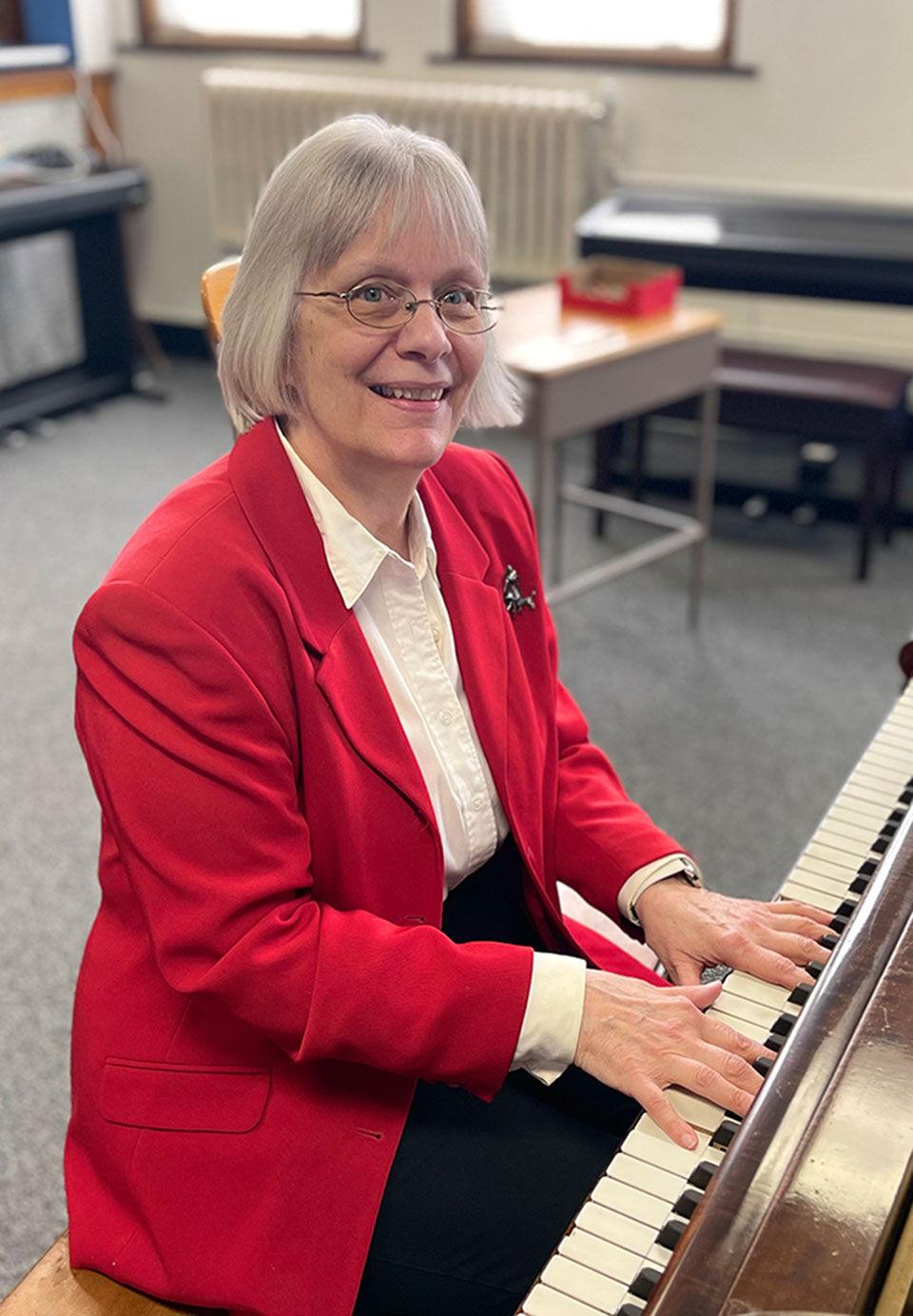 Looking back at her childhood years, Pederson said she played the piano whenever she had the chance.
    "I had home chores and other things to do, but when I wasn't doing that, I played. I played all the time," she said.
    Pederson recalls asking her dad, Kenneth Fehrman, to bring a hymn book from church. He did and she started to play hymns. Whenever the congregation sang a hymn she really liked, she looked it up and learned how to play it.
    "Once you start to learn how to play hymns, it isn't too hard. They are different, but they still have somewhat the same format," she said.
    After Pederson graduated from Long Prairie High School in 1968, she attended Hamline University in St. Paul for a couple of years. During summer break after her first year at Hamline, she and Bruce Pederson, a boy she had known since their elementary years, began courting. Once they married she transferred to Minnesota State University in Mankato. It was the college he was attending.
    While Bruce graduated from Minnesota State University in 1971, Pederson said she was supposed to have graduated a year later. However, a really bad car accident set her back a year. She eventually graduated in 1973, with a bachelor's degree in music education.
    Looking back at her experience of recovering from the car accident, Pederson said it has given her a greater understanding of any disabilities or struggles her music students may be going through.
    The car accident had left Pederson in a coma for 18 days.
    "The recovery after the accident was crazy. I had to relearn how to walk and talk, so students that come in that have health issues, I am all over that. I know what it's like to push through some disabilities, illnesses and sicknesses," she said.
    Her own experience also gave her a greater patience for her students. Not only when they face disabilities and illnesses, but also life in general. Some children have a harder life than others on the homefront. While it breaks her heart to see children hurting, she enjoys sharing one thing that can make a huge impact — music.
    "Music can be so healing," she said.
    As her husband was teaching in Sleepy Eye at the time, Pederson joined him in the small town and substituted as a teacher as well as doing a few other odd jobs here and there, including work for the Brown County Soil and Water Conservation District. Later, both of them started working in the Pierz area.
    Eventually, Bruce started worked at Pierz Healy High School and Pederson began her adventure of teaching music at the Central Minnesota Music School in St. Cloud in 1987. There she worked with Artistic Director Dr. Paul Wirth, who was well-known in the music world.
    "I learned so much from him," she said.
    Pederson started teaching at St. Francis Music Center in 1990, and continued teaching at Central Minnesota Music School as well as out of her home. Eventually, because of the insane schedule, she moved to teaching solely at St. Francis.
    Teaching at St. Francis Music Center for 33 has been extremely rewarding for her. More than anything, the friendships she has formed over the years, especially with Executive Director Robyn Gray and many of the Franciscan sisters.
    "What a blessing this whole St. Francis community has been to all of us. The outreach here is just amazing and has personally taught me about things like patience, love and acceptance. The Franciscan way is gentle," she said.
    Seeing the students learn, overcome hurdles and succeed has been very rewarding, as well. By instilling the values of the Franciscan sisters, showing patience, love and acceptance toward the students has contributed remarkably to their growth, as well. At St. Francis Music Center, students are simply accepted for who they are regardless of background, socioeconomic status of the family or current ongoing struggles.
    For many students, especially those who may be bullied at school, the center has become a safe haven for them, a place they can just be themselves, Pederson said.
    Playing music has also created a variety of opportunities for the students.
    Pederson recalls one student who decided to play piano for different churches as a way to earn extra money when he was in college. Others join bands, play in nursing homes and share their talent in many various ways. For some, it's also a way of moving out of their comfort zone and overcoming their fears.
    Besides teaching piano, Pederson also gives lessons in voice, preschool music and music theory. Although she could retire, Pederson said she has no plans to retire anytime soon. She is enjoying teaching children as well as adults too much. It is a way of sharing her knowledge as well as her love for music with others. Looking back, it is a love that has been shared through generations.
    When she is not teaching at St. Francis Music Center, Pederson enjoys playing the piano at First United Church in Little Falls, an endeavor she shares with Maxine Wolff biweekly. She also likes spending time with Bruce, creating a variety of crafts, adult coloring, flower and herb gardening and more.