Six years ago, in 2013, Matthew Breiter asked his friends if he could photograph them. After years of taking photos on family vacations and just for fun, he realized it might have been something he wanted to pursue further and his friends would be the perfect test-run.
Soon the Long Prairie native was doing more and more portrait photography and his passion evolved into landscape photography by 2015. Just one year later, in May 2016, USA Today in New York City picked up one of his photos for their website.
That was the same year he found his style, Breiter said. So when people look at his photos they know who took them. He also looks for special features in his photo scenes.
"It has to be something unique or it's sunrise, sunset or night time. That's my favorite time to shoot because the day time is when everybody is awake and everybody takes the same photo," he said.
Since 2016, Breiter's photographs have been in National Geographic three times and news stations have picked up various photos for their stories, including one he took of the solar eclipse last year.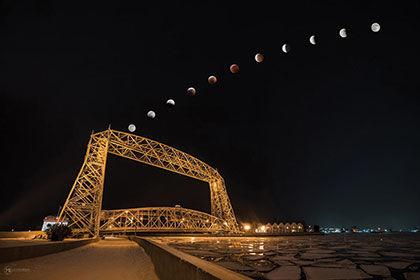 Breiter did take photography courses in school and learned to run his own business, but he said he is mostly self taught, lucky to grow up in the age of YouTube.
Now the 24-year-old does landscape and portrait photography full-time and has been actively traveling since 2018.
His first big trip was to Hawaii in January 2018, during the false ballistic missile alert, where he was in a particularly unfortunate location as alarms went off. Residents were told Hawaii was under threat of a missile launch and to take cover.
"I was on a helicopter tour when that warning went off and that's the first time I ever thought that that was it. Because the airport said don't turn around because the missile's going to hit before you get back, we're running for the hangers. Good luck. Click. And we were on our own," he recalled.
Of course it all ended up being a false alarm, blamed on poor communication, but at the time people panicked. Breiter called his parents and even did a phone interview with Fox-9 after the helicopter landed safely.
"So that kind of made me go alright, I gotta go do some stuff cause you never know when it's going to be it,"
After that Breiter has taken a trip every two or three months either across the states or out of the country. He said he only has about 15 states to go before he hits all 50.
He took on a "life is short" attitude, made a bucket list and has since traveled all over the country taking photos and even chasing storms. He's been to Iceland, the Faroe Islands, Canada and Indonesia, hauling his camera gear and taking tons of photos along the way.
In May 2019, Breiter said he went storm chasing in Tornado Alley with some friends. They were able to capture six tornadoes and traveled 7,500 miles in 10 days.
In the fall, he went to Indonesia with a photographer from Wisconsin whom he met after she commented on his photograph of Iceland on Facebook.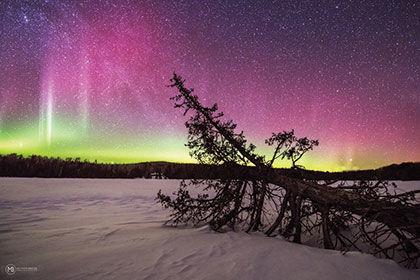 The two full-time photographers are now dating, and have a future full of travel plans and photoshoots.
"When I look at a scene I look at it specifically as a landscape and she'll look at a scene but she'll want a person in it," Breiter said.
By the end of March they will be road tripping with a camper down through the southwestern United States, and will be gone for 25 days visiting Utah, Arizona, California and New Mexico. Then from May 15 to Aug. 1, they plan to visit Iceland, Norway and continue traveling in the U.S., as well as taking another trip chasing storms.
All of their travels will be documented in photographs and video logs which they will be posting on a new Facebook page called Infinite Explorers that launched Sunday, March 15. The couple will also be posting on a YouTube channel and on Instagram under the same name.
Breiter said one of his many motivations for traveling as a young person is the fear of once nearly obsolete locations becoming overcrowded with tourists. An increase in people usually means an increase in rules, which may disrupt some of his photography plans.
In January of next year, after working the busy portrait season at home, Breiter said he and his girlfriend plan to go on a five month hiatus across the country. Just them, their camera gear and a camper.
To be a successful photographer, Breiter said someone has to have a lot of determination. Out of the 14 students from his photography course, he said he is the only one he knows who's committed full-time.
To do that, he works as a busy portrait photographer for a few months during the year which gets him by in the off-season where he can travel and focus on landscape photography, which is what he's gotten most of his recognition for.
"If you're going to make it, you have to do something different to stand out," he said.