Living on a cattle ranch in Oklahoma, Dr. Amanda Craft, veterinarian at Animal Haven in Little Falls, dreamed about becoming a veterinarian. Now she and her husband, Randy, are thrilled to have opened their own veterinary clinic, Animal Haven, in Little Falls.
    Craft said she was 6when the veterinarian had come out to their farm one day and she had asked her dad what a veterinarian is.
    "He told me it is someone who takes care of animals and when I found out that was a job you could have, I knew already as a little girl that this is what I wanted to do," she said.
    Later that year, her parents, Hal and Khris Sundvahl, sold the farm and moved to Royalton. But instead of raising cattle, they raised potatoes, she said.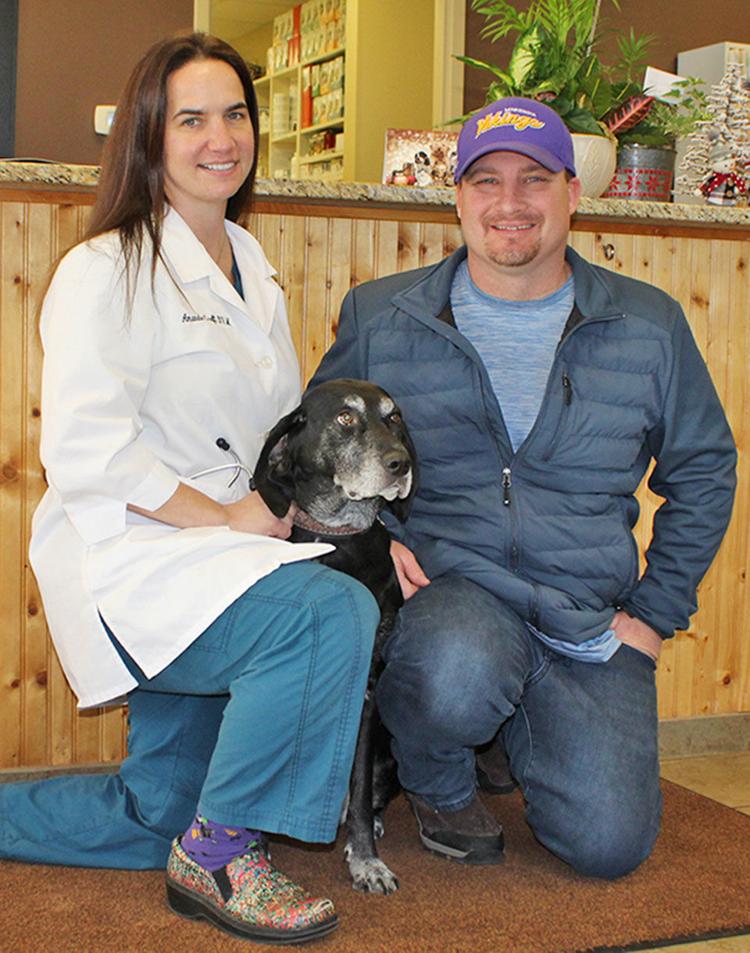 Craft graduated from the University of Minnesota in 2004 with a doctor of veterinary medicine degree. For the first six years, she worked in the Twin Cities area, but once a job opened up at the Minnesota Veterinary Associates clinic in Little Falls, she applied. It was one of five clinics the Minnesota Veterinary Associates operated with headquarters in Melrose.
    Working at the Little Falls location was a fun experience. Since she grew up in the area, she already knew several of the customers. She also had the opportunity to get to know new people in the community.
    Craft worked at the Minnesota Veterinary Associates for seven years and then accepted a job opening at another clinic in Sartell, since she felt the Little Falls clinic was not a good fit for her anymore.
    Her husband, on the other hand, encouraged her to return to her roots and open her own clinic in the Little Falls area. However, they went a slightly different route, she said.
    Although the Minnesota Veterinary Associates clinic in Little Falls was not listed for sale, Craft said she and Randy contacted the owner and made an offer to buy the business.
    "That way I could work in the community where I grew up," she said.
    The Crafts purchased the business Nov. 20, 2019, and have since been thrilled about the opportunity. One arrangement the couple has that Craft appreciates is that Randy handles the administrative business side of the business — paying bills, doing payroll, bookkeeping and more. He also makes sure the parking lot is plowed and maintains the building. She provides services to the customers and takes care of their animals.
    "It's a great relief to me because I knew that I wouldn't be able to do both great. It works out great that he does the business and I can focus on being a vet," she said.
    Being the owner allows Craft to set her own hours. In the past, whenever she has worked for someone she hasn't always had the opportunity to attend her children's school functions, but now she can set her schedule around an event.
    Their daughter, McKenzie, also rides the school bus to the clinic after school and not only gets to see what her mom does, but also helps out at the Pet Hotel, another service the clinic offers where customers can board their animals.
    While many of the tasks remain the same as when she worked for someone else, Craft said she likes that she can make decisions that she feels are in the best interest of an animal or change different practices to improve the clinic.
    Craft said the best part about being a veterinarian is to help customers figure out what's wrong with their pets and help them keep them healthy. Another fun part is to educate people about different options. As veterinary medicine is continuously changing, people may not always realize the different options that are often available.
    "I find it fascinating trying to figure out what's wrong with the animals since they can't talk. It's kind of like solving a mystery," she said.
    Animal Haven provides a variety of services, such as wellness exams, sick pet exams, daytime emergencies, the convenience of drop off appointments, vaccine updates, in-house diagnostics, hospice consultations, soft tissue surgery, humane euthanasia, digital X-rays and more.
    Customers can expect to be met by friendly staff.
    While the majority of animals Craft works with are dogs and cats, she also helps guinea pigs, rabbits and more.     
    One question many current customers asked when Craft took over was, "Will Jane still be there?"
    Certified technician Jane Boedigheimer has worked at the clinic for more than 37 years under several different owners. Many customers are familiar with her and like interacting with her.
    Boedigheimer said she is excited for Craft taking over the business and that she plans to eventually retire from Animal Haven. But when that will be remains unknown, Just sometime in the future, she said.
    The Crafts have several animals of their own — a brown Labrador and boxer mix dog, named Zoey and Black Angus cattle. The cattle are raised for their personal food production.
    When she is not working, she enjoys spending time with Randy and their children, McKenzie, 8, and Owen, 5, knitting, crafts and more.