At a young age, Gary Sperl's father taught him the importance of people and how they can add to life. Now on the verge of retirement, Sperl can happily tell his 98-year-old father how he carried that sentiment with him, still leading a life surrounded with people.
The local pharmacist volunteers for Ruby's Pantry and holds a couple's Bible study with his beloved wife, Elaine, as well as dedicating time to the Drug Task Force as a prescribing pharmacist.
That community connection is also made in Sperl's work at Coborn's Pharmacy in Little Falls.
"I've had a chance to serve wonderful people. My patients are just amazing and I get to know the good in their family and help them through tougher times as well," Sperl said. "You get to cheer with people and you get to mourn with people too."
Pharmacy let Sperl combine his interest in math and science with a passion for people. From helping families decide on medication for their sick children to seeing patients on a regular basis, he's loved being a part of their lives.
"As I've grown through the years my faith has been really a huge factor in what I do and why I do it. I'm not a perfect person by any means, but I think my love and my relationship with Christ really trickles over into, hopefully, how I treat people" he said.
His work at Coborn's started when he and his wife moved to Little Falls in the 1980s, but for a pharmacy company called White Drug, which later merged into Thrifty White Drug. Later, Sperl left to join another pharmacy which allowed him to spend more time with his family, but about 10 years ago, Coborn's Pharmacy asked him to join their team.
After some prompting, Sperl agreed to the move, but only if he could bring some fellow employees.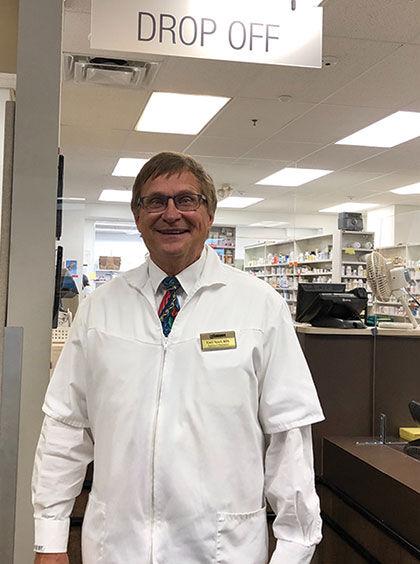 "I expected them to say 'no' and they said yes and that was 10 1/2 years ago and we're all still here. I'm the first one out the door," Sperl said.
One of those coworkers is Brad Hircock, who recently took over Sperl's position as manager.
Of the 42 years Sperl worked as a pharmacist, he spent 35 of them as a manager, fulfilling his interest in business and team building among the staff.
"My thing is, people couldn't call me 'The boss.' I was their coworker, and sure I did their evaluations but I wasn't their boss. We were a team," Sperl said.
Two longtime team members, Nicole Ebnet and LeeAnn Determan, couldn't say enough about how much they've appreciated Sperl in their time working together.
"He's the best manager I've ever worked for. He truly cares about his employees and their families as if it's his own family. Anyone who knows him in the community knows he cares a lot about us and he cares a lot about his patients too," Ebnet said. He will be greatly missed."
Determan took a minute to correct herself after saying Sperl was one of the best bosses. "Well," she said. "Supervisor? An amazing supervisor. He genuinely cares about everyone and diligently works hard for everyone here."
With about 25 staff and various duties, Sperl said working as a team has been important to providing quality service to patients, as well as maintaining a positive morale and family atmosphere at the pharmacy
"We really truly do care about each other. It will be the thing that I will miss about pharmacy the most is these folks. I love them. I know about their kids, we celebrate weddings, anniversaries, baby showers, all their life events," Sperl said.
He noted his working relationship with Coborn's Manager Kyle Wensmann and the common goals they share.
"We are going to miss him. He is phenomenal. I've never met anybody who fights harder for his staff and for what's right," Wensmann said. "He's been an absolute joy to work with."
Patients at the pharmacy are treated as family as well, Sperl said. He loves chatting with people about their life and families. Even sharing photos taken on hunting and fishing trips.
"I talk to people about a lot, not just because you want them to come and do business with you, but because you care about them deeper than just the prescriptions you're filling for them," he said. Another part of his work that he'll miss greatly.
However, Sperl said he's looking forward to spending more time with his wife, three children and four grandchildren as he phases into retirement, looking to make even more memories.
"As you go through a career like this, the real hero is my wife, Elaine. She has been the glue at home," Sperl said.
Elaine spent time as an educator before becoming a full-time mom and then working as an Early Childhood Family Educator.
"She's just been amazing. We've been married 41 years and she's a rock star," Sperl said.
The couple just recently celebrated their anniversary, opening a bottle of 10-year-old homemade raspberry wine. Making wine is one of the many hobbies they share. Sperl and his wife also garden, harvest apples from their small orchard for apple juice, and, pandemic aside, they enjoy dancing at local events and traveling.
"What I'm looking forward to the most is my wife and I get up in the morning and we have time together. I'm just really enjoying her company," Sperl said.
Sperl wanted to thank his parents for the wonderful influence they've had on him and his life as well as the local medical community at CHI St. Gabriel's Hospital for their collaborative work.
He plans to work on an on-call basis at Coborn's Pharmacy for a couple of years before completely retiring and surely spending more time doing what he loves, volunteering in the community, spending time with his family and building lasting relationships with those around him.