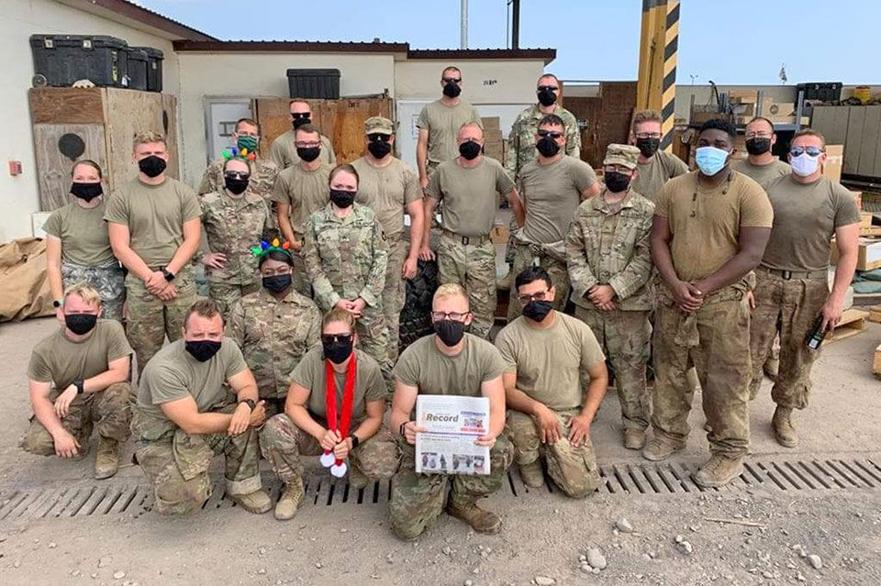 More than a decade has gone by since Raquel Lundberg of Little Falls connected with Lance Dehn, now serving as second lieutenant in the Minnesota Army National Guard. What started their unique friendship was Lundberg roaming around in Walmart, trying to figure out what to send her friend, Ken Harris, who had been deployed to Iraq as a chaplain.
    "I was wandering around Walmart and ran into two soldiers. I said, 'Hey soldiers, if you were in Iraq, what would you want somebody to put in a care package?'" she said.
    Dehn and the other soldier answered Slim Jims and licorice. Owner of Waller House Inn, a bed and breakfast in Little Falls, Lundberg gave the soldiers her business card and told them that if they were ever deployed and wrote to her, she would send them a care package.
    While she didn't hear back from one of the soldiers, Dehn wrote to her when he was deployed to Iraq in 2009 to 2010.
    "That was my first deployment, so it was really surprising to me that some random stranger wanted to send me care packages," he said.
    Dehn said he started writing to Lundberg as he wanted to be polite and follow through with what he said he would do. Although he doesn't remember all that she sent to him during his first deployment, he was very thankful for the kind gesture.
    "I was very thankful that there are people who truly appreciate what we do for our country," he said.
    Every time Dehn received a care package from Lundberg, he responded with a letter, thanked her and shared some of how things were going and what they were doing.
    After about a year or so of sending the care packages, Lundberg said she didn't hear back from Dehn. She figured he was back stateside and was simply busy with living life. She was happy she had been able to make a difference for a soldier during his deployment. She, too, moved on with life.
    In the summer of 2020, she ran across one of Dehn's old letters when she was going through different boxes in her office. Wondering whatever became of him, she searched for his name on Facebook.
    "I sent him a message, 'Hey, are you the Lance that I wrote back and forth with a few years ago?' He said, 'Yeah, in fact I was just thinking about you,'" she said.
    Dehn said he was really surprised that Lundberg had remembered him after all those years to reach out to him on Facebook. Through communicating, she learned that he was still in the Minnesota Army National Guard and had risen through the ranks to second lieutenant.
    "It was so great to connect with him again because I had wondered over the years whatever happened to him. It made me happy to find him again and to find out that he had advanced, was still in the National Guard and now an officer. I was just so proud of him," she said.
    Lundberg also learned that Dehn is currently deployed to Djibouti, a country in East Africa. Offering to send him care packages again, he declined and said he didn't really need anything. Wanting to show her support for the soldiers, Lundberg asked him to check with his unit if they needed or wanted anything.
    "This time around when she asked for my address to send care packages, I wanted it to be more for my soldiers than for me, so I got their input on what they would like to have sent here," he said.
    Dehn messaged her with the list of items, which included caramel apple suckers, Slim Jims, licorice, granola bars, gum, nuts, flavored drink packets, flavored sunflower seeds, trail mix, Ramen noodles, tuna packets, jerky, Werther's candy, holiday decorations and more.
    "He said, 'You don't have to send any of this.' I said, 'I want to. I love my soldiers and I am so thankful and appreciative of the sacrifice you make being away from your families and for our country,'" she said.
    Lundberg said that shortly after she had received the list, she visited her insurance agent, Julie Zupko, at Bieganek Insurance in Little Falls, who told her about her son serving in the Minnesota National Guard. Lundberg told her the story about Dehn. To her surprise, Zupko stopped by a few days later and handed her a check for $200 to go toward purchase items for Dehn's unit.
    "I had never heard about apple caramel suckers before. I told a couple of friends about it. Then one of my friends stopped by one day with a package of caramel apple suckers she had found," Lundberg said.
    Because of different donations and money she spent herself, four care packages were sent to Djibouti. At the suggestion of her husband, Scott, she also included an issue of the local newspaper, the Morrison County Record, in one of the boxes.
    Last time Lundberg spoke with Dehn, she found out that three of the four boxes had arrived. The soldiers were very grateful for the many items they had received.
    "Once the packages arrived, they were really shocked to have received so many. They are very thankful for the time, work and money that was put in to the care packages," Dehn said.
    Since Lundberg sent the care packages, more people in the community have expressed an interest to donate to her cause. She plans to continue to send care packages to Dehn's unit while they are deployed and hopes to continue to support other deployed soldiers in this way even after the India Company returns home sometime this summer.
    "Every penny that is contributed will go directly into these boxes," she said.
    Lundberg encourages those who donate to include a photo of themselves that to be included in the care package. That way the soldiers who receive it can see who made it possible.
    To donate, checks can be made out to "Raquel Lundberg" with "Care Package" written in the memo and mailed to Raquel Lundberg, 301 Third Street SE, Little Falls, MN 56345.