The Morrison County emergency management team reported 9.08 inches of rain, June 29, in a single storm incident that caused a possible $300,000 in damages to public infrastructure. The damage prompted the Board of Commissioners to declare a state of emergency, July 1.
That same day, Kari Sabrowsky and her husband were dealing with their own emergency: 14 inches of rain in their basement, a flooded yard and more than $29,000 in damages.
"Everything is ruined. We just bought a brand new furnace and that's probably ruined. Everything downstairs. We've got a Tempurpedic mattress down there, probably ruined. Some of the electronics were up high enough but all the furniture and everything. ... It's a fully finished basement, so you can imagine," she said.
Sabrowsky and two of her neighbors on Gordon Circle caught the worst of the storm, being a low spot in her neighborhood, she said. When she arrived home the evening of the 29th, the water pooled so much she could hardly drive into her driveway
The damage estimate was just for the basement itself and none of its furnishings. Sabrowsky said insurance won't cover any of it.
"Insurance won't cover anything because we're not in a flood plain, but it sure feels like we are," she said.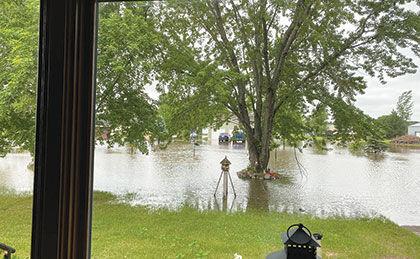 The couple addressed the issue right away, at first reaching out to Little Falls Township.
"The neighbors and I were trying to get the township, get their attention and get them to help because this water was just standing and we couldn't get it to drain anywhere," Sabrowsky said.
Some township employees did visit the neighborhood, she said, but responded that flooded roadways needed to be addressed, which Sabrowsky said she understood, but was left staying home from work to watch the gas pumps take water out of her basement.
After hearing about their situation, some neighbors lent Sabrowsky and her husband some piping, a tractor and a lagoon pump to evacuate the storm water.
After some success with pumping, Sabrowsky said the township left them to handle things.
"The township said since we got this guy to come and help us, they basically said 'Well you got things under control we're not going to do anything,'" she said.
Then her husband went to a township meeting to again discuss the couple's property damage.
"They are discussing ways on fixing this but we really aren't getting any answers. There's nothing immediate happening for us and I called soil and land conservation for Morrison County and I was basically told that well 'You live in a low spot so it's your fault.' So they're not going to do anything for us I thought they could do something about how the water is draining," she said. "Our ditches are full and water is seeping back into the ground and coming back in because there's nowhere to go."
County Soil and Water Conservation District Manager Shannon Wettstein said her advice to the Sabrowsky's is to install drain tile around the foundation.
"Looking at their landscape and the conditions that caused their basement to be flooded on June 29, there really is not much we can do, she is right. The area where their neighborhood is, is very flat but also at the bottom of a large watershed," she said.
Wettstein said she did have a drainage technician visit the neighborhood ad reach out to the township.
"This rain event caused an unbelievable amount of damage. We made national news with this event," Wettstein said.
In the eight years Sabrowsky and her husband have lived on the property, she said fall 2019 was the first time they had any level of water in their basement, but she's noticed the drainage has been getting worse.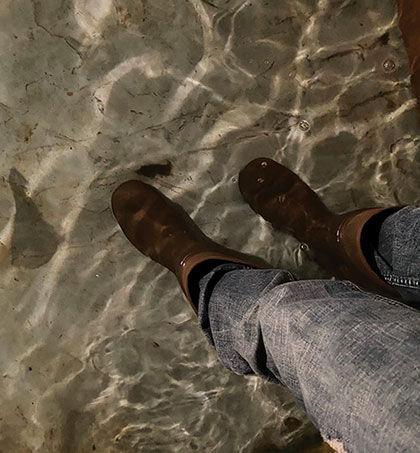 By mid-July, the couple had been running two sump pumps in conjunction with the neighbor's pump and at one point removed all the standing water from the basement. But just a few days later another rain event hit and by July 18 they measured 11 inches of water in the basement.
"We have a ton of mold down there too, it's basically not even safe to live in here right now. We just bought a camper so we have somewhere to live because we're going to have mold removal on top of everything else," she said.
When Sabrowsky saw that the county may receive emergency funding, she reached out to her county commissioner, Randy Winscher.
"He is the only one that's actually been really helpful and he's trying to get us some help," she said. "He said he was going to look into it and he did give me hope that maybe some of that FEMA money would help people repair homes."
Winscher said he did inquire with some contacts about the situation but likely won't know anything until the state assesses the county's damages.
"The county does not have anything that takes care of people who get water damage," he said.
Sabrowsky wasn't the first constituent to reach out to Winscher, he said, and other residents have called to task if the ditch in their area could be cleaned by the county, however he's had to inform them that it is a private ditch, not a county ditch.
After missing four days of work to watch pumps for the basement, realizing the extent of the damages and now moving into a camper, Sabrowsky is hoping for any amount of assistance to address the water retention near her home, she said. The township did apparently discuss ways to assist, possibly by building a berm or a drainage basin.
"It doesn't have to be a lot, just something to help us out. The most important thing is for them to fix the drainage issue cause all the sudden the last two years the water comes into the neighborhood," she said.
The Sabrowskys and their neighbors are still pumping water from their basements and for now, she said, she will just have to be patient until she hears from someone who has a solution.