Serving as a veterinarian for the Puerto Rico eventing team at the 2021 Olympics in Tokyo, Japan is an experience Doug Anez will never forget.
    "It was a fantastic experience. The horses competing were amazing and same with the other athletes," he said.
    A native to Little Falls, Anez made Exeter, Calif. his home in 1997. There, he also opened Pacific Crest Equine, the only practice in the area that was devoted specifically to horses, with a special emphasis on treating lameness in performance horses.
    What made the experience in Tokyo even more exciting is that his client of more than 10 years, Lauren Billys, advanced to represent Puerto Rico in the Olympics. Anez said that while Billys was born in and lives in California, it was the second time she represented Puerto Rico, which is her family's heritage, at the Olympics. She competed at the 2016 Summer Olympics in Rio de Janeiro, Brazil, and then this year, in Tokyo, Japan.
    Initially, the Summer Olympics in Tokyo, was supposed to have occurred in 2020. However, because of the ongoing COVID-19 pandemic, it was postponed a year. Other competitions were canceled, as well. It presented a challenge of its own, Anez said.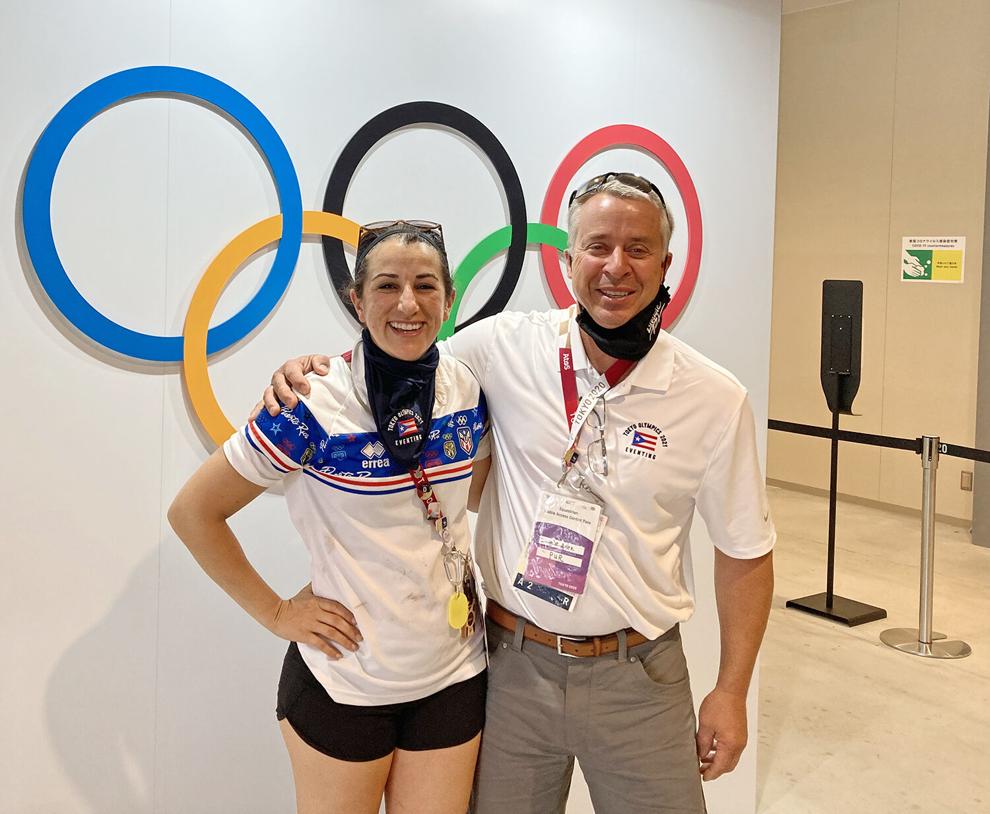 "It was quite an ordeal to get there and they were all at peak performance. Then, COVID hit and they had to stay in peak performance for another year to make it, just like all the athletes," he said.
    Since Castle Larchfield Purdy was 19, nearly 20 years old, when he competed at the Tokyo Olympics and had faced a range of health issues in the previous years, such as life-threatening colic, inflammatory airway disease and more, Anez said they crossed their fingers he would remain sound.
    Eventing is an equestrian sport where a horse and its rider combine and compete against other competitors in three disciplines — dressage, cross-country and show jumping. It requires both horses and riders to be in excellent shape.
    Anez said that the cross-country course can be quite grueling for the horses, especially in hot temperatures. The cross-country course at the Olympics was 2.7 miles long, dotted with 36 fences, drop-offs and ponds for horses and riders to negotiate at speeds of about 21 miles per hour.
    The weather in Tokyo was about 90-95 degrees Fahrenheit with a 90% humidity. Despite the warm weather, Anez said the horses did pretty well.
    Cooling stations were also set up to help keep the horses cooled.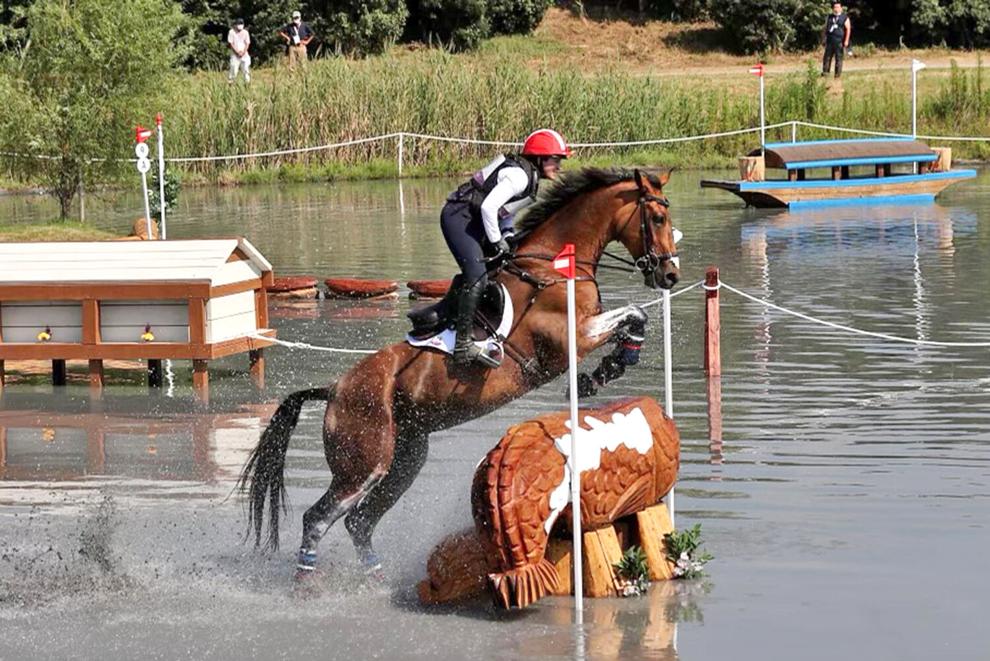 "They would get hot when they were warming up. We'd bring them back in to cool them off and get them ready to go," he said.
    Despite their efforts, Castle Larchfield Purdy unfortunately overheated on the cross-country course.
    "He just overheated, washed out and had no energy left after three quarters of the way through, which he's never done before," Anez said.
    Looking back to their preparations for the Olympics, Anez said the plan had been to train in the humid weather on the east coast for a while before flying the horses to Tokyo. However, this year, the horses were required to quarantine at a station in Germany for two weeks before they were flown to Tokyo. The reason for this, Anez said, was because there were some contagious diseases with horses going on at the time, such as viral rhinopneumonitis, an equine herpes virus that is highly contagious and can cause respiratory disease, fever, poor appetite, depression and more.
    Compared to the weather the horses competed in, Anez said that the weather in Germany was wet and cool. The barns in Tokyo were also perfectly air conditioned. As a result, the horses weren't climatized as well as they had initially hoped, he said.
    Prior to the Olympics and before they were flown to Germany, July 4, the horses were monitored weekly for injuries and treated accordingly, if necessary.
    It was the first time Anez served as a veterinarian at the Olympics. He was supposed to have gone to the 2016 Summer Olympics in Rio de Janeiro, but was unable to due to scheduling issues.
    Because of the ongoing issues with COVID, athletes and other people at the Olympics were not allowed to travel the country. Because of this, Anez mainly stayed at the Olympic village where they were housed or at the horse complex. They were all also monitored through a phone app.
    Cafeteria-style food was served. Although they were in Japan, Anez said the food wasn't typical Japanese cuisine, but more similar to European and American meals, such as potatoes, meat and some kind of gravy.
    Looking back, Anez said growing up on a farm in Little Falls, he had always liked animals and the passion grew from there. Once he started studying veterinary medicine, he discovered his true passion lied in equine veterinary care. It gave him a greater challenge.
    "I liked the medicine and the difficulty of working on them, trying to solve problems to make them better," he said.
    He also likes the variety equine medicine brings.
    "It changes every day. You never know what you're going to be doing. It's never the same thing," he said.
    After Anez attained his doctor of veterinary medicine from the University of Minnesota in 1995 with an undergraduate degree in equine studies and animal science, he worked at an equine medical and surgical facility in Zurich, Switzerland, whose clientele included multiple Olympic dressage and show jumping performance horses. Later, he joined one of the largest practices in the state of Washington as an associate in equine medicine and lameness, where he remained until he moved to Exeter, Calif. in 1997.
    While Anez also rides, he sticks to mostly trail riding. His wife, Kelly, competes in dressage and their daughter, Ava, competes in eventing.