The city of Little Falls recently welcomed 20 new ice cream flavors to town with the grand opening of the Lindy Scoop Ice Cream Shoppe, Aug. 28.
Featuring flavors from a standard vanilla or a sweet maple nut to more unique flavors like caramel collision, coconut explosion, pirate's bounty and jumping jersey cow, owner Susie Chaika offers something for everybody.
Chaika co-owns and works at the neighboring business, Johnny C's Sports Bar, with her husband, John.
"We had the opportunity to buy the building next door, so we just tried to think of something that the community would like," Chaika said. "It was a good idea. It's something that is unique to the town, as hard ice cream, and I'm thrilled that it has gone over so well."
So far, the Lindy Scoop Facebook page has 950 followers and counting, and after about a week of opening, Chaika said the business has been great. She loves that her ice cream brings joy to people.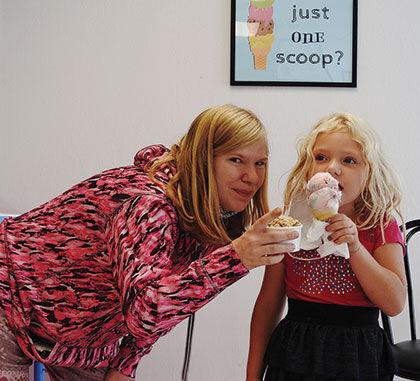 So, with an opportunity to open a new business, why open an ice cream shoppe? It may surprise some, but Chaika didn't have an answer. Other than her joy at bringing something to the community, she didn't have a yearning to open a dessert shoppe, or a passion for waffle cones, but once the decision was made, she committed.
"There is no rhyme or reason to anything I do in life and this happens to be one of those things that just happened," she said.
But after opening, she is glad to bring something sweet to the community and hopes it will draw additional tourism to downtown Little Falls.
"Whatever and however, it is an exciting move. I love the fact that everybody in town is truly loving it. To me, nothing is better than seeing joyful people eating ice cream," Chaika said.
Although Chaika doesn't have a particular reason for becoming a business owner, it may have something to do with a long line of business owners in her family. Her grandfather, aunts and uncles have all been involved in business over the years.
And, a twist came when Chaika and her husband bought the building a year ago.
"When we were closing on it, I opened up the abstract and realized it was my great aunt and uncle that owned the building long before," Chaika said. "And I found out they had a meat market in this building."
With a passion for small town history, Chaika plans to hang the boiler permit, found in the basement, that her aunt and uncle signed back in 1954, along with other historical memorabilia related to Little Falls on the walls at Lindy Scoop.
"To find out that it was a building that was in my family, once upon a time, is crazy," she said.
Now, all who visit the shoppe in the future will be able to enjoy a sweet treat while brushing up on their town history.
"I just think it's necessary for people to realize and not forget what our town was made of," Chaika said.
Chaika herself is a part of the town's history, having spent 34 years working in offices for both Crestliner and Larson Boats. That experience gave her some of the skills to run small businesses.
And while running a small business in the midst of a pandemic wasn't easy or expected, opening a new business altogether has added another level of difficulty, Chaika said.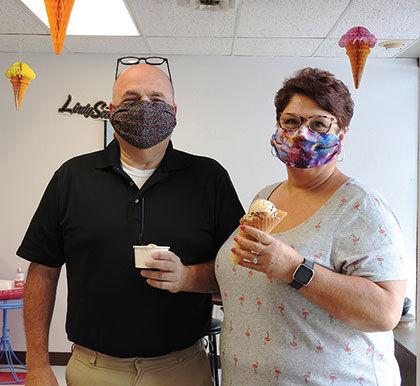 The Lindy Scoop Ice Cream Shoppe was originally scheduled to open in May, but with the closure of Johnny C's, the Chaika couple didn't have the income to continue on with their next door ice cream shoppe.
But, after postponing for a few months, Chaika was able to open the doors of Lindy Scoop, welcoming mask wearing customers inside, where she has social distancing markers in place.
"I am so appreciative to everybody wearing masks and following markers for social distancing," she said.
And while Chaika admits her distaste for having to wear a mask, she's accepted an "it is what it is attitude," a must as a business owner she said and is looking to the positive.
One element of Lindy Scoop that excites Chaika is the quality of the ice cream served. In her search for a vendor, she said that a family owned business was a priority. And for quality, she happened to choose a small business in a state known for its dairy: Wisconsin.
"They are very local and only deliver within so many miles. So it's made fresh and delivered straight to me," Chaika said.
The vendor has 60 flavors to choose from, and Lindy Scoop offers about 20 flavors at a time, but plans to rotate flavors throughout the year. Chaika said she is proud to offer sugar free, dairy free and nut free options, all of which have been tasted and approved by many ice cream lovers.
"If someone comes in and says, 'I have a child that has a severe peanut allergy, then I'm scooping from the back room from a new and uncontaminated pale of ice cream," she said.
In the future, Chaika plans to add shakes, floats, malts, sundaes and ice cream nachos to the menu. Ice cream nachos are waffle cone chips in ice cream covered with various toppings, she said, a fun addition to any dessert shoppe.
So far, the shoppe has been cash only, but Chaika is looking to add a card machine very soon. The Lindy Scoop Ice Cream Shoppe is located at 114 E. Broadway, Little Falls, next to Johnny C's Sports Bar.
While hours are subject to change in the future, Chaika will open Lindy Scoop Tuesday through Thursday, from 3 p.m. to 7 p.m. and Friday through Sunday 11 a.m. to 7 p.m. The business will be closed most Mondays, but will be open Sept. 7, for Labor Day.