Princess stayed until help arrived
    When Jack Josephson, 88, of Little Falls fell in his good friend and neighbor's garage, Sept. 22, no one knew he needed help to get back up. That is, no one except the shorthaired collie, "Princess."
    "She just stayed with me," Josephson said.
    Paul Dennis, 90, who owns Princess said he lives next door to Josephson and the two are really good friends. They look out for one another and have shared their house keys.
    On that particular day, Dennis had traveled to the Twin Cities area to attend a funeral. While he was away, Josephson kept an eye on the house and checked on Princess.
    Josephson said he fell shortly after he had brought in his friend's mail. When he left, he miscalculated his step on the stairs leading out to the garage and fell onto the concrete floor. Although he wasn't injured, he was unable to get up on his own. He attributes it to old age.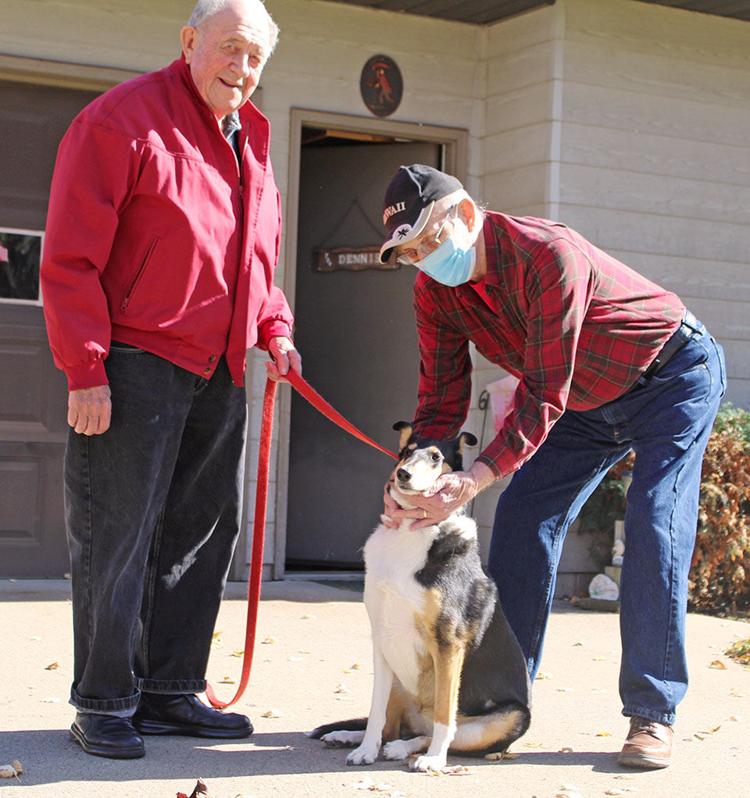 "It's easy to get down, but try to get up when you don't have anything to hold onto, you just can't get up. I looked around for something to grab, but couldn't find anything," he said.
    At first, he had hollered for someone to come and help him, but gave up after about 30 minutes. He knew someone would eventually find him. It was just a matter of waiting until then, he said.
    Although Josephson wasn't scared, what helped him pass time was Princess, who laid down next to him. It was clear that she knew something was wrong, he said. Josephson remained on the floor for more than two hours.
    "She was a real companion and stayed really close to me during that time. It meant a lot to me that she did. Otherwise I would have laid there all alone and it would have been a very long afternoon. She is the most gentle and docile dog I have been near," he said.
    Later that day, Josephson's daughter, Sharon Kassing, arrived to her parents' home to visit. Once Princess heard the noise, she ran outside to get her attention. Josephson also started hollering again in hope to be heard.     
    "She said she was sitting there, petting Princess, and then heard someone hollering in the distance for help," he said.
    Once Kassing found her father on the floor, she fetched her mom, Julie, from next door and together they helped him up. Josephson said that during the time he was gone, his wife had just figured he was next door, visiting with the dog or something, oblivious to him having fallen.
    Although Dennis has only owned Princess for a few months, she has become a special presence in their neighborhood. Not only because of the fact that she rarely barks, but because of her sweet and friendly nature.
    "She has been a treasure for the whole neighborhood. Everyone stops and pets her," Josephson said.
    "She's a really good dog," Dennis said.
    Princess came to Dennis in May, about three months or so after his beloved wife, Jean, died. Since then, Princess has been his companion and has enriched his life in so many ways.
    "She means a lot to me. I have someone to talk to and to take care of. She's a good listener," he said.
    Before Princess became his companion, she was a show dog. While she had won several ribbons, Dennis said she didn't know simple commands, such as "sit," when he first got her.
    "It was like Greek to her. Before, she had been in a crate all day. The master came home, fed her, exercised her and put her back in the crate until the next day," he said.
    Dennis worked with obedience instructor Mona Marshall and trained Princess. She responds very well to commands now, he said.
    One of the many things he loves about Princess is her personality. She is very companionable, caring and curious. Any sound she hears, she goes to investigate.
    "When the washing machine goes off, she always beats me to it," he said.
    When friends and family come to visit, she is friendly, happy and acts as if she believes they are truly there just to visit her, Dennis said. She also gets along really well with the other dogs at the dog park, but if needed, is not afraid to put a bullying dog in its place. At night, she sleeps on the floor by his bed and at times, puts her head in his lap when he is sitting in his chair.
    "She is a real treasure. Sure I miss my wife, but I have a wonderful life here by myself," he said.
    Josephson said after the accident he purchased Princess some meat flavored dog treats as a way of thanking her for staying with him after he fell. However, not too many treats at a time. Dennis took her to the veterinarian for a checkup recently and discovered Princess had gained about 20 pounds since he first got her.
    "We're watching her diet right now, but she sure loves those treats," he said.