Staff video by Sheila McCoy, Morrison County Record
Photo gallery below.
    Saturday, March 21, was supposed to be a fun and thrilling experience for 58 Little Falls Community High School students. As the students are featured in the main and front gallery at Great River Arts (GRA) in Little Falls, that was the day of the artist reception — a day for family, friends and others to socialize and view their art.
    However, in the fight against COVID-19, Minnesota Gov. Tim Walz issued an executive order, Monday, March 16, to close all bars, restaurants, coffee houses, museums, art galleries and other public gathering places. As a result, art reception was canceled and since the Little Falls Community High School (LFCHS) Art Show is only featured until March, the students' art will go relatively unseen — that is, in person.
    While the students are disappointed that the artist reception was canceled, they are honored to be featured at GRA.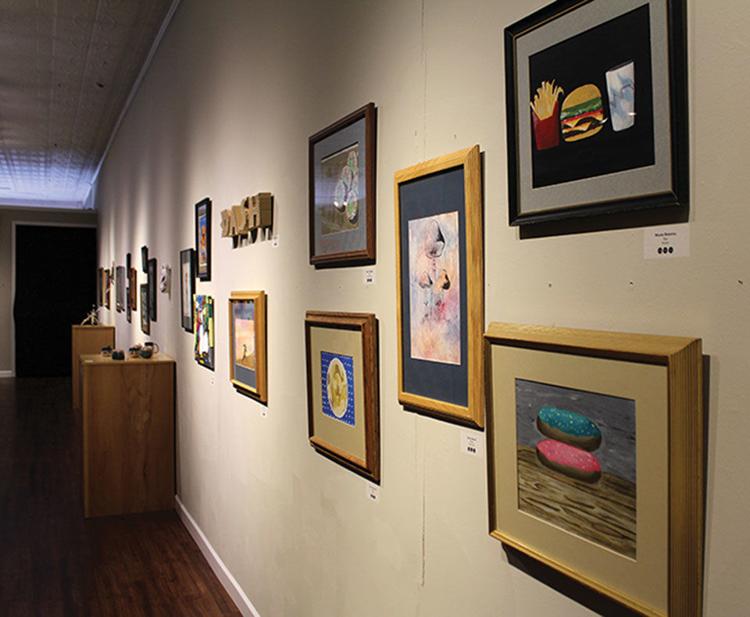 "This art show is a wonderful way to spread the joy of art with our community. I believe that there is no point in making art that is meant to be locked away and never viewed, so with great pleasure, I entered several of my favorite pieces so others could see them enjoy them as much as I do. Looking at art is a social activity and sharing it calms everyone's heart and minds in these trying times," said Artist Emily Liddell, a senior at LFCHS.
    Liddell entered three art pieces in the art show. "Into the Deep" is a sculpture of a monstrous hand emerging from water. It represents how the thoughts of the public can affect an outcast individual.
    "The person's hand is transforming into a monster because society views them as strange and they are drowning in the expectations of society," she said.
    Liddell said she was inspired to create an oil pastel of the inside of "Notre Dame" before a fire severely damaged the medieval Catholic cathedral, April 15, 2019. It is an impressionistic recreation of a photo she took of Notre Dame on a trip to France, she said.
    As she has been fascinated with miniature models, she also entered "Modular House."
    "To be able to create one myself was an amazing opportunity. There is no special meaning behind the piece, but my main goal with it is to spread the feeling of awe and wonder I have for miniatures," she said.
    For senior Olivia Flies, art is a way of connecting to and communicating with others.
    "Creating art is an outlet for me. It's hard to put thoughts or feelings into words, but through art I have something people can see and interpret in their own ways and relate to and because of this, I believe that making art is a way for students to express themselves and connect with others," she said.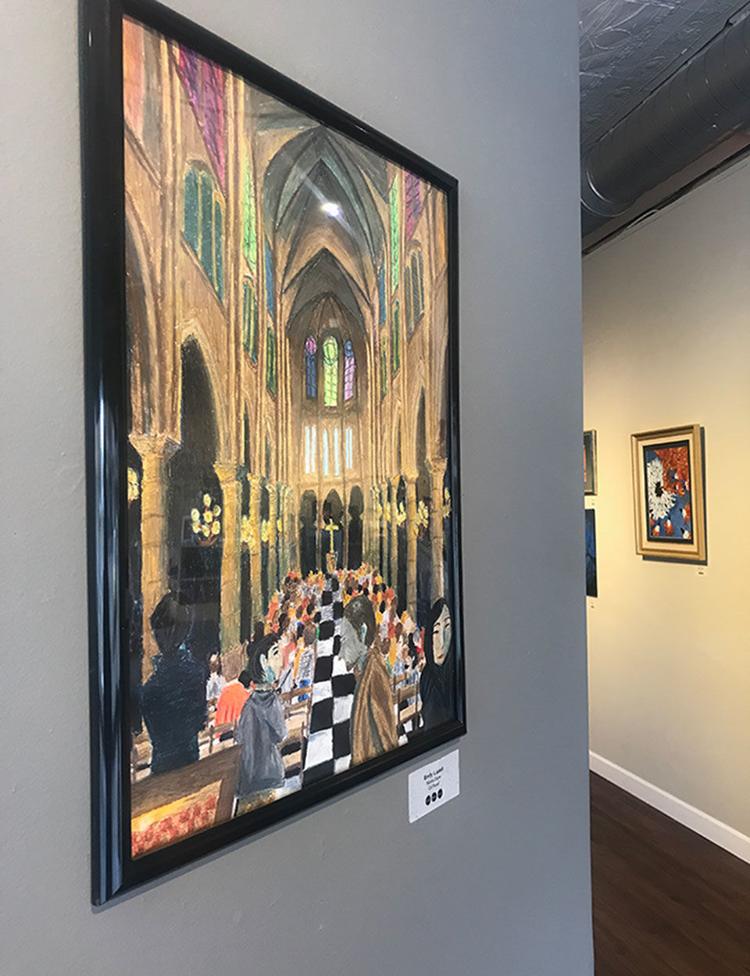 Flies entered two pieces in the art show. One is a sculpted octopus, "Light in the ocean," that is holding half-melted candles.
    Her other artwork is a sculpted fox, "Life Continues On," covered in mushrooms and moss. The mushrooms also serve as jewelry holders as the thought behind the artwork is to portray how humanity has been finding ways to use nature even at the cost of harming it.
    "It's also supposed to point out how after we're gone, nature will continue," she said.
    Flies said the octopus is her favorite of the two, mostly because she believes the meaning behind it is something everyone should learn, she said.
    The longer the octopus holds onto the candles, the more wax drips down and burns it. It is also so preoccupied with holding the candles that it cannot swim or move forward — a symbol of how people hold on to their past, their troubles or toxic relationships when really the only way they can heal or live a full life is to let go, she said.
    Another senior, artist Trista Theimer, was inspired to pain a koala with Australia on fire, "The Burning," because of the widespread wildfires in 2019-2020.
    "I wanted to portray what was happening," she said.
    She also painted "Night Sky," an acrylic. It was her love of the sky that inspired her to take to the easel to create it. It was as if the vastness of the sky just drew her in, she said.
    Theimer was a freshman when she first started creating art. Initially, looking to fill her art credits, she ended up loving it.
    "Creating art is more than just painting. It's such a relaxing process and a process that will never get old," she said.
    To see the students create and display their art at GRA makes LFCHS Art Teacher Karen Warner very proud of her students for their accomplishment and hard work.
    "Each piece really emphasizes each student's interests and individuality. They are able to create meaningful art pieces while learning new techniques along the way," she said. "Being able to display the student work in a professional gallery space is a great opportunity for the Little Falls students. They are often surprised at how their work changes after it has been framed and placed in the gallery. I think it brings a sense of accomplishment and pride to the students and it allows others to see what great things they have done. This exhibit is a very rewarding experience."
LFCHS Art Show impacted by GRA gallery closing