Dr. Bens Grams likes to say he does things a little differently. The Little Falls based chiropractor assesses the entire body to determine not only the source of someone's pain, but the cause of that pain. Then he works to treat the body with various therapies, not just by correcting a misalignment, but focusing on long-term treatments as well as preventative care.
"Our goal here has always been to provide our community with non-drug, non-surgical options for pain relief," Grams said.
To help with his goal, Grams recently acquired an Erchonia laser, an FDA approved non-invasive method to help treat chronic and acute pain.
Erchonia is a cold laser, meaning it doesn't heat the tissue. The special light targets the body's cells to encourage healing.
"It's pretty incredible. To understand how it works you have to understand how cells heal. So we have these little power factories inside the cells called mitochondria. So mitochondria produces energy, ATP, in the cell and then the cell uses that to perform its basic function. One of its most fundamental functions is to repair itself under injury or damage," Grams said.
The energy components of a cell can burn out and are not able to provide the energy needed to heal cells, he said. The laser essentially jump-starts the cell into working more efficiently, and the body takes the healing process from there.
"If the cells can't heal, the tissue can't heal. If the tissue can't heal, the person can't heal," Grams said.
In just two months since offering laser treatments, Grams has had dozens of patients try the Erchonia, and with some great results.
The treatment takes anywhere from five to 10 minutes, and the patient shouldn't feel anything but some possible tingling. Some patients may need one or two sessions while others may need a couple dozen, Grams said. It all depends on the condition.
"When you're in practice that long, you get used to how things heal, but some of our tougher cases are healing faster than you ever could have hoped," Grams said. "People are kind of excited about new technology that helps their body."
The laser treatment can help with issues from pain related to a recently sprained ankle to chronic pain from older issues. Conditions such as tendinitis, bursitis, sciatica, rotator cuff injuries and even digestive issues can be corrected with the Erchonia, Grams said.
"You can treat just about any muscle or joint in the body with it. What's also exciting is it also has healing effects in body systems as well. It not only affects the musculoskeletal system but it affects the organs by helping cells communicate better with each other," Grams said.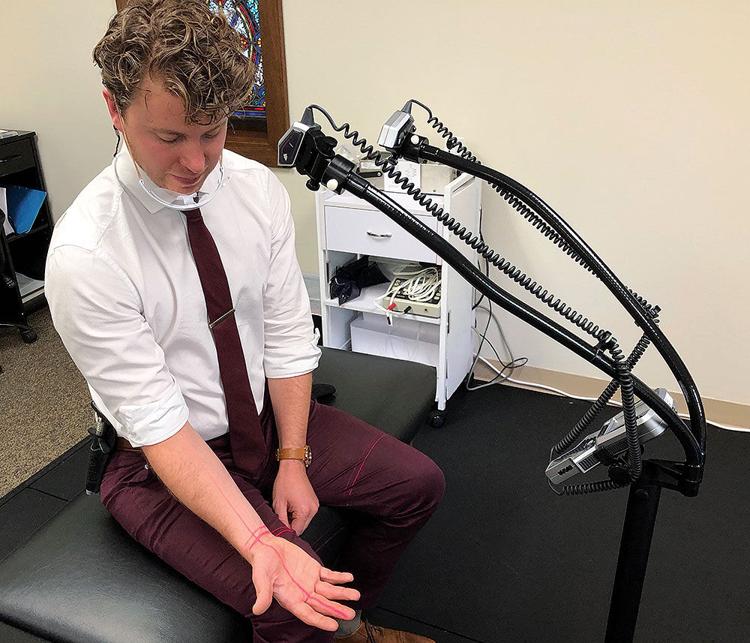 When a patient comes in, Grams works to find not only the source of the pain, but the cause of the problem. Erchonia is a double laser allowing both areas of the body to be treated. Sometimes, he said, lower back pain can be due to a hip problem, even if the patient doesn't feel pain in the hip, both areas need to be addressed to truly treat the pain and its cause.
Many patients use the laser treatment in conjunction with other rehabilitative therapies. Since not all conditions can be treated with the laser, Grams offers a multitude of similarly non-invasive, drug free options, including adjustments, muscle therapy, corrective movement therapy, therapeutic ultrasound and more.
The chiropractor has various certificates for several techniques, including working in pediatric and perinatal areas. Grams used these methods on his wife and new baby during and after the pregnancy. His daughter was aligned within a few minutes of being born, which can help with colicky babies.
"I think it's so important for kids to be checked regularly as far as alignment and making sure the joints are holding property alignment. It can help them the rest of their life," he said.
Grams' passion for natural methods of pain treatment and prevention ignited when he was in college and his grandmother was being treated at the Mayo Clinic in Rochester.
"She was in the hospital having some tests and she suffered a perforated ulcer, the lining of your stomach wears thin and the acid contents basically spills in the guts. It's incredibly painful and it's life threatening," Grams said.
Luckily, his grandmother made it through her surgery and her life was saved. But Grams wondered why such a thing would happen in the first place. The surgeon's answer led Grams to where he is today.
"He nonchalantly said, 'Well, it's likely due to her daily use of Ibuprofen for pain relief.' And it just hit me like a lightning bolt," Grams said. "There were these things that were supposed to be helping her, but were actually hurting her. At that moment I decided I was going to help people be pain free and healthy, but I was going to do it without prescribing medications or doing any surgeries."
After shadowing some of what Grams said were the most intelligent and holistic thinking chiropractors he's met, Grams curated his focus as a chiropractor focusing on the entire body, beyond perming adjustments. Now Grams is in his ninth year at his Chiro Plus Rehab clinic in Little Falls.
The doctor even wrote a book, "The Solution to Back and Neck Pain," which was a top seller on Amazon.com in the chiropractic, chronic pain, and alternative medicine sections.
The book was read worldwide and, to Grams' astonishment, encouraged a man to fly from Beijing, China to seek his treatment, twice.
"We do things different than the average chiro," Grams said. "We're happy to just adjust someone if they just want to get cracked and go on their way. But, if people are wanting to change and really get after the underlying cause of the problem, I think we're set up pretty well to accomplish that."
For more information on Grams' practice visit www.chiroplusrehab.com or call (320) 632-9224.