One thing Camille Warzecha, 77, of Little Falls is glad she did was to learn how to use a computer as it opened a whole new world to her.
    "I love the access my computer gives me to the world of research just with a click of my mouse or a touch on my iPad," she said.
    Warzecha said she learned how to use a computer shortly after she retired from the Morrison County Record in the early 1990s.
    She had also been newly elected to serve as a board member at the Little Falls School Board. As education was moving in the direction of ever-evolving technology, Warzecha said she figured she needed, too.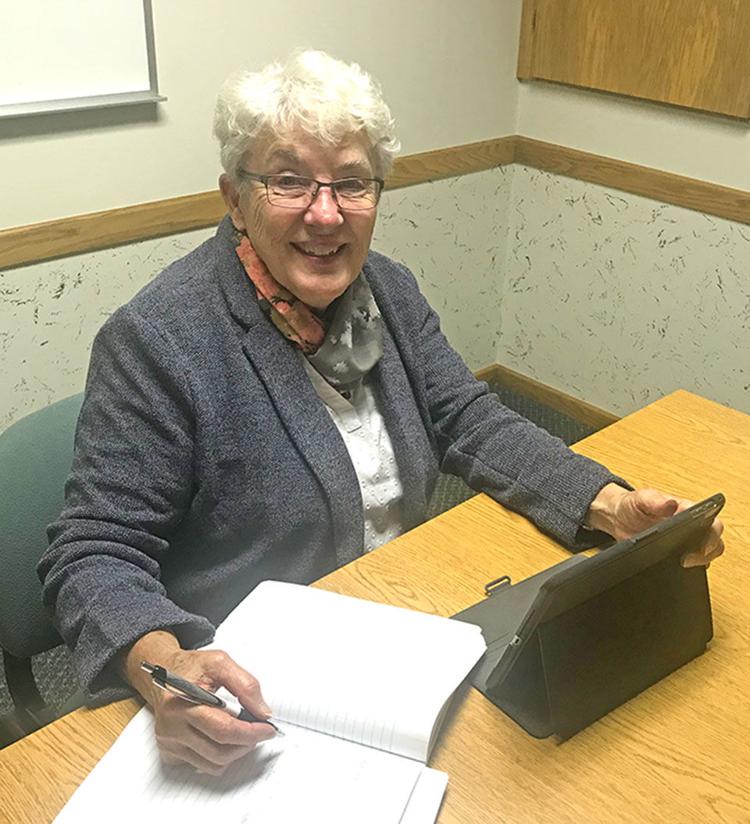 "I found out right away after being elected by popular vote that it is one of the few decision making positions you can win without having a degree in the subject," she said.
    Warzecha said she used her newly learned computer skills to learn more about education, how schools operate and are funded and researched online about the different topics they were making decisions on. It became a very useful tool during the seven years she served on the board, she sad.
    But learning how to use a computer wasn't all a bed of roses. At first, it felt rather intimidating — something Warzecha believes many, especially those who are older, can relate to.
    "You have the hesitancy up front that you go to click something and that it will disappear and the fear that you won't find it," she said.
    Warzecha has found having computer skills and access to internet very valuable in other areas of her life.
    About two years after she learned how to use it, she started researching her family history. Before her genealogy research had been limited to her husband, Robert "Jim's" family history as his was rooted in the Little Falls area.
    "If the people you are researching were born and raised in Morrison County, you have wonderful resources right here," she said.
    Some of those resources includes family files with a lot of history on local family names that are stored at the Charles A. Weyerhaeuser Museum in Little Falls, old newspapers, census on microfilm and more.
    The Morrison County Court House also have records of births, marriages and deaths for Morrison County.  
    "We are also very lucky to have an active Morrison County Genealogy Society that meets monthly, which is a great help to budding genealogists," she said.
    Researching her family history, Warzecha said she found records of Ellis Island and Castle Garden of her ancestors coming through the port of New York. They were from the small town of Gessopalena in the province of Chieti and in the Abruzzo region in central Italy.
    "I found my father's father had first entered the U.S. in 1892 and worked until 1899 and then returned to Italy. He then re-entered the U.S. in 1901 with his new bride, settled down and raised his family in Philadelphia," she said.
    Her research also revealed that a large number of young men had left Gessopalena, where many suffered in poverty, in hope of a better life in America.
    Warzecha said within the last year she's learned from her younger sister who lives in Pueblo, Colo. that some of her clients' ancestors were from Gessapalena. Although the connection has yet not been found, Warzecha said it is very possible that they may be related.
    "When you do family history research you find the reasons people move from their home countries and it's pretty much the same no matter where they are from. They are all seeking a better life for their children," she said.
    As research can be very time-consuming, Warzecha, a member of the Morrison County Historical Society (MCHS), volunteers to research different topics and contacts for various projects the society may have.
     She also serves on the Historic Preservation Committee in Little Falls. Through the MCHS board, she is also a representative on the newly established "Save Our Shores" group of landowners on the Mississippi River between Little Falls Dam and Blanchard Dam, who are concerned about the rapid shoreline erosion.
    Besides researching history and education, Warzecha has used her computer skills to research solutions for various breakdowns in her every-day-life.
    When the ice maker in their refrigerator was dripping and freezing up, by the click of a mouse and watching Youtube videos, she discovered what the likely issue was.
    "I ordered the part I needed and then watched a Youtube video on how to pull it apart and put the new one in. It was the same thing with the old dryer we had," she said.
    Warzecha said having computer access allows her to keep up on what is going on in the world and finding information in an instant. Having that access has also kept her retired life quite interesting.
    "I'm a very curious person and I like to have answers to things. The computer allows me to not have to wait. I loved encyclopedias as a kid. This has opened a whole new world for me," she said.