When Terry and Ardis Sandstrom of Motley moved to their home by Lake Shamineau 17 years ago, it was not only their retirement plan, but also their dream.
    It was an idyllic place with a large one-level home, great neighborhood, by a beautiful lake with a 14-foot sandy beach.
    "We bought it when we were retiring and our dreams were that we could have our children and grandchildren here. It's the American dream to be able to live on a lake in Minnesota, said Ardis.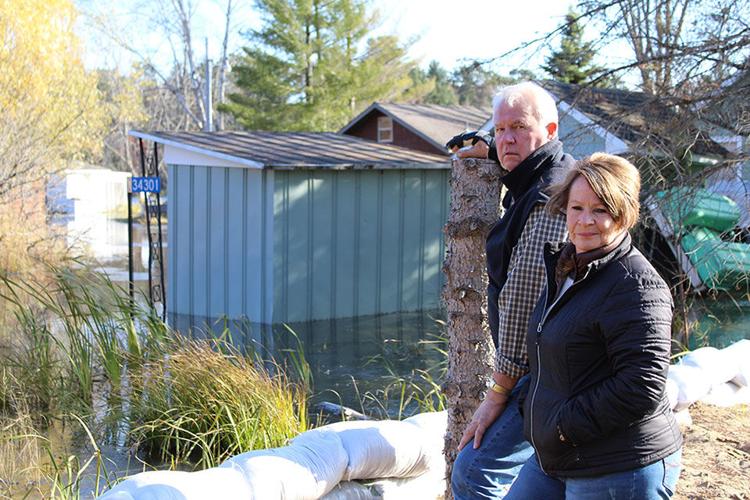 But eight years ago, the Sandstroms began to notice changes to their property as the water level rose on the lake.
    "That first year, we decided to sandbag because it was the lowest
side of the yard. We figured the water level would go down the next year," she said.
    Instead the water level continued to rise to the point the couple decided to build a riprap (a rock wall to prevent shoreline erosion) the third year. Although the Sandstroms built up the wall two more times, the 2 1/2-foot tall riprap is now completely under water.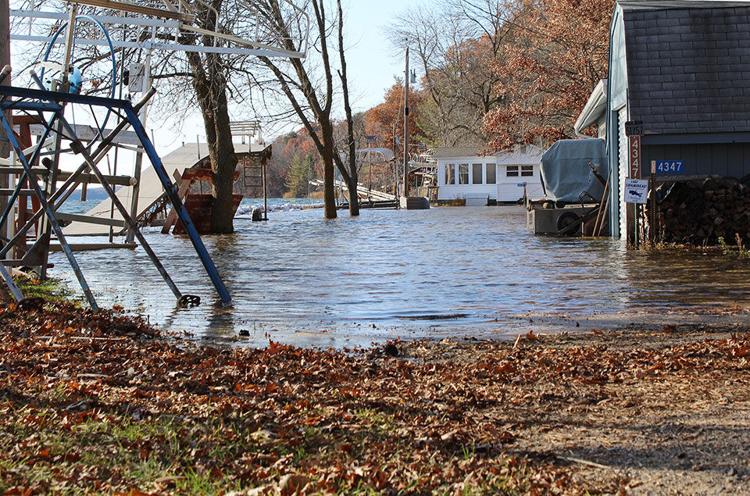 "Where we used to stand in sand is now waist high for me for water. This is where we wanted to relax, where we wanted our grandchildren to have great memories growing up, being on the lake. But now our youngest granddaughter doesn't even remember that we once had a beach out front," she said.
    As the water continues to rise, the Sandstroms add sandbags as needed. At this time, about 3 feet of sandbags have been added onto the riprap and is the only thing that is keeping water from entering their home. Since the water level is uncomfortably high, it won't be long until they will need to raise the wall again. All-in-all, at this time, they are using about 3,000 sandbags.
    As the groundwater level has risen to the just underneath the surface, the family relies on five sump pumps to pump the water back into the lake.
    "The water is just percolating up from the ground, so we have to keep pumping," Ardis said.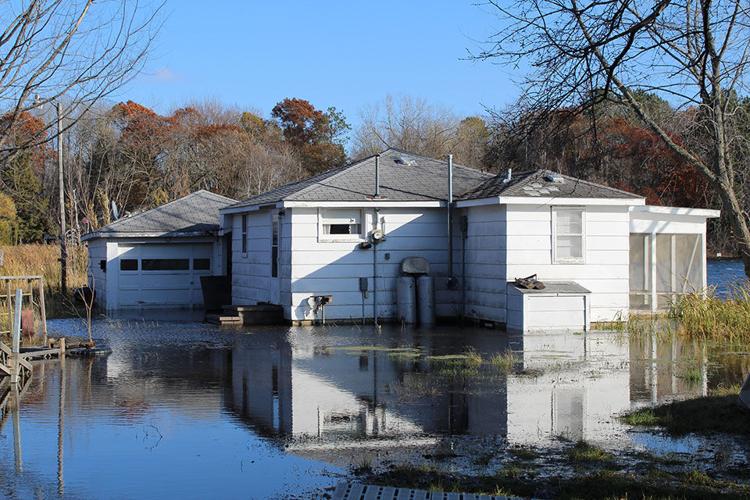 But they worry about the pumps freezing up as the temperatures are dropping. Terry and Ardis said they are very thankful to a concrete business owner from Brainerd who gave them used insulated covers that will help keep the pumps warm.
    Part of the road that leads to a cul de sac and part of their driveway is completely under water. In one area, Ardis estimates the water level is about 2 feet. To even get to their home, they have to travel through part of a neighbor's yard to get to the dry part of the road that leads to their home.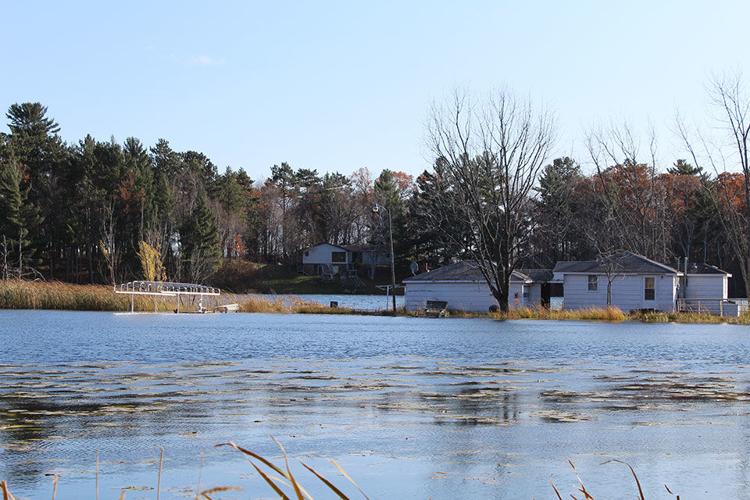 But not long ago that section of the road was covered in water from the lake. Every rainfall is feared as it raises the water level. Earlier in the spring, they had to build up the road another 8 inches so they could get to their home. Just recently they had to build up the road yet for another 8 inches, as the latest rainfall raised the water level of the lake and once again, covered the road. It cost them about $2,400.
    "We almost didn't survive the last rain that we got earlier in the week. It was very scary watching those two inches build up and the lake water cover the road," Ardis said.
    "We are doing everything we can to save our home," Terry said.
    Because of the threat of the lake water flooding their home, the couple has taken various precautions. All of their important information is in portable files. Photographs and other irreplaceable items, such as Ardis' mom's old treadle sewing machine and her dad's footlocker from the Marines, are stored safely elsewhere and on dry land.
    "Now we're packing away everything that is 2 feet and under from the floor into plastic bins. We're hoping for the best, but are preparing for the worst," she said.
    While the Sandstroms have flood insurance, their hope is for the lake water to lower and not have to replace anything.
    They also have a place lined up in case the lake floods their ho
me.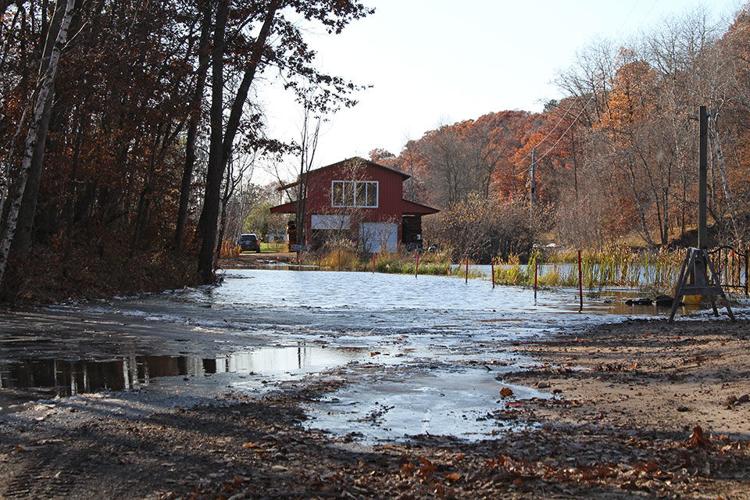 The situation has affected their social life, as well. They had initially planned to travel to Virginia to attend a wedding, but canceled out of fear of losing their home. Asking someone to stay at their home and fully understand the details surrounding each pump and sandbag is too much and too great of a responsibility.
    "We've canceled all of our trips. We had some planned this winter. We will be here until we get through to spring. We have to be here and watch and it is draining. It's exhausting," Ardis said.
    While the Sandstroms have spent thousands of dollars battling the rising waters, they are quick to count their blessings.
    The cost would have been significantly higher had they been forced to have sand hauled in for the sandbags. Instead they have used sand from a sandhill in the back of their home, which they have also opened up for their neighbors to use.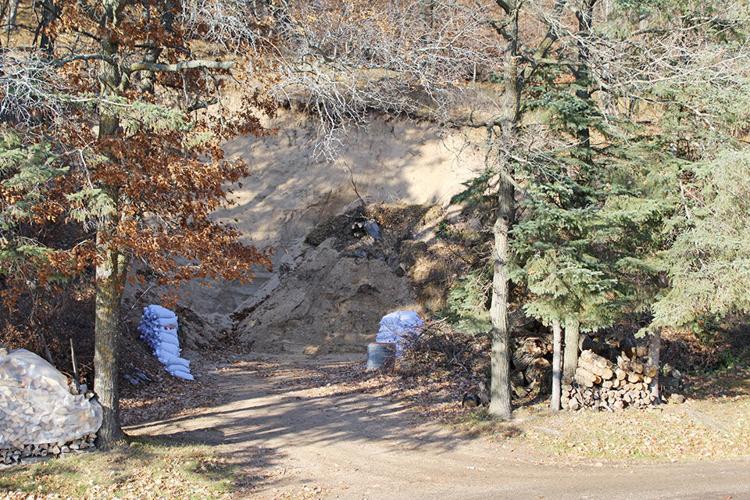 "Through all of this we have also learned so much about our neighborhood, our community and the goodness of people. It's just unbelievable how they just show up and ask how they can help and some we don't even know," Ardis said.
    Terry said it isn't unusual for 15-20 people coming voluntarily to help sandbag. As soon as one person hears about their plans, the word spreads without them having to ask for help.
    "They just come," he said.
    Despite all that the Sandstroms are currently facing, they consider themselves fortunate that their home is still savable since it sits on slightly higher ground. Several of their neighbors have not been as lucky.
    Pointing to a brown cabin near their home, Terry said the owners struggled for a long time with trying to keep the crawl space underneath the cabin dry and in the effort spent about $10,000-$15,000. However, the battle was lost when the groundwater started seeping through the dirt flooring and filled up the space. As a result, black mold formed.
    "They were up here Fourth of July and had to walk in water to get to their front door. They said, 'That's it' and let it go back to the bank. They just walked away," Ardis said.
    The owners of the green house near the Sandstroms are experiencing black mold problems, as well, but it is not their only problem.
    "Their foundation shifted and their doors don't work right. They have emptied out their house now and whatever happens, if it dries and the water goes down, they will probably have to tear it down and start fresh," Ardis said.
    A white house that now stands in water was a fourth generation home, she said.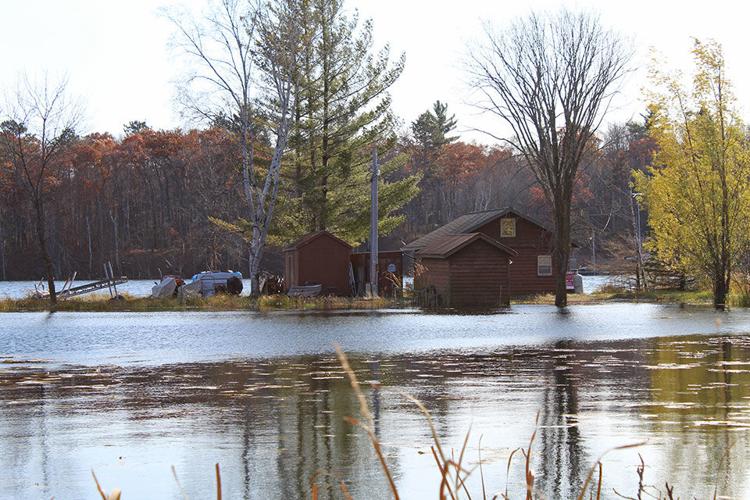 So far, more than 30 cabins around Lake Shamineau have been evacuated because of the rising water level. Of the nine homes on the Sandstrom's road, only three are livable. While the majority are seasonal cabins and the Sandstroms live there year-round, the ongoing issue affects the entire community.
    For the last four years, it has cost Scandia Valley Township alone more than $112,000 to try to keep the roads accessible.
    It has also affected tourism around the lake. Because of the rising water level, 300 feet from the shore line is a no-wake zone and limits water sports activities to the middle of the lake.
    "We have resorts on this lake and who wants to go to play on a lake you can't really play on? It affects the entire community, because when people stop coming, your restaurants, your bars, they all feel it when people start to disappear," Ardis said.
    The rising water has affected nature and wildlife in the area. Before it wasn't unusual for the Sandstroms to spot 10-12 loon pairs with baby loons. The last four years they have only seen two loon pairs and since their nesting area has been under water, they have not mated.
    The trees along Lake Shamineau are dying as they are too saturated.
    "They are drowning," Terry said.
    Because of the dying trees and many of the buildings covered in water, the quality and clarity of the water has been affected. When the Sandstroms first moved to their home, they could easily see about 24 feet into the water. Now they can only see about 11 feet. Seventeen years ago, the lake was placed in the top 10 of lakes when it came to clarity. That is no longer the case.
    "Our water quality is getting horrible because there are buildings in the water, just rotting. Some of these places, if they didn't get their sewer tank emptied, their sewer is seeping into it, so the water has sewage in it," Ardis said.
    Since Lake Shamineau is shaped like a bowl and has no natural outlet to disperse the water, Ardis said water needs to be pumped from the lake in order to lower the water level. Even lowering in as little as 2 inches this fall would have a huge impact, she said.
    The Lake Shamineau Lake Improvement District (LID), which Ardis is a member of, is currently working to toward building a pump and accessing permission from landowners to take water through a pump to another area and release it into a basin to help dissipate it into the ground and then help it into the river northeast of the lake.
    The water would then go through for or five miles of swamp before it would get to the Crow Wing River by Pillager, which would in turn go to Gull River and later into the Mississippi River.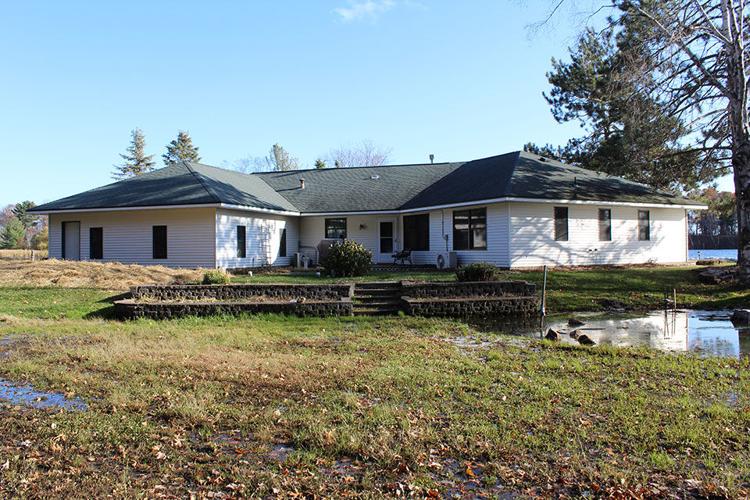 "It's a very watched process the DNR (Department of Natural Resources) monitors very closely. Our goal is not to hurt somebody else by moving this water. Our goal is to do it in such a way that no adverse type of situation later on because the water is flooding someone else. We want to lower the water here while not hurting anyone else," she said.
    Two of the greatest challenges the lake property owners are facing now are more rain and freezing.
    Besides worrying about their drain field freezing, the Sandstroms are also concerned about what winter will bring. Since a similar winter as last is predicted, they fear the snow melting in springtime will flood their home.
    The value of their home is set about $490,000, but because of the rising water and the current situation, it's actual value is about $0 as no bank would finance anyone wanting to buy it. However, their taxes remain the same.
    Because of the extreme flooding at Lake Shamineau, Rep. Ron Kresha, R-Little Falls, has sent a letter to Governor Tim Walz, requesting him to declare an emergency declaration to allow the community to access additional resources to deal with the crisis.