Being named December "Employee of the Month" by the Little Falls Area Chamber of Commerce came as a surprise to Krista Smude, general manager at LeBlanc's Rice Creek Hunting and Recreation in Little Falls.
    "I was very surprised, but honored," she said.
    But what makes the recognition even more special is that her grandmother, Delores Rudack, was named Employee of the Month twice and her mom, Nancy Meyer, once.
    "It's cool to follow their footsteps," she said.
    Although Rudack has since died, Smude believes she is looking down from heaven with a smile.
    "She would have been pretty proud of me," she said.
    Smude started working at Rice Creek Hunting and Recreation in 2003, cleaning the pheasants hunters had shot, so they could just bring it home and cook it.
    "I actually liked it. That's where the actual hard work is. I give those people a lot of credit. It's hard work cleaning all of those feathers," she said.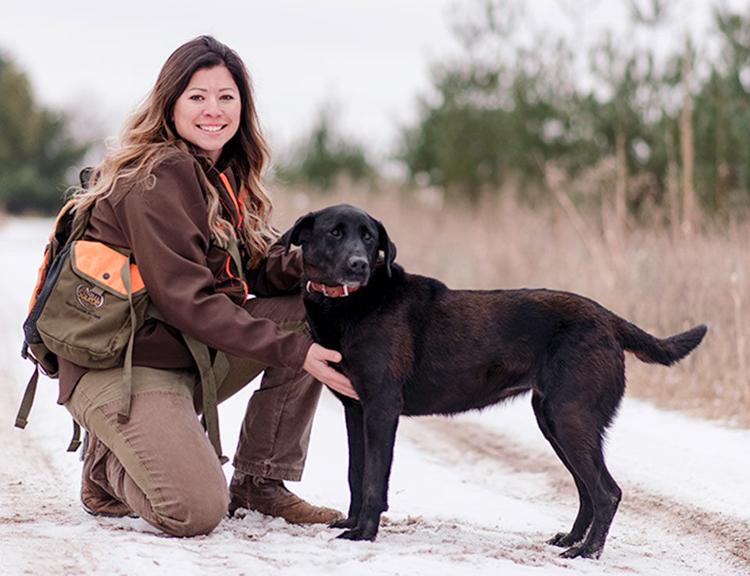 Smude continued working part-time at Rice Creek while she was attending Central Lakes College in Brainerd. Although she graduated in 2007 with a degree in natural resources, Smude said Rice Creek had made a lasting impression on her.
    "I just kept thinking about this place and asked for a full-time job, doing other things than just cleaning the birds," she said.
    Smude said at first she was hired as a secretary, but after a month, she realized she wanted to be able to serve the customers better and that meant learning what went on in the field.
    "It bugged me that I couldn't give them all the information about the land, the ins and outs of the area they would be hunting in or how they should hunt it," she said.
    Smude purchased the German shorthair, Ozzy, and the black labrador, Dozer, as puppies and trained them to hunt.
    "When I knew they were ready to hunt, I took out my first guided group and got hooked. It was so much fun," she said.
    It didn't take long for Smude to become popular and was asked frequently by customers to guide their hunt. As a result, Smude purchased two more black labradors, Shelby and Kona, whom she trained to hunt, as well.
    In addition to answering phones, booking guests and guiding, she plans the menu with the kitchen staff and processes payroll.
    As Rice Creek offers a wedding venue, Smude also works as an event coordinator. There is never a dull moment.
    "I love my job," she said.
    What makes Smude enjoy her work and has contributed to her many years at Rice Creek are the people she works with and the owners Gregg LeBlanc and Joe LeBlanc.
    "They are such great people. It's a team effort. We all get along so well," she said.
    Smude said she is thankful that the two LeBlanc cousins are very family-oriented. It allows her to be flexible to either go pick her children up when they are ill, bring them to practice and more.
    Smude's dedication to her work has been well noted by the LeBlancs.
    "Her hard work and dedication have helped us create the business we are today," they said.
    The nomination reflected the impact she had made, as well.
    "Since Krista's arrival to Rice Creek, we have been a beehive of activity, securing hunting groups, weddings, events and more. Krista has worked hard to make Rice Creek the place to have your wedding. We were able to build a new event center due mostly to her work in booking weddings and our grooms and brides wanting a unique setting for their day. She truly goes above and beyond in every aspect of her job as our event planner. When something seems to fall apart, she is quick to react in a positive manner correcting the situation to ensure all are satisfied. We are truly blessed to have her working for us," the nomination said.
    Besides working at Rice Creek, Smude operates her own business, Smude Photography.
    "It's a lot of fun," she said.
    When she is not working, she enjoys spending time with her husband, Andy, and their children, Tony, Maddie, Ty and Jace, camping and pontoon rides.
    As Employee of the Month, Smude will receive gift certificates from CHI Health at Home, Design Electronics, Fitness Connection, Franciscan Sisters, Fresh Hair Professionals, GoldSmith Jewelers, Johnny C's Sports Bar, Linden Hill Historic Event Center, Perkins Restaurant and Bakery, Pizza Ranch, Subway - Little Falls and Vacuum Cleaner Outlet and Service Center. She will also have a professional photo taken by Maddie B's Photography.