Upward of 20% of the youth worldwide experience a mental disorder, with half of all mental illnesses beginning by age 14, according to the World Health Organization (WHO).
Treating a mental illness is unique to every individual, and is often difficult for children due to a lack of funding and resources. Some team members with the County's Children's Mental Health (CMH) program said these barriers definitely exist, but kids still have treatment options.
The CMH program is a voluntary, free of charge, service for qualifying county residents under 21 who need education, support or coordination of mental health programs.
CMH case manager, Megan Holzheimer, said that mental health affects all populations and they serve families of various economic and social backgrounds.
"I think there's a stereotype. I think that from the outside looking in, people think 'Oh, that's just for the poor people, only they use Social Services,' which isn't the case," she said.
Some families need occasional consulting and can manage a bulk of care coordination on their own, while others need more support.
Holzheimer said there is a lot of evidence that early intervention and being able to give more time to support families has a positive affect for clients later on.
"The biggest thing with the clients is building a relationship. What can we do to start building that relationship? It's known that the more families have supports, the more successful they will be as a whole," she said. Many mental disorders can begin when a child is very young. According to the CDC, in 2018, one in six children aged 2 to 8 had a diagnosed mental disorder.
"How do they know their kid is depressed? Are they spending a lot of time in their room? Are they sleeping a lot? Does their mood change during the seasons? Are they not engaged with friends, or do they lose interest in what they're doing?" are some of the signs parents can look for, said case manager Collin Backowski.
One example he gave is when a parent brings a child to a social event, and the child might have some negative behaviors, parents might see that as acting out, but it's possible the environment was putting the child in distress.
Program Director Melanie Erickson said that anxiety can present itself in many ways. It could be a fear of going to school, separation from loved ones, or exceedingly unrealistic fears of natural disasters or deaths in the family.
"Approaching it more like 'That's probably real to that kiddo' so you recognize and acknowledge that that's really scary, and then help them through that. If they can't be helped through by talking about that with you, that's a good indication that there's something else greater is going on," Erickson said.
Part of a case manager's job is to arrange or coordinate different services for clients. CMH often works with providers at Northern Pines Mental Health Center. One of those providers is Stephanie Silgjord, therapist and co-director for the Children and Families' Division.
Silgjord said that primary signs of depression can include obvious changes in a kid's normal routine, struggling academically, decreased interest in their appearance or social activities, or a lack of appetite.
Some signs of depression can look like anxiety which could include more symptoms such as constant worrying, restlessness, or hyper focus.
"When you start seeing your kiddo no longer acting as they once did, that's kinda your sign that something more might be going on," Silgjord said.
She recommends parents coordinate with teachers and school social workers for support. Northern Pines also has staff members in schools throughout the county to provide different mental health services. Some of those kids come from CMH coordination and vice versa, as some of those care providers can make referrals to CMH services.
"Sometimes if a parent has never had a child with mental health concerns, they don't know where to start," Silgjord said.
When a child needs extra support and is diagnosed with a severe emotional disturbance (SED) by a mental health professional, that's when a CMH referral is conducted. However, the referral is just a suggestion and families don't have to seek out those services.
If a family hasn't used mental health services before, or just hasn't had a referral, they can apply to CMH directly, but will still need a diagnostic assessment to determine the child's level of need.
Holzheimer said that some families benefit from other services in the county, which CMH can refer them to as well.
"So getting a case, it might look that a family has reached out to our agency and said my son or daughter really needs some help. And they will sit down with our intake worker and discuss the area of need. They'll do the application and then the intake worker will get the diagnostic assessment, and the diagnostic assessment is the key to opening our service with and SED statement. That's usually given by a therapist. That means that the kid does need help," Backowski said.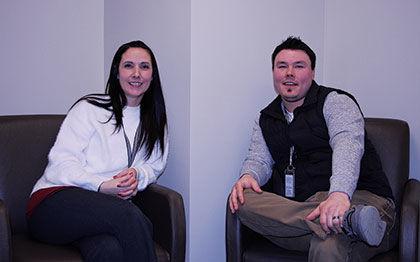 Next, the family would set up a meeting with a case manager, who can visit them at home and discuss needs and services, Backowski said. Then the case manager would start referrals for the family either for therapy, a skills worker or even setting up respite care
Respite is a service when a child will leave their home temporarily and enter a licensed home for more intensive care. If the child is placed in another program that may be out of the county, case managers will continue to check in with them monthly.
They can also help families make arrangements to visit that child.
Although CMH services are free, case managers may refer to programs that come at a cost. If a family is struggling economically, case managers can help them apply for medical assistance (MA). In 2019, over 50% of clients were on MA.
To detect other issues and possibly qualify for extra programs, a client may undergo various assessments.
A service utilized often, involves skills work. CMH can coordinate a skills worker to visit a clients home or school. That provider can help the child learn to cope with different situations and increase their resilience for the future.
Last year, CMH had 176 clients. The office has seven case managers and are supposed to handle 18-20 cases each, however, Backowski and Holzheimer both said they handle more.
"I think right now I'm sitting at 23 cases, and that's fairly low," Backowski said.
Holzheimer said she's averaged 25 to 26 cases over the past few years, but the positive aspect is that CMH doesn't have a wait list.
"We'd rather serve a family 50% than not at all, and a lot of times these families will have at least somebody to call and put a face to the name. And say, 'Well at least we have somebody to call if we're having these issues' and that seems to be very helpful," Backowski said.
The demand for CMH services has risen, Erickson said, due to an increase in awareness. She said that they're dedicated to helping anyone coming through the door.
Both Holzheimer and Backowski said that each case manager has their own way of connecting with clients, but the goal is to meet them on a level they're comfortable with.
"We have some kids come in and they don't want to sit in a room and talk about all their feelings. They have other ways of getting those feelings out, and working through some of those behaviors that they're having difficulties managing or their emotions. And they can do that while their involved in a social activity or in other environments, they've been really successful," Holzheimer said.