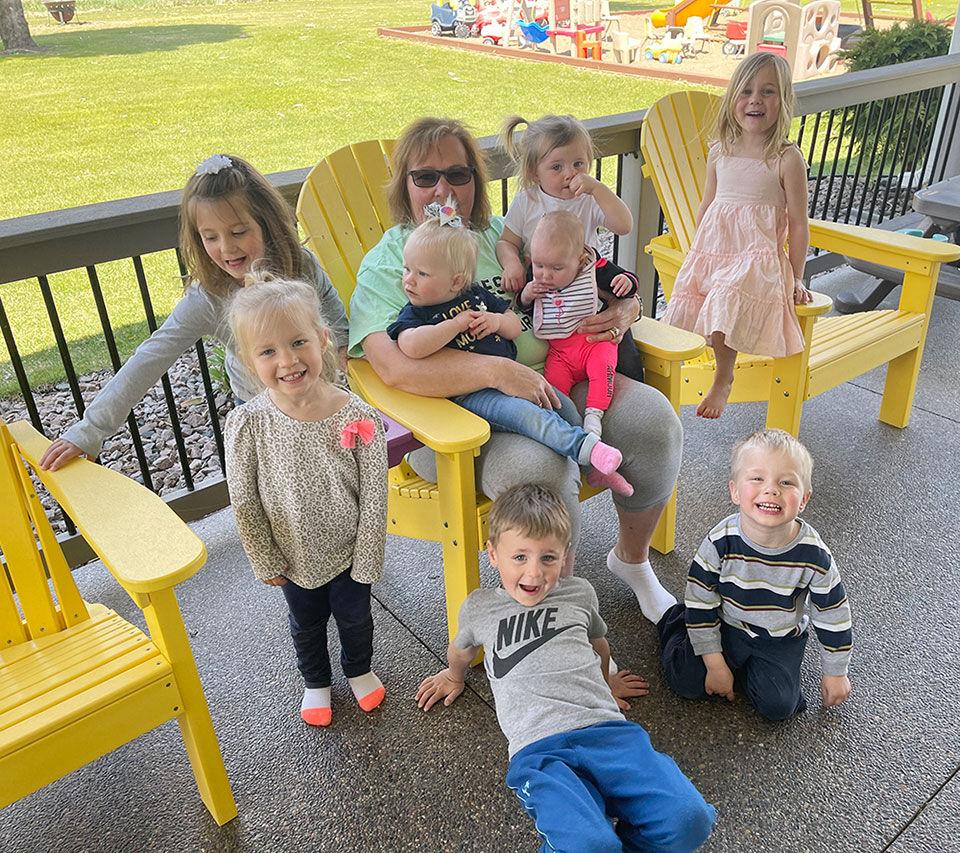 Finding out that she has been named Child Care Provider of the Year in Morrison County came as a surprise to Joelle Lucking of Pierz. Nominated for the honor by parents of the children she provides care for, the recognition means a lot to her, she said.
    "I was excited," she said.
    Jessica Nutz with the Provider of the Year Committee, said the parents described Lucking as a "loving person and understanding. She goes over and above in her care and she has a heart of gold."
    It is the second time Lucking has been chosen as Provider of the Year as she was recognized in 2008. Looking to the others who were nominated, many whom are from Pierz and whom she knows, Lucking said the recognition could have easily gone to either one of them.
    "Each and every one of them are deserving of it. I wish they could give that award to everyone because it is a very hard job to do," she said.
    Although Lucking has been licensed for 27 years, she started to provide child care about five years before that. The journey to providing child care began in 1988 when she and her husband, Kurt, were unable to find child care for their son, Jeremy, who was 2 years old at the time.
    "I quit my job and opened up a day care for him," she said.
    One of the reasons Lucking didn't get licensed until a few years later, she said, was that she wasn't certain that it was something she wanted to continue once Jeremy and their daughter, Samantha, started to attend school.
    Lucking is licensed to provide care for eight children, age ranging from infant to school age. By 8 a.m. each morning all of the children have arrived where they all start out the day with a hearty breakfast. Afterward, they work on a project and have some free time later on. Before lunch, which is served at 11 a.m., the children sit down for story time and Lucking work with them to learn and practice writing numbers as well as their own name. She believes it is important that the children are well-prepared before they start school.
    After they've eaten lunch, the children have the opportunity to watch cartoons on the television for a short time until the scheduled nap from noon to 2 p.m.
    Lucking said what they do after nap time differs, depending on what the weather is like. If the weather is good, they play outside whether it is on the playground or a variety of games. Sometimes they eat their snacks outside, as well. On some days when the weather is absolutely gorgeous, they remain outside all day, even during nap time.
    "Going outside is so important. They need to get fresh air and exercise. It's nice for the parents, too, because it tires them out," she said.
    Lucking also usually arranges for a special treat around various holidays, such as the Easter Bunny making a surprise visit at Easter and Santa Claus around Christmas.
    She also likes to take the children on different outings during the summer months.
    "We may pick a day, they all bring their bikes and we go on a bike ride," she said.
    Sometimes she may pick a day, such as Earth Day, and use it as an opportunity  
    There are many things Lucking loves about providing child care. More than anything, it is making a difference in each child's life, teaching them proper manners, how to share, show kindness, respect and more. She also treasures the many families she has gotten to know over the years. Some of the children she cared for years ago, who are now grown up, also visit her from time to time.
    "I love to watch the kids grow up," she said.
    When Lucking isn't providing child care, she enjoys spending time with Kurt, Jeremy and his wife, Jessica,  Samantha and her husband, Ben as well as their six grandchildren, Caden, Claire, Carson, Cate, Kara and Warren. She also likes vegetable gardening.
    Nutz said that due to the pandemic, the annual banquet will not be held. Instead, Lucking will be honored at the annual Sourcewell training event in September.
    Besides Lucking, the following were nominated for the recognition this year: Laura Kurtz, Kristin Williams, Terry Hollermann, Carol Lampert, Lisa Johnson, Jessica Evans, Brittany Koering, Erica Baum, Amanda Billig, Kayla Backowski, Wendy Meyer, Danielle Skwira, Jacqueline Burns, Lola Lilga, Sarah Whitney, Joyce Johnson and Sara Stumpf.