Much like information and other knowledge is stored in the cells of the brain, feelings, memories and other sensations are stored in the body. As a result, negative or traumatic experiences, self-destructive thoughts and prolonged stress can cause the individual's natural energy field to become suppressed or even blocked, said Lila Marquart, certified integrated energy therapist at FernShadow Studio in Little Falls.
    "Basically, the body is made up of molecules that hum. This hum can be measured with a simple ohm meter that measures frequency," she said.
    Marquart said that a healthy and happy individual's body hums at a frequency of about 68-72 hertz. However, when a person becomes depressed, sad, angry, stressed or is experiencing physical pain, his or her frequency decreases. It doesn't take much, only about 5 hertz or so, she said.
    Some telltale signs of a lowered frequency includes the person feeling like they have no energy, are agitated, anxious, unrestful and not content. Unfortunately, many people go through life thinking that is all there is to it, not knowing that their body's frequency has decreased. Marquart said part of it may have to do with the fact it is unseen.
    "I think people don't realize that their body is made up of an energy field until they feel it shift," she said.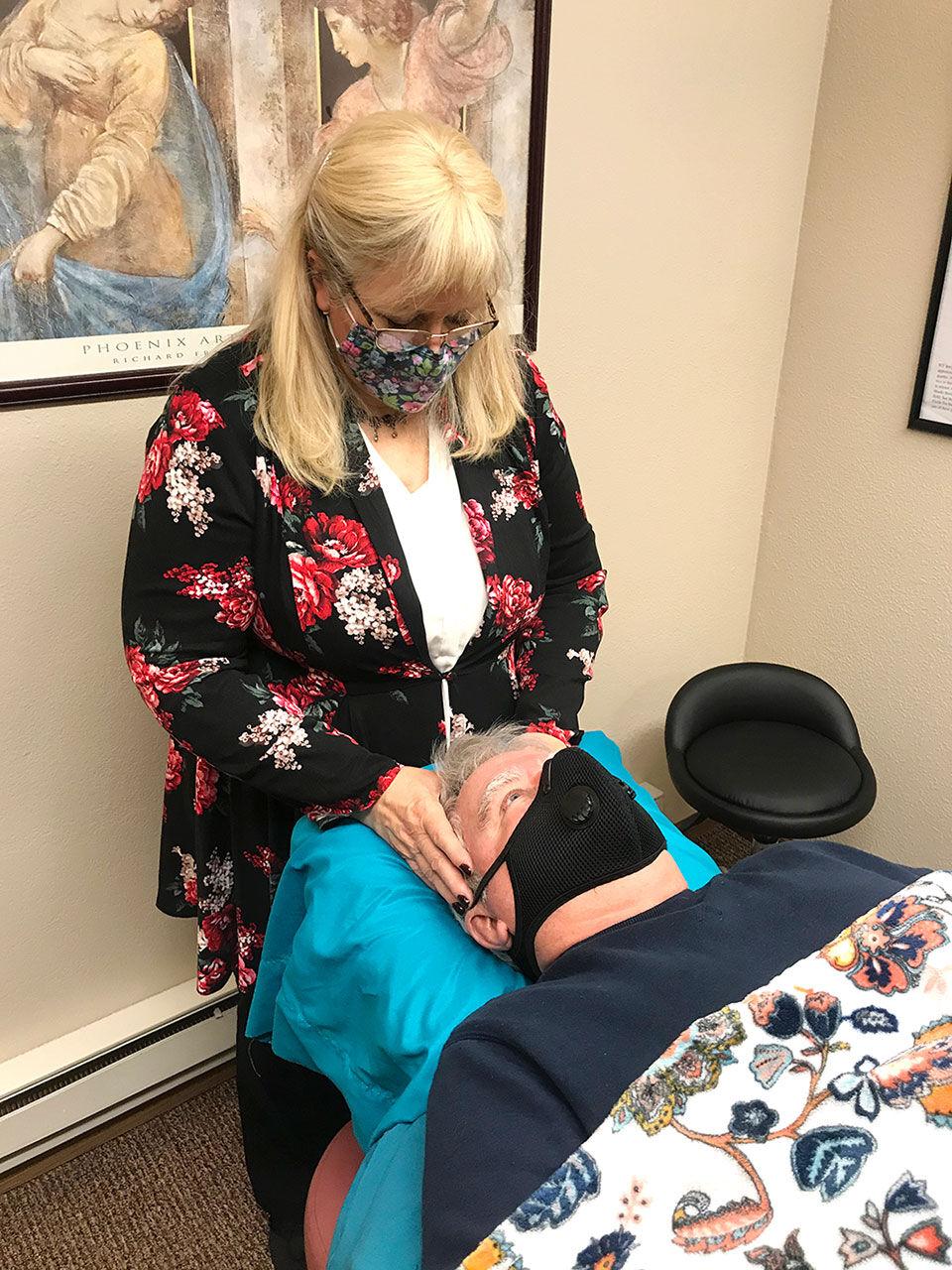 However, because it is unseen, Marquart said that sometimes the person may not always be believed by others, including doctors, that something is off. Many times the people who come to her are desperate, have tried a number of things and just want to find some kind of relief.
    "Sometimes they have been through the medical system, saying something is wrong. The doctor say it is in their head when in reality, it may be their energy field," she said.
    Marquart said that although integrated energy therapy doesn't replace medical treatment, when necessary, it can complement it.
    Integrated energy therapy uses a map to target areas where different cellular memories are stored. By placing her own hands closely over the areas without sometimes physically touching the person, using her training, Marquart can use her own energy field to help release the areas that have been blocked.
    "People can be quite skeptic because it is unseen. You have to experience it to understand it. People even then may say, 'I don't know how she did it, but I felt so much better afterward,'" she said.
    There are many benefits to integrated energy therapy. If anything, it can increase the person's sense of well-being, happiness, creativity and health. It can also be an effective way to identify and release feelings and core cellular memories that have been suppressed as well as provide support for survivors of childhood traumas. Integrated energy therapy is simply a way to re-balance the person's energy.
    Marquart was certified as an integrated energy therapist in 2000. It was somewhat by accident that she was led to the practice. Then living and working as a CEO at the environmental company Western Plains Consulting in Bismarck, N.D., a friend from Little Falls had asked her if she wanted to go with her to take a class on integrated energy therapy for fun. Not knowing what it was even about, she said yes, but when the day arrived, her friend couldn't go.
    "I had already paid for the class, so I figured I'd go anyway. When they went around the circle and asked people why they were there, I said, 'I don't know, but I think I am supposed to be here,'" she said.
    At first, Marquart only used what she had learned to help herself. With a death in the family and her husband, Daniel, deployed to Iraq during the war, the tools she had learned became even more helpful. It wasn't until later, about 10 years, when she moved to Little Falls that she opened a practice.
    Looking back at her initial integrated energy therapy class, which was held at the Franciscan Sisters of Little Falls, Marquart said that she probably would have never gone if she had known ahead of time what it was all about. After experiencing it herself and then learning the science behind it, any doubts were gone, she said.
    When clients visit her practice for integrated energy therapy, they lay down fully dressed, with the exception of removing their shoes, on a massage table. They are also given a pillow and are covered with a cozy blanket for comfort with relaxing music playing in the background. Each session takes about an hour and a half. As the session goes on, clients can expect to feel more and more relaxed and at the end, she usually talks with the client about different areas that indicated they needed work. She will also give them ideas and recommendations of things they can do for themselves.
    How Marquart determines an area may need work differs. Some areas are warmer, others are cooler and where there is pain may give off more of a tingling sensation.
    "Sometimes if a person has one bad joint, like a bad knee, that joint may be cold, but the other joint may be hot. That is because they are overusing their good knee and underusing their bad knee. People may not even be aware that is going on, sometimes it's bringing awareness to problems," she said.
    During the sessions, Marquart also silently prays for her clients as she is working on them.
    In addition, she offers classes and training in the techniques she has learned. Before the COVID-19 pandemic, the training was done in a group setting with monthly practice sessions. However, since then, it is done in one-on-one classes.