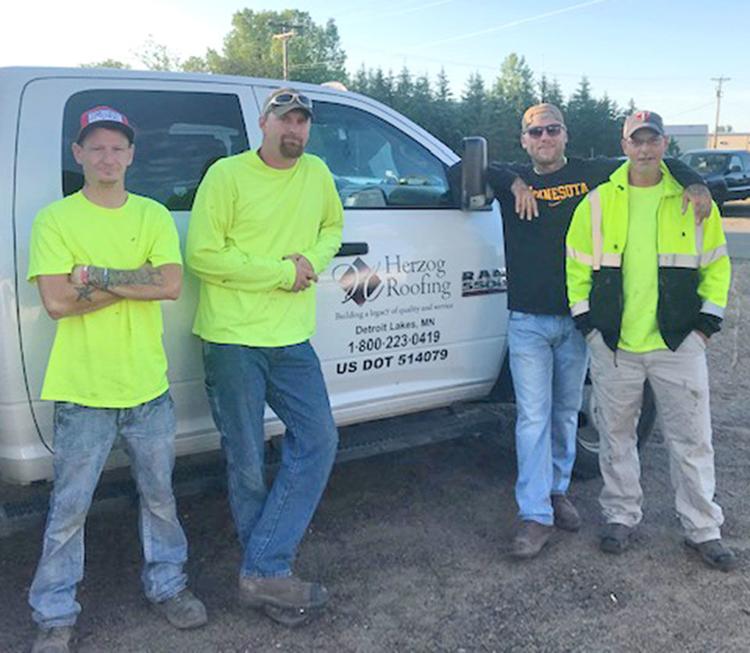 A second chance at life. That's what working for Herzog Roofing in Little Falls gave Foreman Justin Prozinski and roofers Chris Hamlin, Eugene Sanborn and Alan "AJ" Brodeson.
    "It's a second chance at life I never thought I would have," said Prozinski.
    Prozinski, like the others, has a criminal past he is not proud of. For many years, he lived a life that was filled with drugs, alcohol and crime.
    "My background is messy. I have done a lot of time in jail, juvenile and prisons," he said.
    Prozinski, now 36, said the first time he was sentenced to prison was for assault with a deadly weapon. He had stabbed two men in a bar while he was intoxicated and high on drugs.
    The second time was for assault and second degree burglary.
    "I went to a guy's house, put on a ski mask, beat him and dragged him out of the house and then beat him some more," he said.
    Although Prozinski was convicted for second degree burglary, he said he was not there to steal. Earlier in the day he was with someone whose 15-year-old son had been assaulted by the 40-year-old man and he went to the man's house to deliver some "street justice."
    "That's the kind of stuff that alcohol and drugs can do to you. You are just not yourself," he said.
    Prozinski has worked for Herzog Roofing for more than three years. Initially when he was released from prison on parole, he planned to return to tree trimming. It was a profession he knew.
    However, life took him on a different journey when Shane Ganley, a surveillance agent with the Morrison County Community Corrections and a clinical program specialist at the Minnesota Department of Corrections in St. Cloud, introduced him to Herzog Roofing General Manager     Terry Card.
    "It changed the path of my life. There is so much structure here and the work, just physically you wouldn't have time to go out to party even if you wanted to," he said.
    The desire to return to his old lifestyle is gone. Going on eight years of sobriety, Prozinski devotes his time to caring for his two children and his girlfriend, Melanie Schmitz.
    "She's a really sweet lady and I am proud to have her in my life. She's great," he said.
    Prozinski said he is very grateful for the impact Ganley and Card have made in his life.
    "When I first started working here, I had the intention of leaving once I was off parole, but I have been off parole for two years now and I love this job," he said.
    Prozinski said Card has been more than a general manager to him.
    "He's a lot like a mentor, like a father figure. He has helped me tremendously and has given me so much more than just giving me this job," he said.
    Over the years, Prozinski has accomplished many things that seemed but a distant dream years ago. Card said when Prozinski first started working, he didn't have a driver's license. Today, he holds a commercial Class A driver's license. He will also be closing on his first house, July 1.
    "I am so proud of him to where he has gotten and what he provides our company. He is a huge asset to me," Card said.
    Roofer Chris Hamlin, 42, has been with Herzog Roofing for more than three years, as well. At the time Ganley referred him to Card, he was staying in a sober house and needed a place to work.
    "Having this job has made a big difference because before I was just living day-by-day, getting high and stuff. I had no structure," he said.
    Hamlin said he was busted numerous times for drug-related offenses. Eventually he was sent to prison for a probation violation.
    "Prison was scary. It was my first time so I didn't know what to expect. Just being confined by yourself all the time with all these other guys, it's a whole different world," he said.
    Being sober has impacted his family positively as he is not only closer to his family members, but also the fact that he spends time with them and engages in family activities.
    "Before I avoided a lot of situations. I always found an excuse why not to go. I avoided a lot because I was high all the time and didn't want them to see me like that. I felt ashamed," he said.
    Sanborn, 35, said he is grateful to Herzog Roofing for not only giving him a second chance at life, but also a second chance to prove himself.
    "I worked for them before in 2004-2006. I just love the company," he said.
    Sanborn said his criminal background is mostly related to alcohol offenses, including assault. He also had some burglary offenses about 17 years ago.
    Since he was given the opportunity to better his life, Sanborn is doing better than ever.
    "I wouldn't be where I am if it wasn't for working here. This is the best I have done in my life. I have never been in a better position in life as I am now — financially, emotionally and mentally," he said. "You feel really good about accomplishing things."
    As the four have similar backgrounds, they often lean on each other for support and encouragement. They also share their experience with younger employees who work during summer in hope to encourage them to lead a positive and productive life rather than travel down the road of addiction and crime.
    "When they hear our stories, it makes them think twice," he said.
    Brodeson, 29, was introduced to Card and Herzog Roofing while he was going through the drug court program in Morrison County, an intense program which lasts a minimum of 18 months.
    "Working for Herzog is a life changer for me. It put me on a path away from drugs to being able to be financially stable. It gave me purpose. I wake up every day and I am happy to go to work," he said.
    Before Brodeson turned his life around, he was in and out of jail for drug related charges.
    "I was pretty much using and selling drugs. If I wasn't using or selling, I was stealing, robbing or scamming," he said.
    Looking back as to why each even started using drugs and/or alcohol, one thing they have in common is that their friends did it.
    "It was a combination of bad friends and wrong decisions, hanging with the bad crowd and trying to fit in," Brodeson said.
    "The drugs were just hard to get away from. I was just really young, had a single mom who worked late nights at a bar and I grew up in a not so good area in low income housing," Prozinski said. "I also didn't have the best role models, got mixed into the wrong crowd and one thing led to another."
    Sanborn said growing up in Hillman, drinking was almost a given.
    "Everybody either in my family drank or still drinks, so I grew up around it. It was a small town, my friends did it, their parents did it. It was kind of a way of life almost," he said.
    Sanborn said he also battled underlying anger issues that stemmed from experiencing a lot of loss in life.
    "Once you start going down that road, you kind of lose touch with who you are and kind of don't care anymore and trying to look tough. Looking back now, you think to yourself, 'What were you thinking?'" he said.     
    What also helped the four escape from a destructive lifestyle was to break contact with the crowd they had associated with. They found it easier than they had anticipated.
    "They all pretty much don't hang around when someone gets sober. I thought they would still be my friends, but no, they are only with you because you have drugs. They only go where the drugs are at," Brodeson said.
    The idea to work with people who had a criminal background originated from a conversation Card had with his wife, Mary Sue. At the time, the company was struggling somewhat with a turnover of employees and trying to fill available positions, when she made the suggestion to consider those with a record.
    "She somehow brought up to look at people who had been in trouble before because, one, they are hungry, two they want a second chance and they are generally pretty humbled about the opportunity somebody is willing to give to them," Ganley said.
    Those with a criminal record, especially with felony convictions, face many barriers, such as finding housing and work, even though they have completed their debt to society by serving their prison or jail time.
    "People in general are hesitant to hire people who have criminal backgrounds. I have told a few in the construction world to look for it, because everyone has trouble hiring and keeping people hired these days," Card said. "People just don't have the work ethic and if it gets hard, they leave. But since those with a background are hungry and want a second chance, they are more likely to commit and work hard."
    Card said since Herzog Roofing began to hire people with a record seeking to reform their lives, they no longer struggle with employee turnover.
    As different individuals have to follow different restrictions, Card said they tailor the work schedule to fit that person's requirements. While some remain strictly within the county for a while, others travel to various locations.
    Herzog Roofing provides their services in Minnesota, Wisconsin, Iowa, North Dakota, South Dakota and Indiana. Card, company owner Mike Herzog and his son, Josh, visit various sites from time to time.
    Out of eight placements at Herzog Roofing, five are considered success stories. While four remain working at the company, one left to pursue a career in machining.
    Ganley said it's easy for people to only remember people for offenses they have committed rather than the impact those who turn their lives around have on the community.
    "It has a ripple effect," he said.
    "At the end of the day, people can change if they want to. That's just the thing. It's how badly you want to change and if you do want to change, you have to do everything in your power to change," Prozinski said.