Open house set for Saturday, Sept. 26, from 1 p.m. to 5 p.m.
    With a passion for providing a great camping experience for people, brothers Alex and Colton Hardy of Motley are getting ready to open "Hardy's Lake in the Woods RV Resort."
    Located less than a mile from Highway 10 and deep in the woods, they are building an RV site they are certain campers will enjoy. The large property has provided them the opportunity to build each site 50 feet wide.
    "You don't see that very often at resorts. People want open awnings. With 112 acres, we can build all these sites like that, so people don't feel crowded and they have their own space," said their dad, Jeff, who o
wns and operates the nearby, "Fish Trap Camping and RV Resort" with his wife, Julie.
    The brothers plan to offer guests 160 sites altogether. They anticipate 75 sites will be completed by the end of fall, each site equipped with access to water, sewer and electricity.
    The remaining 85 sites are planned to be added sometime next year after the Hardy brothers have been able to show the Minnesota Pollution Control Agency (MPCA) that their septic design flow is less than 10,000 gallons per day. The opportunity to prove it's less is a cost effective alternative in comparison to building an additional septic system, Jeff said.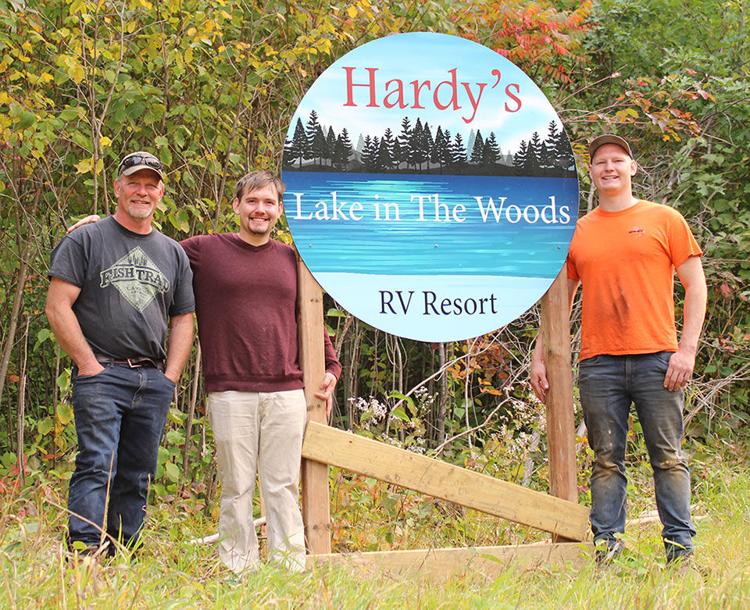 Besides providing an open RV site in an idyllic wooded area, Hardy's Lake in the Woods is ideally located near several highlights for campers. On the property is Lena Lake, a small environmental lake that is the home to several fish, including sunfish and bass. It's also a great location to go canoeing or kayaking, Alex said.
    For those who want to go fishing in their boats, Hardy's Lake in the Woods RV Resort is within a five to 10 minute distance of Lake Shamineau, Lake Alexander and Fish Trap Lake.
    In addition, guests will have access to a 32-by-50-foot swimming pool, a bath house with separate men's and women's areas and three showers in each.
    Guests who enjoy walking or biking will have the opportunity to explore the resort's many hiking and biking trails.
    Alex said there were several reasons he and Colton decided to venture into the RV resort business. For one, it was the business they grew up in and know well. During the summers, they have helped their parents on their resort.
    What also drew them to want to start a resort was the fact that they had to turn away many campers who wanted to make reservations at the Fish Trap Camping and RV Resort.
    "We were turning campers away non-stop at the other campground. The demand was there," Alex said.
    The process to get where they are today has been long. Last year, they presented a number of documents and a blueprint of their plan to Morrison County. They also worked hand-in-hand with Amy Kowalzek, director of Land Services, to learn more just what they could do with their land.
    "I just want to thank Land Services. Amy did an excellent job of telling us what we can do. She helped us with a lot of stuff like that. It makes a huge difference when someone wants to work with you," Alex said.
    An environmental assessment worksheet was also completed, which showed the resort would have little impact on the environment.
    Working together, the Hardy family has done most of the work. Whatever they cannot do is done using local contractors, such as Mid-Minnesota Excavation, Pine County Concrete, Brichacek Electric, water supplies from Jordahl Hardware, all in Motley.
    Completing the layout of the sites was a big challenge for the family, Colton said.
    "We wanted to lay it out in the best possible way it could be without taking down trees," he said.
    While some trees were removed, the family worked hard on saving as many as they could. It was tedious job. If one stake was moved to save one tree, the other stakes had to be moved too, so they lined up.
    "People don't want to come out to camp in a field. They want a nice wooded area," Jeff said.
    A variety of species grow in the woods that surrounds the resort, such as poplar, maple, white and red oak, pine, birch and more.
    One thing the Hardys have noticed since COVID season affected where people could stay overnight, camping exploded. At the same time, the number of places that offer RV camping have increased.
    "If we don't provide a place for them to go, camping will die," Jeff said.
    Because of this, they are confident that Hardy's Lake in the Woods RV Resort will be just as busy as their parents' resort.
    Both Colton and Alex are thankful for their parents helping them to start the resort. It isn't an opportunity they take for granted.
    One thing they both enjoy seeing is families having a good time together. With a busy life filled with work and other activities, parents may not always have a lot of time to spend with their children each night. However, camping together at the resort gives them the opportunity to connect, they said.
    Once completed, the resort's camping season will run from May 1 through Sept. 30. Reservations for 2021 can be made online at www.lakeinthewoods.camp.
    An open house of the RV site will be held Saturday, Sept. 26, from 1 p.m. to 5 p.m., at 1788 330th Street in Motley. Pulled pork, cheesy potatoes and baked beans will be available. Local businesses have also been invited to highlight what more the area has to offer visitors.
    "We want to bring more people to area, so we can become more of a tourist destination," Alex said.
    For more information, call (218) 232-6472 or visit www.lakeinthewoods.camp.