Sen. Paul Gazelka, R-Nisswa, and Rep. Ron Kresha, R-Little Falls, gave a preview of the upcoming legislative session in an update, Jan. 30, at the Little Falls City Council Chambers.
Since the legislative session reconvenes Feb. 11, the District 9 politicians made themselves available to the public for questions and commentary on upcoming legislation. More than 50 people attended the update, with over 20 approaching the podium to address the lawmakers.
Kresha said that the good news is that a budget has been passed and funding is available, but the difficulty comes in where to place it. He said he is up against other house members who also want to pass bills and fund their own projects.
"I expect it to be a lot of noise but not actually a lot of things will pass. The truth of the matter is, it's an election year so everyone's going to throw out all kinds of bills that they think are important to go back and tell their voters that they did something but the reality is we have a divided house, we have a divided government with the house and the senate, so I just don't see a lot of agreement unfortunately," he said.
Kresha reminded attendees that the bonding bill will cause great division and that they "work in a place that is designed not to pass laws," because the founders of government wanted legislation to be a deliberate and thoughtful process.
Gazelka focused his address on constitutional rights concerns that have come to his attention. One issue relates to the Second Amendment.
"I'm reminding people that we are not going to do red flag laws which basically confiscates guns without due process and we're not going to do universal background checks which is basically gun owner registration. But, what we are going to focus on is making sure that we enforce the laws that are on the books. In particular when somebody has had due process and the judge wants to take away the guns, 40% of the time nothing happens. So that's one of the focuses I'm going to do there," he said.
Red flag laws allow concerned parties to request that law enforcement temporarily remove firearms from those who are deemed by a judge to be a danger to themselves or others.
Requests are often made by family members or friends.
Currently, 17 states have some form of red flag law in place. Before the 2018 mass shooting in Parkland Fla., at Marjory Stoneman Douglas High School, only five states had red flag laws in place.
Other focuses will include bonding funds for infrastructure, Gazelka said, and solving problems with the Department of Health and Human Services and fixing the Minnesota Licensing and Registration System (MNLARS).
MNLARS has had technical and other issues including delays and incorrect charges, affecting residents and businesses alike, according to an 86-page report issued by the Office of the Legislative Auditor.
"We will also talk about photo ID for voting. That's something I think is important that we have forgotten. If we're going to verify that people are legitimate voters the best way to do that is with a driver's license," Gazelka said.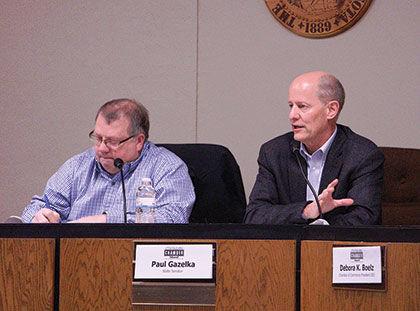 Gazelka also wants to focus on tax relief, first by exempting Social Security income from taxes and second with section 179, which allows farmers and small businesses to deduct equipment earlier than currently allowed.
When it came to the issues of concern by the public, some participants simply wanted to thank Gazelka and Kresha for their support and requested it continue, while other speakers asked for action.
Throughout the session, both lawmakers reminded attendees that there are over $5 billion in requests and Gazelka expects just over $1 billion for the bonding bill.
Several people inquired about the economy and lack of workforce. Matt Varilek, the president of the Initiative Foundation, inquired about child care and workforce shortages, issues he said go hand-in-hand.
Gazelka said it's an issue that's been on his radar.
"People move away from rural Minnesota because of lack of affordable child care and affordable housing," he said.
One of the issues across the state, he said, is the number of requirements placed on small child care businesses. Kresha said that workforce shortages affect all industries.
"I don't have good news on this because I see it across the country," Kresha said. "The reality is that's going to continue to grow until about 2028."
By that time, Kresha suspects that Europe will have the same shortages and will draw in new graduates from the states with employee attraction strategies like benefits and the ability to work remotely.
"If we're going to solve this problem we're going to have to do a serious workforce attraction strategy in this state," he said.
Kresha also suggested that one problem is college students going out of state and not coming back to Minnesota because they can find more appealing work elsewhere.
"Most of them live out of a car, they just don't need the stuff like we do now. It's funny to watch these college kids. I travel all over and I look at these millennial workers and everything they own is in a computer and a Rubbermaid and they just don't care," Kresha said. "They have no loyalty. 'Oh, I can live in Denver now, I can live in Atlanta tomorrow.'"
Some other solutions suggested by Gazelka included encouraging seniors to stay in the workforce longer and helping those on state assistance get high enough paying jobs so they no longer need those services.
Intersecting topics with child care and workforce shortages related to immigration and refugees.
A group of about 10 people approached the podium in support of driver's licenses for all. The speaker, Maria Elena Gutierrez, said a bill in the house (HF1500) passed in support of this effort, and the senate has a bill (SF2734) waiting for action.
She said that the IRS recognizes that many undocumented people are within the United States, and there are 95,000 undocumented workers in Minnesota. Gutierrez said these people pay taxes but cannot drive legally.
"The Secretary of the State testified and said that in the 20 years that he has been working there, he said that there is 0% of people undocumented that have tried to vote, so there is no risk. We know that driver's licenses for all will grow our economy in the State. It will provide public safety on the roads because they can know the rules. We will have people that can drive their kids to the hospital," she said.
A woman Gutierrez knows has three children and works undocumented. One of the woman's children, who is 4 years old, is disabled and needs to be driven to the doctor often. The woman has been pulled over by police and warned that she cannot drive without a license.
The woman asked her, "I let my son die? Or I keep driving without driver's license?" Gutierrez said.
"So, I think Senator Paul Gazelka, you can support this. You can do this because we know that there was a negotiation. We just need you to pass the driver's license bill because we know it already passed in the house," she said.
A supporter chimed in saying passing the bill would help with the workforce shortage issues, since more people could drive to work.
Gazelka responded, "I think it's a mistake for Minnesota to reward illegal activity, and I think it's a mistake, like the governor wants to have us as a sanctuary state."
Kresha had more to say.
"We are a nation of laws," Kresha said. "I believe our citizenship matters and I believe the path to that citizenship is important. I think that a lot of people believe just by us passing a driver's license for the undocumented is going to be a quick way to citizenship. The problem is, it's not."
Many immigrant families who are legal citizens asked him not to pass the law, Kresha said.
"I have sympathy and compassion for the issue, but I uphold laws of citizenship. For right now the law is simple — if you're not a citizen and you're undocumented, the driver's license privilege is not a part of that," he said.
Later in the update, many people voiced opinions over refugees and immigrants in the area.
Other issues discussed included veterans mental health, health insurance, access to affordable prescription drugs, specifically insulin, homelessness and fiber optics connections.
Kristina VonBerge of the Little Falls Visitors Bureau and Peter Grams of Melgram Jewelers both separately voiced a need to complete the Veterans State Trail. Not only would it bring in tourism revenue which ends up back in the community but, they said, it could bring businesses to fill the many empty buildings in the city.
Both Kresha and Gazelka said that they don't know if the trail will get funding this year because of the many infrastructure funding requests, but they will keep it in mind.
Some public health issues voiced included concerns over groundwater quality and the spread of Chronic Wasting Disease through deer farms.
The lawmakers said they were intrigued by the data behind these concerns and stated they would look into it.
The Chamber of Commerce will host another legislative update after the end of the session.