A green John Deer tractor, a black grand piano, and art of all kinds stand together in harmony at Art in Motion, a new multifunctional art gallery and cafe in Holdingford.
Although a person wouldn't normally see these items in the same room, Art Coordinator Lily Brutger said they all work together, the piano and tractor supporting the concept of the artwork, which is part of the gallery's first curated show, named "Roots: A homecoming."
The show runs through Sept. 20, and features woodfire potter Mark Skudlarek, a Holdingford native, with other artists who have a deep connection to the town.
"The FFA alumni restored a tractor and wanted to display it here. It kind of works conceptually with the show, as what a lot of people relate Holdingford to, is agriculture and this kind of tractor. Also having a pottery show with a tractor is interesting because of that connection to the earth, the soil, dirt and manual labor," Brutger said.
The manual labor, she said, shows in a lot of pieces in the exhibition that took intricate or taxing work. Work completed by 12 artists connected to Holdingford.
"This exhibit is interesting because it combines professional artists with graphic designers, with high school artists, with people who consider themselves Sunday painters. You don't always see that kind of representation in a show," Brutger said.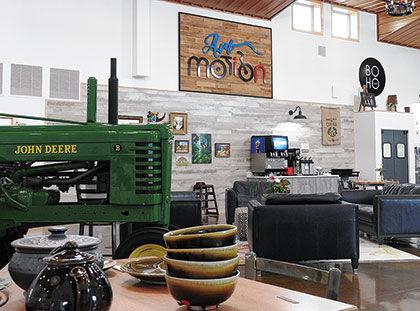 The exhibition also relates to the homecoming journey of founder and owner Greg Konsor. A Holdingford native, Konsor worked in the grain industry and retired before opening Art in Motion. He combined his love of biking, the outdoors and the arts with a desire to support local artisans of all walks.
Art in Motion has a front row view of the Lake Wobegon trail, bringing in cross country bikers and those just out for a stroll. Konsor himself came across the land for Art in Motion while biking on the trail.
"It was very important to me to be able to see the trail, you can sit on the porch and see people coming by. I would say on a nice day maybe 30% of our volume comes off the trail," Konsor said.
Art in Motion is home to the BoHo cafe, which Konsor said is great for providing refreshments to all, especially those coming off the trail looking for a break. In line with his passion, the cafe supports local creators. There is beer on-tap from Starry Eyed Brewery and coffee beans from Reality Roasters, both Little Falls businesses.
The BoHo cafe also serves sandwiches, breakfast foods, ice cream, wine and more. Even the tables were built locally.
Konsor is a man who considers possibilities and takes the word multifunctional to another level. Art in Motion has space for meetings, classes, an art studio, presentations, performance art and more. With 34-acres of land, Konsor said there is potential for walking grounds or gardening. A portion of the land has been dedicated to pollinators and another portion to a primrose labrinth, which could be ready for walking in a few years.
"This is our first year. We've been open since July 10 so we're trying to feel our way, what works, what doesn't work and what people respond to. So far it's been a very good response," Konsor said.
There is also a five-bedroom guest house on the property, which has potential for use as an inn, housing bikers and traveling artists.
Artists and locals often pitch a variety of ideas to Art in Motion. The gallery hosts live performers, classes and is testing the waters with a yoga on the porch session. Brutger said there is potential for a vintage bike show, large scale art and even a sculpture park.
"It's trial and error. I'm willing to try anything once to see if it fits and if it doesn't work out, we're not going to try it again," Konsor said.
The gallery hopes to support young people and emerging artists who aren't always given the opportunity to be represented, Brutger said. There are currently applications open for high school students to do a mentorship with a metro-area artist once a month from October to March.
"Then they get put on a show in April, that's going to be really cool," Brutger said.
As a seasonal business, Art in Motion, located at 1400 Fourth St. in Holdingford, will be open through Nov. 22 and reopen in the spring. It is open Sunday and Tuesday through Thursday from 9 a.m. to 7 p.m. and Friday and Saturday, from 9 a.m. to 8 p.m.