At Frieler Farms in Bowlus, there is just something magical going on during the Christmas season — people come from near and far to pick out their perfect Christmas tree, make memories and just have a good time. For many families, it has become tradition, said owner Neil Frieler.
    "People will come up here, bring their sleds and build snowmen, while they pick out and cut down the tree they want," said his wife, Peggy.
    The Frielers recently started their 21st season of selling Christmas trees. Through the years, they have met many people and it isn't unusual for those who once came to the farm as children to continue the tradition once they are grown.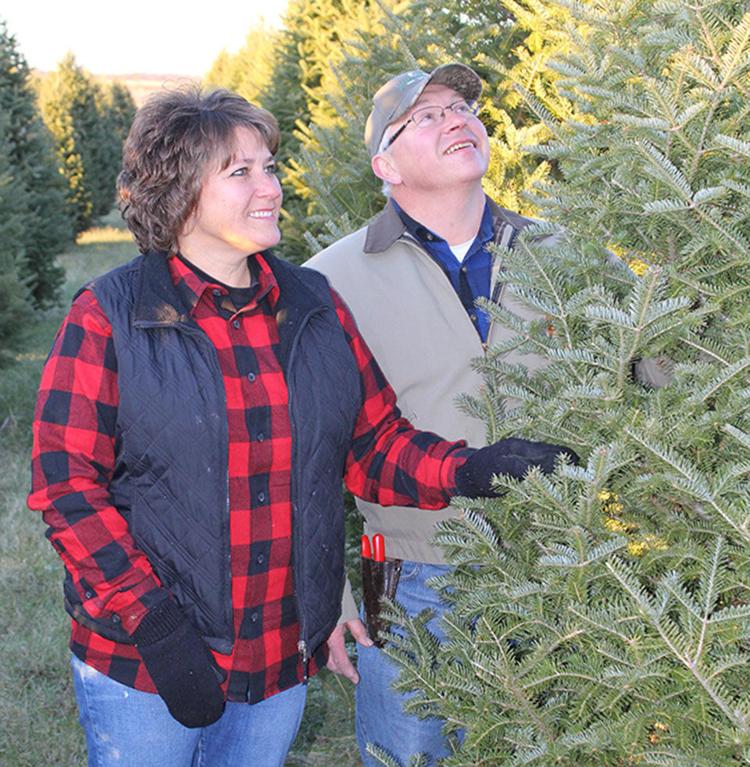 "It's great seeing the kids grow up. Kids that came in car carriers are now the ones cutting down the trees," Peggy said.
    Meeting people, seeing families grow and traditions embraced is what makes selling Christmas trees fun, said the Frielers.
    The couple sells a variety of Christmas trees in all sizes, such as balsam fir, Scotch pine, Fraser fir, white pine and white spruce.
    When customers arrive to the farm, Neil and Peggy speak with them to find out what kind of tree they are looking for. While many opt for the experience of cutting down their own tree, the Frielers have about 300 different Christmas trees cut and on display in their yard that can be purchased.
    Those who want to venture out into the acres of trees to hunt for their own are given a map of the different locations and follow a road to where they want to go. If it snows, the Frielers plow the road for easy access.
    The customer then brings their tree to the yard where it is shaken and baled.
    Not knowing herself what it is like to have an artificial Christmas tree, Peggy believes many people opt out of having a real tree because of the anticipated mess it can make indoors when it is hauled out.
    However, there are ways around it that makes cleanup easy peasy. When the Frielers set up their tree, they place it in the middle of a large plastic tree bag they later cover with a tree skirt.
    "When it comes time to take the tree out, you just pull it over the tree. It's a big garbage bag basically. A lot of the mess stays in the bag, so you don't have all the mess carrying the tree out," Neil said.
    The Frielers give their customers a free tree bag when they purchase a tree from them.
    What kind of tree a customer chooses all depends on individual preference. Some of the main differences between the trees are the needles and how fast they grow.
    While the needles of a Scotch pine are not as soft as Balsam fir and a lot more pokier, Scotch pine grows faster. It takes about 10-12 years for a Balsam Fir to grow about 7 1/2 feet. However, Scotch pine takes about 6-8 years.
    "The difference is that the balsam takes a lot longer to fill in," Neil said.
    For their own home, the Frielers opt for a balsam fir. Besides the soft needles, the tree also has a special fragrance to it.
    "You can smell the Christmas tree with the Balsam and that's why we like it. They're very good ornament trees," Peggy said.
    During the Christmas tree season, the couple's children, Amanda, Jacob, Eric and Nicholas, return home on the weekend to help.
    "It's very nice that they come home to help. They just know what to do and how it works. Weekends are also the busiest," Neil said.
    It's also a special treat to get to see their grandchildren, Weston and Eleanor.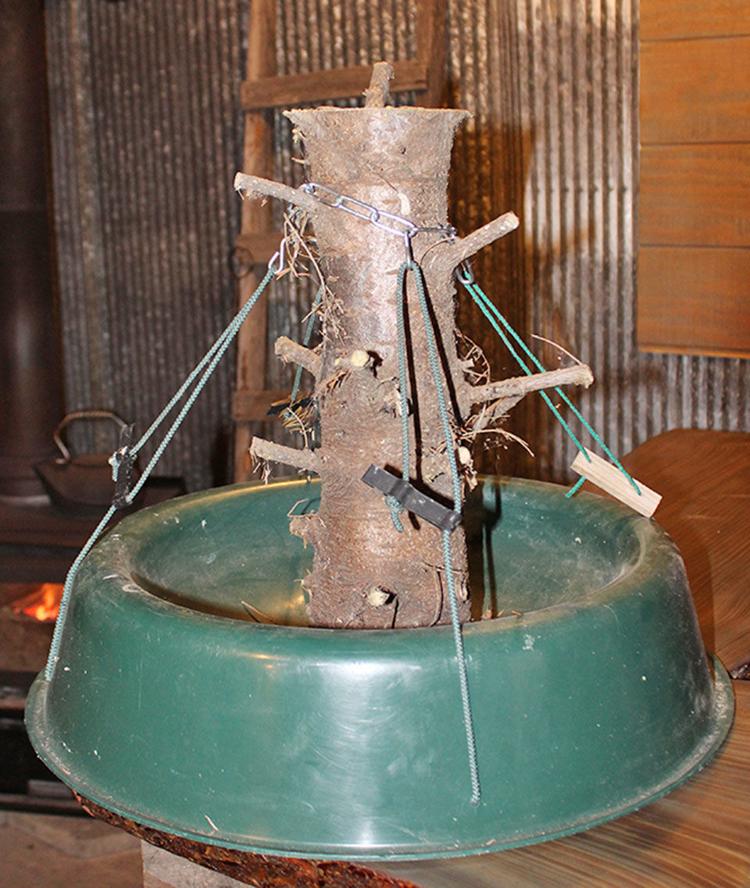 "We also have another grandchild on the way that is due in April or May," Peggy said.
    Two things children enjoy, besides the thrill of getting their own Christmas tree, are meeting the sheep herd and Tinsel, a cozy cat who lives in the granary during the Christmas tree season and absolutely loves the attention she gets.
    "She loves to sit by the fire and is a sensation with the kids. If she is not in there for some reason, it is a disappointment," Peggy said.
    There is also the dog, Abby, who is quick to greet visitors.
     One challenge those who use a real tree for Christmas face is the tree shedding its needles because of lack of water.
    Many of the traditional tree stands don't hold enough water, so the Frielers sell a special tree stand that not only holds enough water, but also allows a tree to keep its lowest branches. They also show their customers how to use it.
    Each year, the Frielers plant about 3,000 new trees to keep up with the demand. Only about 60% of the trees are deemed good enough to become a Christmas tree, he said.
    A lot goes into caring for the trees throughout the year. About every 10 days, Peggy mows around the trees and makes sure that they are doing well. Just mowing their 80-acre farm with a riding lawn mower takes her about five or six days.
    All of the trees are also sheered (trimmed) once a year.
    Besides selling Christmas trees, the Frielers have a tree nursery and grow and sell more than 60 species, such as maple, oak, birch, pine and many more.
    The family also has a herd of Holstein feeder calves.
    What makes Frieler Farms even more special to Neil and Peggy is the fact that it is Peggy's family farm and has been in the family for about 122 years.
    "It's quite the dream to live here," she said.
    Besides running the different operations, Neil works part-time as a groundskeeper and maintenance man for the Franciscan Sisters of Little Falls. Peggy works as a paraprofessional in Holdingford Schools.