Michael Retka's research brings him closer to his Polish roots
He's just 25 years old, but Michael Retka's interests involve things much older than he. These include his Polish heritage and historic churches and buildings, specifically those designed by architect Victor Cordella, a Polish immigrant born in 1872.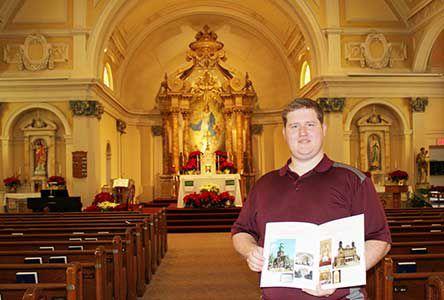 Retka was honored nationally for his research on a project to find and/or verify Cordella's designs in churches and buildings throughout Minnesota.
He, along with Geoffrey Gyrisco of Madison, Wis. and Fr. Spencer Howe and Fr. Stanislaw Poszwa, of Holy Cross Parish in Northeast Minneapolis, were presented with the Skalny Award in Manhattan, N.Y., the first weekend in January.
The Skalny Civic Achievement Awards honor individuals or groups who advance the goals of the Polish American Historical Association in promoting research and awareness of the Polish-American experience and/or have made significant contributions to Polish or Polish-American community and culture.
The men were nominated by Mark Dillon of Minnetonka, who is second vice president for the American Council for Polish Culture.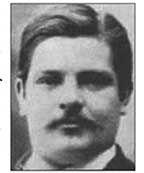 Dillon said the project of finding Cordella's buildings began in 2017, when Dillon was board secretary for the Polish American Cultural Institute of Minnesota (PACIM). Dillon said he noticed that the architectural heritage of Minnesota's Polish churches had not been fully told to the Polish community or viewed on a statewide basis.
"My wife is an architect and we had visited Poland the year before. As I dug, Cordella's name kept coming up, and Geoffrey's article provided a the basis for an initial lecture at Holy Cross that Geoffrey did in autumn 2017," Dillon said.
Retka is a lifelong member of Our Lady of Lourdes Catholic Church in Little Falls, a church designed by Cordella for Polish immigrants. He has been interested in doing research on area churches for about 10 years, something he does on the side, he said.
"It's just a personal interest," Retka said.
His research and that of Dillon's came together with the 100th anniversary of Our Lady of Lourdes, celebrated in 2017.
It was that year that Retka met Dillon through a mutual friend, John Bieniek from Holdingford. After Bieniek's wife died, he traveled from Holdingford to the University of Minnesota to learn the Polish language and came back to Our Lady of Lourdes to give Polish lessons, so Retka kept in contact with him and was introduced to Dillon.
Retka said anything to do with the Polish culture happened at Holy Cross, a Polish-speaking parish in Northeast Minneapolis, designed by Cordella.
"Michael first got involved (with the research project) at the time. I also wrote some articles based on Geoffrey's and Michael's and Fr. Stan's and my own work," Dillon said.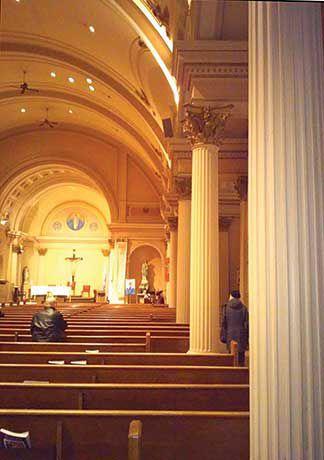 Retka, who has relatives who grew up in the area and still belong to Holy Cross Church in Northeast Minneapolis, met Fr. Spencer Howe and Fr. Stanislaw Poszwa, who both serve that parish.
Dillon brought them together to do a presentation at Holy Cross Church on the architecture of Polish churches and Cordella.
Gyrisco's 1997 article about Victor Cordella was the catalyst for two years worth of research by Retka and the two priests, Dillon said.
Fr. Howe was the promoter and Retka found buildings designed by Cordella, while Fr. Poszwa did a lot of compilation and found history about the man himself.
Another Cordella designed building is not far from Holy Cross Parish — St. Cyril and Methodius, also in Northeast Minneapolis.
Retka said years before this, he began to notice similarities in architecture between Our Lady of Lourdes and St. Joseph's (now Christ the King parish) in Browerville. The families of his parents, Gene and Janet (Hegg) Retka, belonged to those churches growing up, and Retka attended Masses at those churches as well.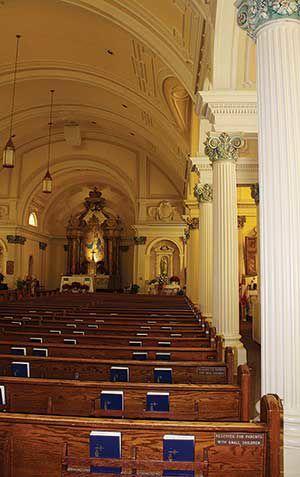 Being involved in the Cordella project, when Retka sees a building he looks for something familiar, whether it be an onion steeple, the pillars inside, the arches, or the way the windows are set.
"That's just the way my mind works. I see things and say, 'That's his and I have to figure out how it is,'" he said.
Once Retka suspects a church or building was designed by Cordella, he begins the work to find out whether it's been documented and can be proven.
"There are a few I can't verify," Retka said. "Elmdale (St. Edward's) is one, but I can't find any paperwork."
He said while St. Edward's doesn't look the same on the outside as Lourdes and the steeple is not Polish or anything specific like that, "It's the brickwork on the windows under the roof, some of the interior stuff — the arches around the ceiling, around the windows, the altars are similar designs, not exactly the same," Retka said.
Dillon said Retka has carefully combed church records, construction documents, old newspapers and trade journals to document the body of Cordella's work and impact across Minnesota.
"I nominated Michael because through his efforts information about at least half a dozen Cordella-designed buildings has come to light," Dillon said.
"Michael also helped organize a tour of Cordella sites across Minnesota, including Our Lady of Lourdes, in May 2019. In fact, he just confirmed that Cordella designed a monastery in northern Minnesota," Dillon said.
"Michael is a very talented young man. He is also a past PACIM scholarship recipient," he said.
Retka said he has visited hundreds of churches. So far, more than 20 churches in Minnesota have been identified as Cordella's work. However, that number is growing as they are being discovered.
"Like the Poor Clare Monastery in Sauk Rapids," Retka said. "We had no idea until recently that he designed it."
While he's found and/or verified about 20 of Cordella's churches, Retka said one he's proud of discovering is Holy Cross Church in North Prairie, near Bowlus.
"I'd say it took me awhile to find North Prairie," he said. "It just makes me happy to confirm the ones I have."
Another area church designed by Cordella is Sts. Peter and Paul in Gilman, Retka said.
Cordella didn't design churches just for people of Polish origin, but also for Ukranians, Germans, French, Englishmen. "He served Catholics, Orthodox and Christians," Retka said.
So too, Cordella designed many buildings other than churches.
From the American Swedish Institute in Minneapolis, "It's a mansion that Cordella did in South Minneapolis," Retka said, to the 12 East Hennepin Ave. building as a tavern for the Minneapolis Brewing Co. (Grain Belt Beer), the Gluek's Restaurant in downtown Minneapolis and Nye's Bar, to name a very few.
The Children's Orphanage in St. Cloud is another Cordella design, Retka said.
One of the reasons it may be difficult to identify a lot of Cordella's buildings, is that Cordella was not put in the spotlight, Retka said.
"And maybe he didn't want to be, so he didn't get the credit and acclamation he probably should deserve," Retka said. In fact, while he was an architect and designed beautiful buildings during his life, he died a poor laborer in 1937.
The search continues to discover more of Cordella's works.
And for Retka, that is exciting. "It's very fun," he said.
(Note: The photo of Victor Cordella and the photo of St. Cyril's and Methodius Church in Northeast Minneapolis are courtesy of the Polish American Cultural Institute of Minnesota newsletter, contributed by Mark Dillon).