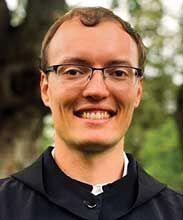 Travis Spillum, 27 of Little Falls, was accepted as a novice of Saint John's Benedictine Abbey in a simple but profound ceremony during Morning Prayer July 10, in the abbey church in Collegeville, Minnesota.
Spillum is the son of Jason and Stacy Spillum and the brother of Alyssa, Alec, Jayden and Aunika. After attending Lincoln Elementary and community middle and high school in Little Falls, Spillum attended Saint John's University in Collegeville. The Spillum family attends Our Lady of Lourdes Church in Little Falls.
After graduating in 2017 with a bachelor of arts in mathematics and economics, Spillum applied and was accepted by the Saint John's Abbey sponsored Benedictine Volunteer Corps. He spent a year with the sisters of St. Gertrude's Convent in Tanzania, Africa, working in an orphanage, assisting with a printing press and teaching in the convent's school. Spillum was most recently employed by Best Buy as a forecasting analyst for two and a half years.
As a novice, Spillum begins a year of work, study and prayer with the junior monks and larger community of Saint John's Abbey.