DSTJ Award recognizes exceptional journalists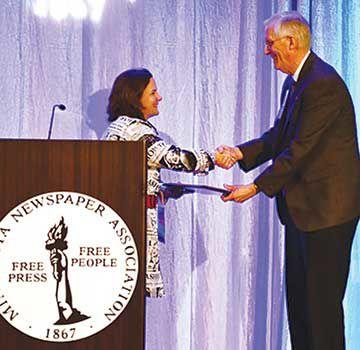 When Tom West started his career in the newspaper industry more than 42 years ago, little did he know the impact he would make. However, the Minnesota Newspaper Association (MNA) recognized that impact and bestowed on him the Distinguished Service to Journalism Award at its annual convention, Jan. 31.
This award was established to recognize those who have provided exceptional service to journalism. West joins 48 others who have received the award, given out since 1966, in honor of Al McIntosh, a distinguished editorial writer, publisher and editor of the Rock County Star Herald in Luverne.
In his acceptance speech, West said that when Lisa Hills, executive director of MNA, called him in November 2019, to tell him he was to receive the award, "The first thought I had was — how did that happen?"
Mark Weber, regional president for the Adams Publishing Group of East Central Minnesota (ECM), explained that in his nomination.
"I can't think of a more deserving person in our industry than Tom West to receive MNA's most prestigious award. Tom West has touched the lives of readers throughout our state as one of Minnesota's most influential columnists and journalists," Weber wrote. "He continues to inform and educate readers with thought-provoking Morrison County Record columns. As a trusted newspaper executive, Tom positively influenced the careers of newspaper professionals throughout Minnesota being a mentor and friend to all. Tom dedicated his life and entire career to the health of Minnesota newspapers."
West's career started as an editor with the Waseca Daily Journal. In 1978, he moved on to the Mankato Free Press, as a political reporter. In 1981, he was promoted to the opinion page editor.
In 1983, he and his wife, Francie, purchased the Janesville Argus, where he did everything, from writing and selling ads, but also making sure the paper was delivered and the sidewalk shoveled.
After seven years, they sold that paper and West became publisher of the Waseca County News. It was during this stint that West became a member of the MNA Board of Directors, and made publisher friends across the state.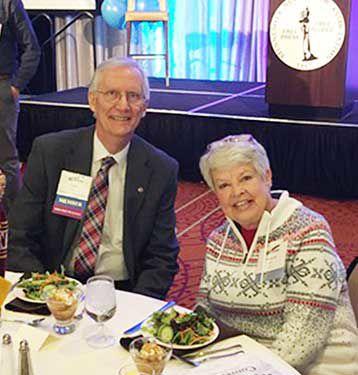 West left Waseca for the Duluth Budgeteer News. During this time, West served as president of MNA from 2004 – 2005. He has also been a longtime member of the MNA Legislative Committee and for years emceed the MNA Better Newspaper Contest during annual conferences.
It was in 2007 that West moved to Little Falls to manage the Morrison County Record, which was then owned by ECM Publishers. In 2009, ECM named West a regional manager and he began overseeing the Dairyland Peach in Sauk Centre as well.
In 2017, West retired as editor/general manager of the Record and the Peach.
"For some, journalism is a job. For Tom, it has been a calling. He has spent a lifetime immersing himself in, and reporting on, the issues, achievements, disappointments and the people that define community," said Keith Anderson, director of news for APG/ECM. "As an exceptional columnist, he has tackled everything from immigration reform to the merits of marriage. He has been fearless, yet fair, in his assessment of government leadership and the programs they administer. The Distinguished Service to Journalism Award was tailor made for Tom West."
"I can say with certainty that Tom is among the most highly respected, knowledgeable, talented, hardworking and endeared people I have met. Rarely has a week gone by that I haven't had at least one person tell me that Tom's column is one of the highlights of our paper, and they look forward to reading it every week," said Carmen Meyer, West's successor as general manager at the Record and the Peach.
Terry Lehrke, West's successor as editor of the Morrison County Record, quoted the book of Sirach in her comments about West: "Faithful friends are a study shelter, whoever finds one finds a treasure."
She said, "No one is more deserving of the DSTJ award than Tom West, who has spent a lifetime as a treasure to journalism and to those who are blessed to call him 'friend.'"
In his farewell column as editor and general manager, he wrote: "I can honestly say that there has not been a day when I have not looked forward to going to work. My biggest fault is workaholism. But while I know I will miss it, I also know it's time to go on to the next stage of my life."
West continues to write his column "West Words" for the Record and the Peach. He and Francie still live in Little Falls.