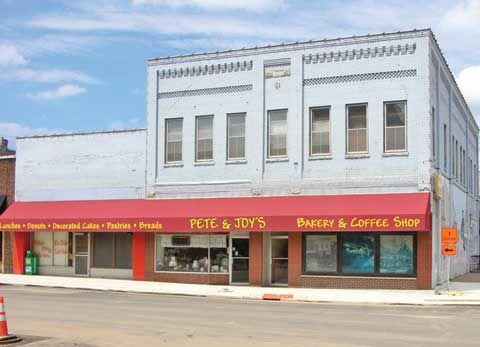 Fans of breads, doughnuts and more from Little Falls' own bakery, Pete and Joy's, got a Fourth of July miracle as there are now plans to reopen the business.
Susy Prosapio announced Tuesday, July 2, that she and her husband, Phil, had purchased the bakery, recipes, building and all, from Pete and Joy Kamrowski.
The bakery closing was something neither Phil or Susy wanted to see.
"We always kind of said, 'If that place didn't have a transition, that we would probably try and step in,'" Phil said.
The business is an iconic piece of Little Falls, Susy said.
"It's just part of who this town is. You can't think of Little Falls and not have Pete and Joy's Bakery," she said.
The Kamrowskis put together valuable recipes that draw in people from all over, Susy said.
After the announcement was posted, someone from the Twin Cities replied they would be coming back up to Little Falls for the maple long Johns.
Phil said both he and Susy have been fortunate in life and they wanted to invest some of their success back into the city they have called home for 28 years.
The two have also brought in some familiar faces to run the business.
Former managers at the business, Mike and Dawn Lattimer, will be running the bakery's operations.
Mike began working at the bakery when he was 14 and stayed through high school, before eventually pursuing a career in the Air Force and corrections.
After his position in Benton County was cut, he went back to working at Pete and Joy's, eventually becoming the manager, while Dawn came on board to run the front end of the business.
The couple wanted to buy the bakery, but were unable to get financing to buy everything associated with the business, only the building, Mike said.
"They (the bank) have nothing to reclaim," he said.
The Lattimers and Kamrowskis were unable to come to an agreement and eventually Mike and Dawn left the business.
Losing out on their dream was hard, Mike said.
The Prosapios originally reached out to them about taking over the bakery last year, but at the time, everything was too fresh, Mike said.
"When the dream goes away you get a little bit sour and bitter and stupid," he said.
When the business closed, the Prosapios spoke with Mike and Dawn again and they agreed to the plan.
"To get talked back into your dream, that is not so hard," Mike said.
Having his dream come to fruition is like a movie, he said.
He said he is very grateful to Phil and Susy.
"I can't say high enough regards to the Prosapios. They are wonderful people," Mike said.
The plan is for the Lattimers to eventually own the business and make it their own.
While the name will not change right away, eventually Mike wants to change it.
"Down the road, we're going to make it our own," he said.
He has plans to increase one line of products he worked on while managing the store — bread.
These include ancient grain rolls and fresh breads made with pepper, cheese and other ingredients.
The breads went over very well when he was managing the store and Mike is looking forward to expanding that.
Still, some things will remain the same, based on Mike's experience with Pete Kamrowski.
"Pete taught me everything I know," he said.
Dawn said she is looking forward to making customers feel welcome.
"When customers walk in the door, we want them to feel like family," Dawn said.
The bakery will remain closed for a while as updates to the building are being done.
Having these done during the Highway 27 reconstruction project will work out well, Phil said.
Susy said they hope to have the bakery open by the Little Falls Arts and Crafts Fair, Sept. 7-8