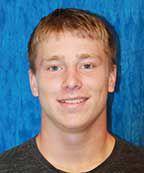 Swanville Public School has announced that Jackson Thieschafer, son of Jay and Tara Thieschafer, has been named as the September Senior High Student of the Month.
Thieschafer loves being outdoors, hunting, fishing, playing sports and spending time with family and friends. He plans to attend Minnesota State Community and Technical College in Willmar to become an electrician.
Thieschafer is a well-rounded athlete, participating in football, basketball and baseball since seventh grade. He was also on Student Council in grades 7 - 9. He is involved in St. John the Baptist Catholic church youth group.
His achievements in school include being on the Honor Roll since ninth grade. He is also a teacher's assistant and really enjoys interacting with the elementary students. Thieschafer's favorite thing about school has been being able to see his friends every day and get a good education. He advises other students "Don't get behind on homework, study hard and have fun."
"I have had Jackson in several classes over the years. He has always been an extremely hard-working individual who has never hesitated to do what was asked of him," said Social Studies Instructor Tom Bzdok. "He works hard to achieve his goals and has a lot of pride in the work he does. Jackson has always been a friendly student who gets along well with others, and is respected by classmates as well as adults. He is very deserving of this recognition."
Science and Industrial Arts teacher Joel Rieffer said, "I have known Jackson since he was in kindergarten. You could always tell there was something about him that would make him a great student, classmate and eventually adult. I have the privilege of having him in two classes this year. In both of these classes Jackson has done a very good job.
"He is motivated, likes to get involved and asks questions if he is unsure about something, which is extremely important in shop class," Rieffer said. "Younger students, as well as his peers, respect him very much. He is a very good role model for all students. Wherever his path leads in the future I am sure that he will be successful and a great asset to the community in which he lives."