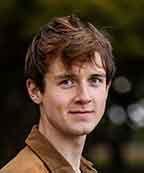 Little Falls Community High School (LFCHS) announced that Sullivan Gwost has been chosen as the October Boy of the Month. He is the son of Chris and Gabrielle Gwost.
During his high school years, Gwost has been involved in the school musicals as a cellist. A great deal of his time has also been devoted to Improv, a student-led leadership team that uses impromptu, theater-style performances in the school and community to bring awareness to important social topics.
Gwost has also been on the honor roll throughout high school and was recently chosen as one of the top five candidates for homecoming 2019.
Musical volunteer activities of Gwost are many. Whether playing his cello at local churches or at community events such as the Little Falls Dam Festival, Christmas at the Mansions, the Big Dig block parties, the Green Fair Folk Festival, or at Great River Arts, Gwost always has a genuine smile on his face. Because of his giving personality, he lists the annual Day of Caring as one of his favorite school activities.
"I have had Sully in my geometry class, and I have had the pleasure of being Sully's adviser at LFCHS," said Steve Wilger, LFCHS math teacher. "Sully is loved by his classmates because he is incredibly kind and sincere. He treats others the way all human beings deserve to be treated.
Wilger said he has always appreciated Sully's maturity, direction, independence and sense of style.
"Sullivan is one of the most genuine young men with whom I have had the pleasure to work. He consistently puts a smile on my face simply because of who he is — a passionate musician, a determined student, an honest to the core, caring human being," said Anne Graeve, high school science teacher. "I appreciate his self-knowledge, his commitment to the development of his talents, his ability to laugh at himself and his sense of humor."
Gwost said playing the cello, being with friends and family, hiking, thrifting and jogging as his favorite activities whenever he has spare time.
Gwost looks forward to pursuing a cello performance degree at either St. Olaf in Northfield, Minnesota, or Lawrence University in Wisconsin.