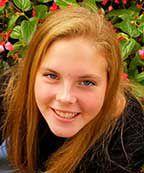 Little Falls Community High School has announced that Sierra Kicker has been chosen as the Girl of the Month for May. She is the daughter of David and Kara Kicker.
Kicker is a two-year member of the Little Falls Honor Society and is consistently on the A Honor Roll. Her success in the classroom is admired by faculty at LFCHS.
During her years at the high school, Kicker has been incredibly active in extracurricular programming. Wind Symphony, student council and Link are activities during Kicker's academic day, while athletics fill her time outside of the normal school day. Kicker has enjoyed participating in soccer, hockey and softball during her days as a Flyer.
"I remember the days, not that long ago although it seems like an eternity, that I enjoyed Sierra's smile and warm welcome as she entered my calculus class. Conversations about my day or current events would fill those brief moments before all the other students rushed in and we began our 'real' lesson. Calculus, as cold as math can be, was a warm place of academic challenges and intellectual interactions. Students honed each other's skills with genuine care and thoughtful questioning," said Tony Kula, calculus teacher.
"How different things are today. Yet in each and every email or Zoom, Sierra still asks, 'So, Kula, how are you doing?' Most recently she asked, 'What have you learned since the quarantine started?' Her concern and interest in other people distinguishes her from many of her peers," Kula said.
"I have long held the belief that the Student of the Month should be an outstanding academic at Little Falls Community High School. We recognize a cornucopia of athletic accomplishments, yet I appreciate that the Student of the Month is reserved for an intellectual who has risen above the rest in their preparation and production in class," Kula said. "Sierra has certainly accomplished this in her high school career and in calculus specifically. Her work is exceptional. Her thought process is laser sharp. Her drive and vision are the motivators that keep her learning even in these darkened times."
Steve Wilger, high school math teacher, offered his congratulations to Kicker on being named the LFCHS May Girl of the Month.
"I have had Sierra in my pre-calculus class, and I have had the pleasure of being Sierra's adviser for her years here at the high school. She is always upbeat and easy to talk to. She has a high level of personal integrity. If she says something will get done, it will get done. As she leaves Little Falls High School, I have no doubt that she will go on to do great things, but I will really miss seeing her smiling face every day," Wilger said.
Volunteer activities of Kicker are church cleanup and youth worship band.
In her spare time, Kicker enjoys reading, playing sports, listening to music, being outdoors and hunting.
After graduation, Kicker plans to attend Crown College to pursue a degree in biology with a pre-med track.