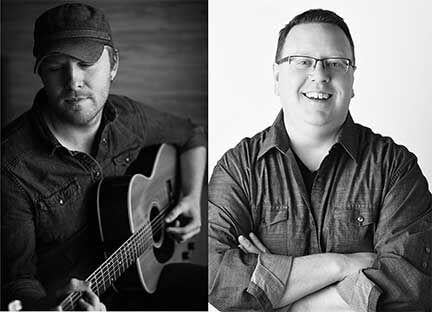 Comedian Jason Schommer and singer-songwriter Michael Shynes will perform a special outdoor performance at Linden Hill Sunday, Oct. 4, at 2 p.m.
"Schommer and Shynes at Linden Hill" is an afternoon of comedy, storytelling and music. Joining them is special guest violinist David Gerald Sutton.
With the global pandemic closing performance venues and forcing shows to be canceled for most of the year, local favorites Schommer and Shynes have decided to get creative and offer a special performance of hilarious comedy, witty stories and amazing music by taking the show outside. Moving the show outdoors allows the event to safely comply with all COVID-19 restrictions and guidance and still gives audiences a much needed break to sit back, relax and spend the afternoon laughing and listening to live music.
"Schommer and Shynes at Linden Hill" is a rare opportunity to enjoy these talented performers in a stunningly beautiful location on the grounds of the historic mansions of Linden Hill!
Schommer is a standup comedian, actor, director and storyteller who spent two years as the opening act for comedy legend Louie Anderson in Las Vegas and continues to tour with Louie regularly, and has a long history of working with superstars over the years.
Shynes is a Midwest born singer songwriter with a platinum record in Poland. Being a self-taught musician from Little Falls,Shynes chased an unlikely dream and built a career out of nothing more than pure hustle and soulful songwriting.
Sutton is Minneapolis-based five-string violinist, string arranger and composer who has been able to find a unique voice in the world of music with his violin, not limited to the addition of an extra string on his instrument. Utilizing guitar effect pedals and taking a page from Ed Sheeran's book on looping, Sutton has combined these electronic elements with almost 20 years of classical and jazz studies to carve out a place for the violin in today's world of pop music, both synthesized and organic. His newest release, "Deep Breath," is available now on all digital platforms.
Tickets are available online at Eventbrite with the link https://bit.ly/LHSchommerShynesSutton. All attendees should bring a lawn chair or blanket to sit on in the upper grounds of Linden Hill.
More information is available by contacting Schommer via email — jasonschommerlive@gmail.com.