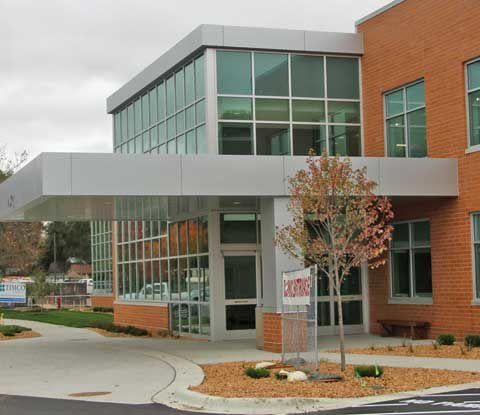 Work is continuing on the addition and remodeling of the Family Medical Center in Little Falls, attached to CHI St. Gabriel's Hospital.
The new main entrance to the clinic, located on the west side of the complex, north of the main hospital entrance, is completed and work is almost done on the second floor of the building, with it projected to be open to the public Oct. 28.
The project is about two-thirds of the way done, said Family Medical Center Administrator Rhonda Buckallew.
Once the second floor is open, the renovation and completion of the added space on the first floor will begin.
By April, the entire building and moving things around should be done, Buckallew said.
The hardest part of the process from a patient's perspective has been the changes to how things are usually done, from parking to new entrances, she said.
"People have been doing the same thing for 30 years and now we are shifting them," Buckallew said.
During the final phase of the project, everything will be on the second floor of the clinic, with the exception of behavioral health and internal medicine, which are being done at the Unity Specialty Center.
Once the project is completely done, the second floor will hold general surgeons, obstetrician family practice physicians, OB-GYNs and pediatricians.
The first floor will hold family medicine, a walk-in clinic and pharmacy.
Having more room will allow the clinic to expand the number of providers in the future if needed, Buckallew said.
It also brings all services under one roof, she said.
There will also be additional space for education and meetings.
Being part of a larger campus has been helpful during the process, Buckallew said.
"We had options for temporary locations. If we would not have been on a campus, that would have been challenging," she said.
In the end, patients are going to see more space in the Family Medical Center and have more privacy than the current facility, Buckallew said.
Facilities Director Tracy Heidenreich said another benefit from the project will be increased parking on site.
"We knew that we were under parked," he said. "Getting people off the street was a huge deal."
With increased employees and patients coming as more services were offered, more parking was needed, Buckallew said.
While there are always growing pains with renovations and construction projects, the team is excited to see the project coming to a completion, he said.
On Saturday, Oct. 26, the Family Medical Center's walk-in clinic will be closed as staff moves everything to the second floor.
Over the next couple of weeks, work will also be done to parking lots on the north side of the facility (the current Family Medical Center parking lots) and they will be closed at times, Heidenreich said.