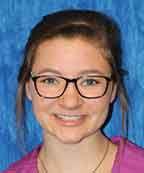 Swanville Public School is has announced the October Senior High student of the month as junior Rebekah Muhlenkamp. She is the daughter of Levi and Margaret Muhlenkamp.
Muhlenkamp participates in many school activities, playing basketball and volleyball throughout her entire high school career. She was also in softball in grades 7 - 9 and track grades 8 - 10. She was in speech for three years and has participated in Student Council and the band from seventh grade to current.
She stays busy outside of school by being involved in activities at her church and participating in Scouting activities. She volunteers at local scout camps, teaching kids about nature. Muhlenkamp's achievements include receiving Student of the Month for the third time. She was awarded the Science and English Student of the Year for 2018-2019. She was awarded the Outstanding Distance in Track for three years and also received the Innovation Award at Many Point Scout Camp.
"Rebekah is a 'Renaissance Woman' — she excels at everything she touches. She is highly motivated and goal-oriented," said Brandy Lyon, music instructor. "In addition to being an outstanding student academically, she is active in Student Council, band, theatre, speech and plays varsity sports in every season. Outside of school, she is active in 4-H, and has frequently served as a camp counselor. Her enthusiasm and 'can-do' spirit are infectious. Rebekah's only weak spot, in my humble opinion, is making sure she doesn't double-book herself!"
Muhlenkamp said her favorite thing about school Is testing peers' intellectual thought processes with well-structured questions/jokes. Also, just goofing around with peers.
Her advice to other students is: "You may not be able to buy friendship or even win it, but you sure can create it everywhere you go."
Science teacher Jason Lee, said, "Rebekah is a hardworking, self-motivated student. She always wants to be at her best no matter the subject or situation. Rebekah is very successful in chemistry class — a difficult subject that requires a lot of time outside of the classroom."
Muhlenkamp enjoys camping, swimming, hiking, playing sports, reading and being around animals.
She plans to pursue a degree in biology to become either a professor or a pediatrician.