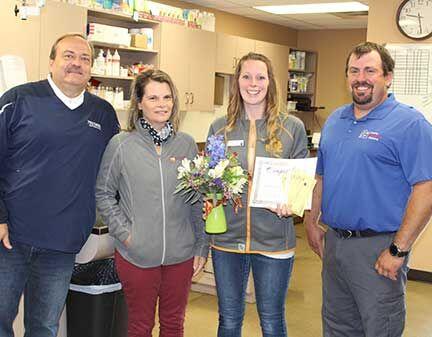 The Pierz Commercial Club's quarterly Outstanding Employee program was put on hold after COVID-19 hit. But Thursday, the newest member of that elite club was announced — Crystal Ratke.
Ratke, whose maiden name is Boser, was born and raised in Pierz and decided to stay. She has been with Litke's Veterinary Service in Pierz for nearly seven years, serving as the lead technician and practice manager.
"She does everything," said her boss, veterinarian Jamie Litke. Well, everything but the medical side.
Litke said Ratke takes a lot of the load off of him and makes his life easier.
"She does the ordering, managing, scheduling, everything," he said.
Ratke also comes up with the clever sayings on Litke's billboard on Highway 25 visible traveling north into Pierz, as well as the Oktoberfest parade float which said, "We love parades, I shitzhu not."
One snowy winter, she shoveled her way to the billboard to put up this message: "For the love of dog, quit snowing."
During breast cancer awareness month, a favorite sign said, "Paw your bra and check those puppies monthly." Anyone who has dealt with breast cancer or had a family member with the disease, understood the underlying message, she said.
When the Pioneers football team was headed to the state tournament, the sign read: "The last one out of town, turn off the lights."
"It's just kind of a fun joking around," she said.
The anonymous nomination pointed to Ratke's ability to offer personal customer service.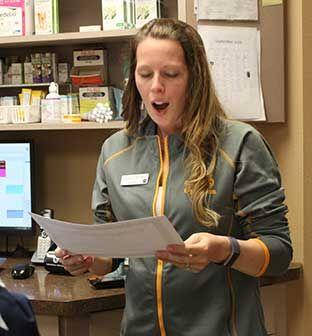 "Crystal goes above and beyond. She truly has a passion for the pets we bring in. Always has a smile on her face, very welcoming and friendly. She is very accommodating with the schedule when bringing in our pet and makes sure it works all around," the nomination said. "Our pets are very near and dear to our hearts and she treats them like it. The passion truly shows."
That's one part of her job Ratke loves and finds most rewarding — the relationships with her coworkers and clients.
Once she's met a client, she remembers their name, as well as the name of their beloved pet.
In fact, if a dog is found running loose with a Litke's rabies tag or chip, Ratke is the person everyone turns to, to remember who that dog belongs to.
Ratke said she loves the reward that comes with just doing the everyday work, but also the challenge.
"I love what each day brings, because there's always something new," she said.
"I love what I do very much, and I love the people I work with," she said. "Most of us have worked in different clinics and when it's here, there's a whole different feel. We just have a very good connection ... Everyone gets a voice."
"We have a lot of fun and I think our clients know that too, especially our large animal clients. It's fun to connect with them, but it's also very rewarding to be a part of their family and their operation," she said. "There's really no down side about the job."
"Thank you to whoever nominated me for the award. I appreciate that more than I could ever say," Ratke said.
Ratke is married to Nick and together they have three children Caiden 10, Daniel 2, and a child they lost as a newborn, Waylon. She was happy to say they are expecting their fourth child in January.
The Ratkes also have a dog, Ranger, a lab who is literally used in the Litke's Veterinary lab as a blood donor, and for making special eye drops to help other dogs with eye infections, through a special process.
Two "interesting" outdoor cats, Stewart and Tuff, round out the family.