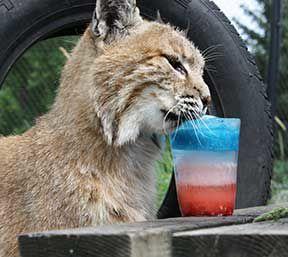 Pine Grove Zoo in Little Falls opens for the season Thursday, April 15, at 9 a.m. Spring hours at the zoo are April 15 – 30, Thursday through Sunday, from 9 a.m. – 4 p.m. The zoo is closed Monday – Wednesday during spring hours.
Summer hours are May 1 – Sept. 6, with the zoo open daily from 9 a.m. – 6 p.m.
Falls hours, from Sept. 7 – Oct. 17, Thursday through Sunday, are 9 a.m. – 4 p.m. During the fall, the zoo is closed Monday – Wednesday.
"Last year due to COVID-19, the squirrel monkeys were not able to make their debut, but they will be out and about on those warmer days this season," said Marnita VanHoecke, Pine Grove Zoo's director. "Visitors will also be able to meet Mandy, our great horned owl, along with Teal, our red tail hawk. Also new this year are two little bundles of fur in our petting stable with the addition of two dwarf Hotot rabbits, Sebastian and Felix."
Pine Grove Zoo's mission is to promote environmental conservation and aid in the creation of a superior zoological park through fundraising and educational activities. Guests are encouraged to explore, encounter and rediscover the wonders of the wild.
For more information about Pine Grove Zoo's seasonal hours, contact call (320) 616-5595 or email info@pinegrovezoo.com.