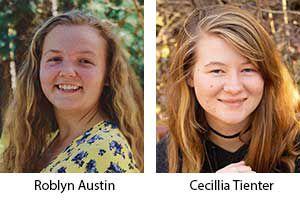 Each year, Sourcewell honors students who make a difference. These are the quiet leaders who make behind-the-scenes contributions to their school and community, have perhaps had to overcome unique challenges or obstacles, promote and work toward a positive safe and collaborative environment with their school and community and are high school juniors or seniors.
These students are nominated by teachers in their schools.
In Pierz, Roblyn Austin and Cecillia "Ceci" Tienter were nominated.
Austin was nominated by Jaime Strohmeier, FACS adviser, Kim Horning, Spanish teacher and Marilyn Keith, school social worker.
The nomination read, "Roblyn is an extremely respectful, inquisitive, intelligent and thoughtful young woman. She is willing to challenge herself and go above and beyond in both academics and her extracurricular activities. Roblyn models what it means to promote positive school culture through her commitment to service in Spanish Club, Peer Helping and Minnesota Honor Society.
"She has been active in the Spanish Club for four years and is currently the secretary/treasurer. Roblyn is also the president of the Pierz Healy Minnesota Honor Society Chapter where she has been an active member for the past two years.
"Roblyn spearheaded the American Red Cross Blood Drive for the past two years and has also put in countless hours with the community Toy Drive during the holiday season. She is so inclusive of others and is a quiet, humble leader. Roblyn is determined, self-motivated and hardworking. She does this all with resilience having dealt with some difficult circumstances in her life including poverty and being raised by a caring aunt. Roblyn plans to attend college next fall pursuing a career in social work."
Jill Hoheisel nominated Tienter. She wrote, "Cecillia is an exceptionally dedicated student. Given many adverse challenges in and out of school, Cecillia is extremely self motivated to be successful and to meet the goals she sets for herself.
"Even though she spends a lot of time on her academics and holds down two jobs outside of the school day, Ceci has made time to be actively involved in school activities. She has come in to support and teach organizational skills to other students within my classroom. These interactions have led Ceci to become an active member in Peer Helping. She is also involved in EPIC, Upward Bound and the LGBTQ group. Cecillia plans on furthering her education by getting her two year degree and eventually plans to pursue a four year degree in hopes of becoming a veterinarian. Ceci approaches every challenge with a smile and exemplifies what it means to be a Student of Character."