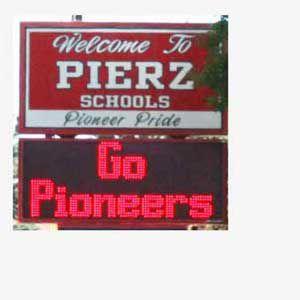 Student enrollment in the Pierz School District continues at a steady level, good news since state funding is driven by student counts.
    Steve Wischmann of BerganKDV went through the district audit, from July 1, 2018, to June 30, 2019, with the School Board members during the Nov. 20 meeting.
    Wischmann said 90% of the revenue coming into the Pierz School District is from the state (general education aid).
    A change in the general education formula resulted in a 2% increase in revenues for Pierz, about $200,000 a year, Wischmann said.
    Students for 2019, showed about 1,174.65 (the state gives different "weights" to different student categories), down about three students from last year.
    Resident students and open enrollment trends are "very consistent," Wischmann said.
    Over the last five years, Wischmann said the district picked up about 60 students through open enrollment.
    "A very good sign to generate revenues to provide educational services," he said.
    For the general fund, revenues came in $258,000 over the $13.260 million budgeted (2%). Expenditures were $402,393 under the $12.293 million budgeted (3.2%), for a net change of $660,735 in the general fund balance, a 5% variance, Wischmann said.
    The Pierz School District received about $11.755 million from the state ($137,000 more than anticipated), $164,905 from federal sources, $947,496 from local property taxes, $382,323 from other local revenues, and $11,077 from sales and other conversion of assets.
    The district expenditures included $807,005 in administration costs, $33,526 in district support services, $5.946 million in regular instruction, $366,241 in vocational education instruction, $1.826 million in special education instruction, $636,451 in instructional support services, $1.009 million in pupil support services, $1.299 million on sites and buildings, $45,439 in fiscal and other fixed cost programs and $25,644 on community education and services.
    Expenditures do not include the majority of the costs of the major building project undertaken by the district this year, as most of the bills have or are still coming to be paid after July 1, outside of the dates of the audit.
    Supt. George Weber said those numbers would be included in next year's audit presentation.
    Wischmann said the Pierz School District has on hand enough funding to pay for about 3.75 months of expenditures, which he called "a reasonable amount."
    He reminded the Board that about 10 years ago, the state held back payments to school districts, so having a balance to pay three months of bills is a standard to keep on hand.
    Wischmann also pointed out Pierz educates students at $10,503 per student, compared to the state average of $12,596 (a difference of $2,093). This revenue per pupil shows how efficiently the Pierz School District is delivering services, Wischmann said. The state average includes all school districts in the state from the metro area to the Iron Range.
    Weber shared with the School Board that 26 school districts held operating referendums, with 22 passing in November. An operating referendum increases the levy above and beyond what the state approves to support what the districts spend in their budgets.
    Weber credited the fact that Pierz has not needed an operating referendum to the staff in the district. He said he'd like the community to know how efficiently the Pierz District runs, because of their work.
    "One of the things we're blessed with is a very hard-working staff in the service areas, from secretaries, custodians and cooks, etc. to the administration," he said. "We're arguably understaffed, but we have a lot of employees who do more than their job."
    He said, however, the district has added three new teachers, showing the focus of funding is on educating students
Pierz School Board Briefs
Other business at the Nov. 20 Pierz School Board meeting included:
• Heard from members of the Pioneer Elementary Student Council that they will be holding a "Jump Rope for Heart" event with grades 5-6 physical education classes in the week of Valentine's Day, in February 2020. Peter Nestler, a Guinness World Record holder in jump roping, will visit with the children during that week to show off his skills and talk about heart health. The children are doing this in honor of Jenny Dalsted, an employee with the Pierz School District, who underwent a heart transplant recently;
• Accepted donations from the following: $63 from Ryan and Danielle Skwira for football; $1,000 from the Pierz Lions Club for Letter Club; and $200 from Pain Rehabilitation Center for the Art Club;
• Approved the child care request of Becky Ruprecht beginning about Jan. 20, 2020 for 12 weeks and approved the employment of Madison Exted as a long-term substitute teacher beginning about Jan. 20, 2020 for 12 weeks;
• Approved the employment of Candance Stangl as a long-term substitute teacher beginning about Dec. 14, for 12 weeks;
• Approved the medical leave request of Lynn Folger for about six weeks, beginning Nov. 21;
• Approved the additional paraprofessional hours for Jessy Medek and Cindy Pulak, both beginning Nov. 21, for about six weeks; and
• Approved changes to Policy 419, regarding a tobacco-free environment, possession and use of tobacco, tobacco-related devices and electronic delivery devices; Policy 441, substitute teacher pay; Policy 516, regarding student medication and Policy 601, regarding school district curriculum and instruction goals.
The next regular meeting of the Pierz School Board is Wednesday, Dec. 11, at 6 p.m. in the high school media center. The district's Truth in Taxation meeting will also be held that evening.