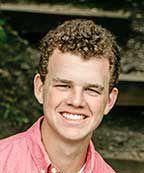 Little Falls Community High School has announced that Nolan Bjorge has been chosen as the Boy of the Month for May. He is the son of Troy and Shannon Bjorge.
Bjorge works diligently in the classroom and is a role model for underclassmen. He is incredibly respectful of his teachers and peers.
During his four years at LFCHS, Bjorge spent a great deal of his time competing as a Flyer athlete. Whether participating in soccer, hockey, or golf, Nolan prides himself on hard work and sportsmanship. His leadership skills were evidenced by his distinction as a captain in both hockey and soccer. In addition to his athletic extracurriculars, Nolan was a two-year Link Leader at LFCHS, a member of DECA and a participant in the Kindness Retreat.
Reid Bellig, high school science teacher, describes Nolan as "an extraordinary ambassador for LFCHS; he exemplifies everything a Flyer should be."
Bellig said, "Nolan continuously makes real world connections with topics that are discussed in class and can be relied on to complete quality, high end work that is a true reflection of his knowledge. Nolan is an extremely responsible person who is kind and generous to everyone around him. These personality traits result in others having a high level of respect for Nolan. I look forward to seeing what the future brings for Nolan. There is no doubt it will be filled with success."
Jeff Massmann, Bjorge's physical education teacher, said, "Nolan is a passionate and enthusiastic young man. Whether it be in the classroom or in a sporting activity, Nolan puts everything he has into action. He can be trusted to mentor younger students in the class and passes on a love for learning and winning."
Bjorge has volunteered with his church youth group, the annual Thanksgiving meal, and the Clean-A-Ditch program.
Hobbies of Bjorge include hunting, fishing, exploring the great outdoors, and watching sporting events.
Bjorge will attend the University of Minnesota-Duluth where he will pursue a degree in elementary education.