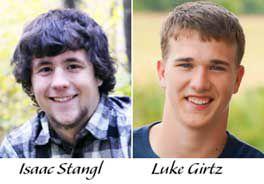 Luke Girtz and Isaac Stangl were recently named Students of the Month for May at Pierz Healy High School. The senior classmates were honored for their high academic standards, leadership qualities, participation in a variety of extracurricular activities and good standing in the community.
Danny Saehr, Healy High physical education/health teacher, said Girtz was one of the nicest and most respectful kids he's had the privilege of coaching the past four years in football and baseball.
"He was very appreciative of what others did for him and always willing to help out. Luke was very well-respected by his teachers, coaches and peers," Saehr said. "He's a person of high character and was a great role model."
The son of Darren and Denise Girtz singled out his father as the person he models himself after for working hard at what he wants and getting things done.
The stellar tri-sport student athlete in football, wrestling and baseball has a trophy case full of awards. However, winning the state championship as a member of the 2017 Pierz Pioneers football squad tops his list of most memorable experiences.
"Football was a favorite activity because you get to be around your friends and grow close together as a team," he said. "It was also fun preparing all week for the next one big game."
Saehr said Girtz was a very coachable kid who always did more than was expected of him.
"He is a very well-rounded individual and there is no doubt that he will be successful in life after high school because of all the positive qualities he possesses," Saehr said.
While still unsure about the future, post graduation plans include attending Central Lakes College in an as yet undetermined field of study. But one thing is for certain he's going to miss being around his friends every day, especially the associations made over the years through the athletic programs.
"If I could meet anyone, it would be my Great-Grandpa Girtz," he said.
Stangl also had family in mind when asked about anyone special of current or past generations he'd most like to meet. "My grandpa who died long before I was born," he said.
His grandfather would be extremely pleased to know that his grandson recently graduated with academic honors and is headed to St. Cloud State University to study astrophysics.
During his high school career, Stangl excelled in music as a member of band and jazz band. In addition, he thoroughly enjoyed challenging himself on the golf course. He ranked the lifetime sport as a favorite activity because of the many friendships that were made on the greens as they developed their playing skills into an excellent team.
"Isaac is one of the hardest workers in our program," said Joel Pohland, band director and golf coach. "He pushed himself to succeed at a very high level in all of his musical endeavors, but also in so much else. He is one of those students whom you can have 100 percent real conversations with. He wants honesty and returns that honesty to himself and his classmates."
The son of Todd Stangl and Rose Woitalla admits learning much more than music and golf from Pohland.
"As a musician and coach, he instills in his students an enthusiasm for the things that are important to them, the definitive measure of a role model," Stangl said.
He has lasting memories of the jazz band concert in Eau Claire, Wisconsin in which the group participated.
Pohland returned the compliment by saying Stangl was an absolute joy to have in class. "Isaac is a phenomenal student who will be greatly missed at Pierz," he said.
This concludes the Student of the Month series in the Morrison County Record for the 2018-2019 school year. Graduating seniors Derek Schommer and Katelyn Becker, Students of the Month respectively for January and September, were named Students of the Year at the May awards ceremony. They were recipients of $1,500 scholarships courtesy of Farmers and Merchants State Bank, program sponsors.