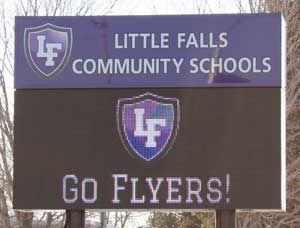 Starting this fall, high school students in the Little Falls School District will have an option to take eLearning courses in areas of advanced manufacturing skills.
Mark Diehl, the director of information technology (IT), gave the Little Falls School Board a quick lesson in "Amatrol" a computer-based course of study.
Diehl said over the last couple of years, he's been committed to enhancing what he called "a forgotten area of technology" — that being industrial technology. Courses that would teach the skills needed at businesses in Morrison County, such as manufacturing, especially.
Last summer, the district made a commitment to industrial education and redid the metal shop, put in all new welders and a CNC plasma cutting table.
"That's gone great and the students appreciate having the new equipment, and the teachers are excited about how they've been able to incorporate some that equipment into their instruction," Diehl said.
He pointed to the robotics team using the CNC plasma table to cut every part used for their robot.
"It's just really cool to see how the kids are taking that equipment and putting it to good use," he said. "But now it's time to expand our offering."
Diehl explained that Amatrol courses of study include electrical, electronics and manufacturing basics.
Offering this course of study will create unique opportunities for students as they prepare to join the work force, Diehl said.
Students would receive a credit for each course taken, with hours and hours of courses available to students.
Students with full class loads can even take the courses as extra credit.
Using a diagram of the courses offered with Amatrol, Diehl pointed out that just under "manufacturing basics" there are four different course numbers under basic measurement tool — four different courses that students can take to help them develop the skills they need. Each box on the diagram represented 20 to 40 hours of content.
Diehl demonstrated how a student would log into the system and navigate to a course of study. Once a student has finished the course of study, they can take a quiz. One benefit, is that a student can go back over a part of the course as many times as they need to understand it.
Eventually, students will be able to go through the courses using their iPads.
"That's not completely ready yet," Diehl said.
"We're actually dedicating portion of high school media center to Amatrol — designated computers up there where students will be able to go and sit and work on these as an independent study format," he said.
Other computers at the high school will be designated for Amatrol as well.
The plan is to have teachers embed this content into their classes — such as the electrical module, or robotics module.
"The new manufacturing processes course may utilize some of the CNC machining, and the measurement pieces," Diehl said.
Teachers can build custom courses or use the courses as they are.
Once a student finishes a course and takes the quiz, results can be sent to a teacher or guidance office.
"This opens a whole new path for students," Diehl said.
One exciting part of this for Diehl is in working with local businesses. He and Principal Tim Bjorge gave the businesses an outline of the courses.
"When we showed Amatrol to businesses/manufacturers they were ecstatic that we were offering this kind of content to student and to their future employees," he said. "They were thrilled that we would be able to provide students with certificates that they can take with them that show which courses they took.
"We're giving kids an incredible background," Diehl said.